Earlier this week, we learned that the Falcons have been receiving trade inquiries on Julio Jones. When asked about the possibility of trading the star wide receiver, Falcons GM Terry Fontenot didn't rule it out.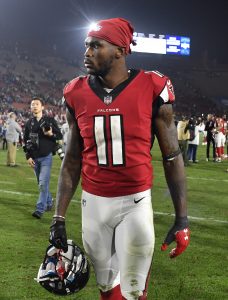 [RELATED: Jones Drawing Trade Interest]
"That's one of those things when you're doing things the right way as an organization, you have to listen if people call on any player," Fontenot told Justin Felder of FOX 5 (Twitter link). "We are in a difficult cap situation. That's just the circumstance…Our administration has done an excellent job up to this point getting us in position to be able to manage the cap. Yet, we still have more work to do."
"So, when teams call about any players, we have to listen, and we have to weigh it and we have to determine what's best for the organization, and we have to handle everything with class. Obviously, that particular player [Jones] — we hold him in high regard. He's special…but we have to consider [listening on] any player if it's right for the team, because we have to do what's right for the team."
Jones, 32, is still a difference maker when he's healthy and on the field, though he missed roughly half of the 2020 season due to hamstring issues. Now, the Falcons have an opportunity to give themselves some breathing room on the cap by trading Jones sometime after June 1. It's not clear which teams have called on Jones, though Peter King of NBC Sports speculated that the Patriots, Titans, Ravens, and Raiders could be among the suitors.
Follow @PFRumors