The Falcons assembled their premier receiving corps when Julio Jones joined Roddy White in 2011, and their Jones-Calvin Ridley duo currently resides as one of the NFL's best. However, the franchise did piece together an intriguing cadre of aerial weapons during the mid-1990s. That crew achieved a rare NFL feat.
Atlanta rounded out that receiving corps on April 6, 1995. Twenty-six years ago, the Falcons finalized a trade that brought Eric Metcalf over from the Browns. The then-Bill Belichick-coached team agreed to a high-profile pick-swap deal, a well Belichick has gone to frequently with the Patriots, to send the all-purpose threat to Atlanta. The Falcons sent the No. 10 overall pick to the Browns for Metcalf and No. 26. This trade ended up impacting the NFL into the 2010s; the ultimate winner of this deal did not yet exist when the transaction was finalized.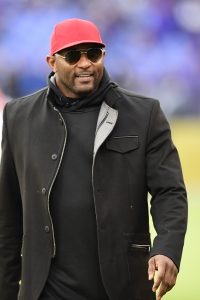 While Metcalf was technically a running back in Cleveland, the Browns used him in several capacities. The 1989 first-round pick made an impact out of the backfield, as an outlet option and, perhaps most significantly, as a lethal return specialist in six Browns seasons. But Cleveland opted to part with its athletic chess piece to move up 16 draft slots.
Atlanta moved Metcalf to wide receiver, teaming him with 1994 free agent acquisition Terance Mathis and homegrown talent Bert Emanuel. Although the Falcons' Jeff George trade did not end up working out, the strong-armed quarterback helped the Metcalf-Mathis-Emanuel group become the NFL's second wide receiver trio that saw each of its members surpass 1,000 yards in a season. While the Air Coryell Chargers were the first to have three 1,000-yard pass catchers, Kellen Winslow was a tight end. Only four wideout trios have gone 1,000-1,000-1,000 — 1989 Washington, the '95 Falcons, the 2004 Colts and '08 Cardinals.
Metcalf enjoyed by far his most productive receiving season in 1995, catching 104 passes for 1,189 yards and eight touchdowns. Despite having never played the position full-time as a pro, Metcalf led his new team in receiving. That Falcon edition made the playoffs at 9-7, losing to the Packers in the first round. June Jones' pass-heavy offense was not as productive in 1996, when the Falcons released George in-season and went 3-13, and Metcalf joined the Chargers in free agency the following year. Metcalf earned first-team All-Pro honors as a returner in his lone San Diego season and played until 2002.
As for the draft choices exchanged, the Browns — in their final draft before morphing into the Ravens — traded out of No. 10, moving down to No. 30. The 49ers climbed up to draft wide receiver J.J. Stokes. With the Browns relocating to Baltimore in 1996, they did not reap this trade's primary benefit. In their first draft, the Ravens used the additional Browns-obtained first-rounder (No. 26 in 1996) to draft Ray Lewis. With its No. 30 overall pick in '95, Cleveland selected linebacker Craig Powell. The Falcons chose safety Devin Bush 26th in 1995. Bush played four Falcons seasons, with his final Atlanta game being Super Bowl XXXIII; his son became a Steelers first-round pick in 2019.
Photo courtesy of USA Today Sports Images.
Follow @PFRumors