Brian Flores described Xavien Howard's minicamp holdout as a unique situation, and the veteran cornerback is believed to be entrenched in his pursuit of a new contract. The Dolphins do not appear eager to meet his demand.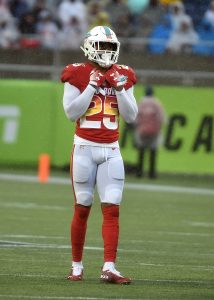 Howard's camp approached the Dolphins to communicate the five-year veteran's desire for a new contract that at least pays him more than teammate Byron Jones, but the team is hesitant to redo the All-Pro's deal, Cameron Wolfe of ESPN.com notes. This pause stems from the franchise having given Howard a then-cornerback-record contract two years ago. Four years remain on Howard's five-year, $75.25MM pact.
The Dolphins paying Howard again so soon would certainly set an unusual precedent, and although the NFL's first 10-INT player in 13 seasons has proven to be a consistent ballhawk, he has battled both injuries and an off-field issue. A domestic battery charge against Howard ended up being dropped, but the Dolphins dealt with that issue cropping up after a 2019 season in which the veteran corner missed 11 games. Howard also missed nine games as a rookie and four in 2018. Of course, in that 12-game 2018 season, Howard led the NFL with seven INTs.
Following Howard's $15.1MM-per-year extension, the cornerback market moved for the first time in many years. Jones, Tre'Davious White, Marlon Humphrey and Jalen Ramsey signed for more than Howard in 2020; Ramsey's $20MM-AAV accord leads all corners. The Dolphins gave Jones a five-year, $82.5MM pact last March. Jones' deal came with $46MM fully guaranteed, which leads all NFL corners. Howard signed for $27.2MM fully guaranteed, which is ninth at the position.
Miami could opt to restructure Howard's deal to provide additional bonus money now, or the team could piece together an incentive package for its top turnover producer. During Flores' final year with the Patriots, the team agreed to incentive compromises with Tom Brady and Rob Gronkowski. Also in 2018, the Broncos gave Chris Harris an incentive package. In 2019, after Denver signed Kareem Jackson to make him the team's highest-paid DB, the team gave Harris a raise. But this involved a contract that was set to expire at season's end, so only part of Harris' previous situation applies to Howard's.
The Dolphins have discussed Howard in trades over the past year but set a high asking price for him. It will be interesting to see if they end up revisiting trade talks, in the event Howard does not show for training camp. The CBA limits his options for a holdout at that point of the calendar.
Photo courtesy of USA Today Sports Images.
Follow @PFRumors