The Dolphins' cornerbacks room could end up looking fairly different in 2023 than it did in 2022. That's partially because of injuries that kept players like Noah Igbinoghene, Byron Jones, and Nik Needham off the field for large portions of the year. It's also due to the acquisition of star defender Jalen Ramsey and the use of their top draft pick on South Carolina cornerback Cam Smith.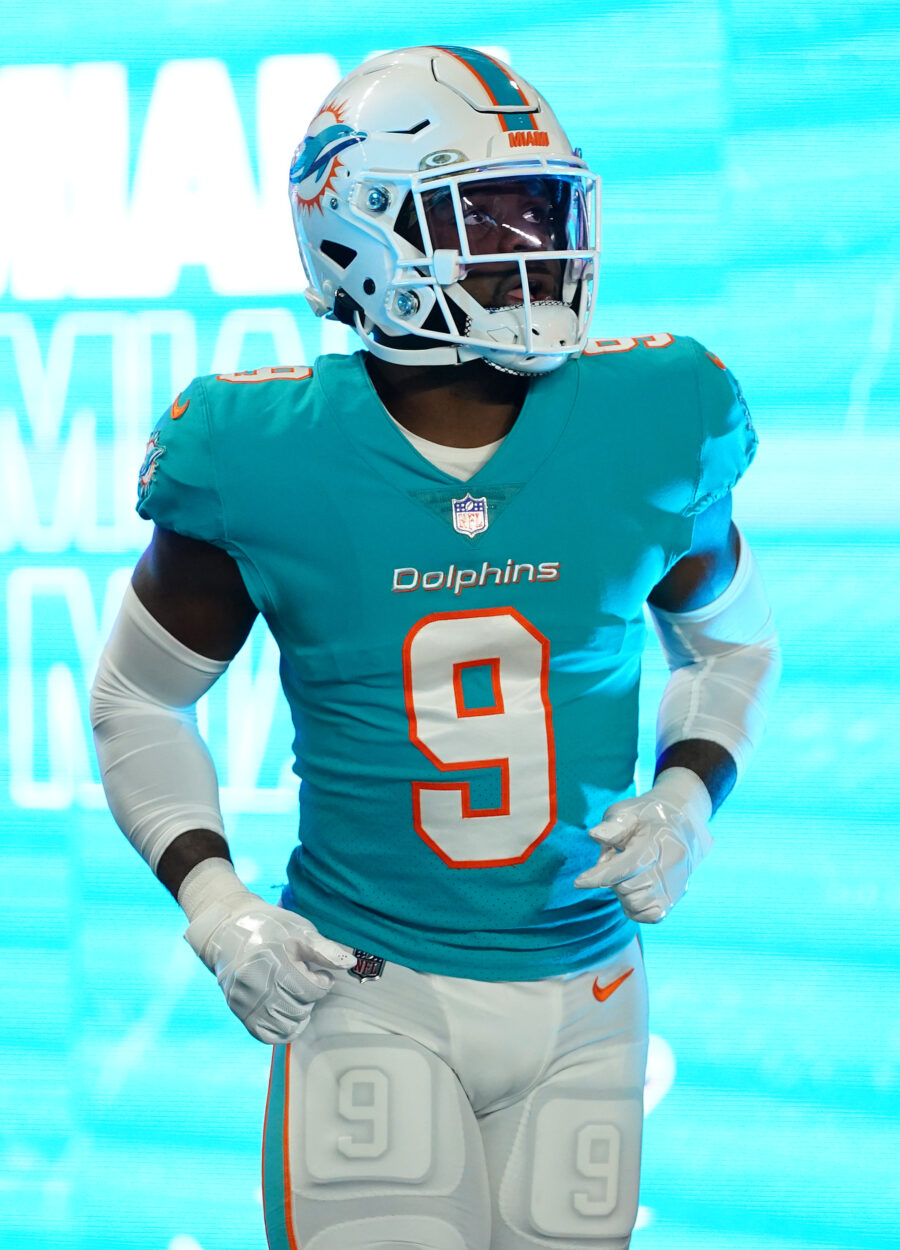 With all the adjustments, there's a chance that Miami may have worked themselves into a situation in which a former first-round pick doesn't make the 53-man roster at the end of the summer. According to Barry Jackson of the Miami Herald, barring injury to his teammates, Igbinoghene may find himself to be the odd man out come final roster cuts.
Ramsey and Xavien Howard are no-brainers to make the roster, as is the rookie top pick, Smith, likely. Ramsey comes in as a three-time first-team All-Pro and a six-time Pro Bowler. Over his seven-year career, Ramsey has started in every game in which he's made an appearance but one, and that one was his debut with the Rams five days after being traded from Jacksonville. Howard is a former first-team All-Pro and four-time Pro Bowl selection, as well. He's twice led the league in interceptions over his seven-year career.
Smith was a three-year starter for the Gamecocks and had experience outside and in the slot in Columbia. According to another report by Jackson, the Dolphins currently have Smith focusing on playing on the outside while trying to cut down on penalties. His versatility and ability to play in the slot, though, is a point against Igbinoghene, who was drafted to start in the slot.
After that, Kader Kohou and Keion Crossen may have earned their spots after stepping up in replacement of the injured Igbinoghene and Needham last year. As an undrafted rookie last year out of Texas A&M – Commerce, Kohou ended the season as Miami's top-ranked cornerback, according to Pro Football Focus (subscription required). He started 13 games for the Dolphins, appearing just over half the time in the slot. Crossen was a reliable injury replacement who contributes strongly on special teams, as well.
Of the returning injured pair, Needham has shown more in his healthy time than Igbinoghene and has had more healthy time. Needham recorded two interceptions in each of his first three seasons in the league before missing 11 games due to injury last year. He was tabbed as the starter opposite Howard when Jones was expected to be out for the year. Miami re-signed him to a one-year deal this offseason after placing a second-round restricted free agent tender on him.
Igbinoghene struggled to stay healthy in his sophomore season, as well, missing 10 games. It wouldn't reward the Dolphins much financially to waive the fourth-year player, whose fifth-year option was declined earlier this month. According to OvertheCap.com, the Dolphins would only gain about $536K in cap space while leaving about $3.04MM on the table in dead money, no matter when they waive him.
Many were a bit surprised by the use of a first-round pick on Igbinoghene to begin with. Three years later, and he hasn't done much to inspire confidence in playing up to his draft stock. Only appearing in 32 games out of a possible 50, and making five starts, Igbinoghene has a career 29 total tackles, five passes defensed, and one interception. His injury history has contributed to the lack of production, but Igbinoghene has struggled to make the most of the opportunities he's been given.
Regardless, the Dolphins have a logjam forming at the cornerback position. Special teams contributions will help Crossen and veteran special teamer Justin Bethel hold on to roster spots, while Ramsey, Howard, Smith, Kohou, and Needham are all expected to stay on the team. That alone would be seven roster spots dedicated to the cornerback position. Igbinoghene will need to have a strong offseason in order to prove he's still worthy of a roster spot come August.