In a trade that will send one of the 21st century's best players to the AFC, the Titans moved ahead of the pack in this pursuit via a firm offer. The Titans were the only serious Jones suitor, according to NBC Sports' Peter King.
The Falcons spoke with several teams on Jones, though offers were scarce. At various points in this process, the team discussed the All-Pro wide receiver with every NFC West franchise. The Cardinals are a new entrant in this derby, but Albert Breer of SI.com notes neither they nor their NFC West rivals sent the Falcons firm offers.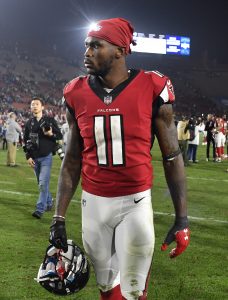 The Titans initially proposed sending the Falcons a conditional third-rounder that could become a second, Breer adds, but Atlanta had Tennessee's proposal of a second-rounder sans conditions on the table for a bit. Sunday-morning negotiations that ended with the teams agreeing to exchange later-round picks finalized the deal, according to King.
Tennessee's willingness to absorb Jones' $15.3MM guaranteed salary also outflanked other suitors, per Breer, who notes the Falcons were not interested in eating part of Jones' 2021 salary in order to sweeten trade compensation. No first-round pick was offered, Breer notes, though at one point a first did come up as part of a potential pick swap.
A Jones-Falcons divorce first surfaced around draft time, and it became a deal framed around the new Falcons regime receiving cap relief. Given the salary component in these talks, that certainly is a key reason why Jones is Nashville-bound. But this separation began when Jones and the Falcons negotiated his wideout-record three-year, $66MM extension. Jones lobbied the Falcons for a new deal after the 2017 season; the Falcons refused and ended up making minor adjustments to his previous contract in 2018. The future Hall of Famer pursued the matter again in 2019. While the sides hammered out an agreement, the months-long negotiations — which ended with a Sept. 7 accord — took a toll on both parties. Jones communicated to the Falcons he wanted out in March.
Although the Ravens pursued several receivers this offseason and signed Sammy Watkins, their Jones interest ceased after the draft. Baltimore using first- and fourth-round picks on wideouts — Rashod Bateman and Tylan Wallace — ended its talks with its former division rival. Finances scuttled Seahawks involvement, King notes, adding the Patriots were also not serious players in this chase.
It sounds like the Falcons are preparing for a pricey Calvin Ridley extension. The 2018 first-round pick is now eligible for a new deal, and the Falcons are preparing for that expensive re-up, per Breer, by getting the Jones contract off their books. Though Atlanta is still eating some dead money from this trade, the team has some time on a Ridley extension. The Falcons picked up his fifth-year option in May, locking up Ridley through 2022.
Follow @PFRumors