Tony Buzbee, the attorney representing the 22 women who have filed lawsuits against Texans QB Deshaun Watson, said back in May that his clients would not agree to a settlement with Watson. Shortly thereafter, Watson's attorney, Rusty Hardin, said that Buzbee had indeed approached him about a settlement, but that settlement is not an option unless "the terms are made public and all participants are allowed to speak in their own defense at all times."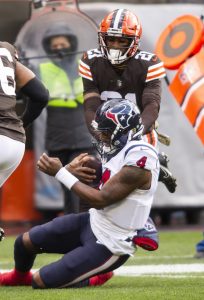 Several days ago, Buzbee once again took to Instagram to discuss the matter. He said, "there will not be a settlement, at least anytime soon. I have my best people on the case. That should tell you a lot about our intentions. … our team is doing what it takes in discovery and prep to try these cases to a jury. The press folks say we've gone 'quiet,' but the truth is we made clear early on that we wouldn't try these cases in the press and now are doing the important work required for our clients to try these cases to a jury."
As Mike Florio of Pro Football Talk writes, Hardin and Buzbee have privately discussed a settlement, but those talks broke down due to Buzbee's unwillingness to waive confidentiality and make the terms of a settlement public. Florio believes that Buzbee is prepared to settle and that the general parameters of an agreement — including the amount of money Watson is willing to pay out — are in place, but that Buzbee still wants to keep the settlement confidential and is insisting he is prepared to try the case in an effort to get Hardin to change his stance. For his part, Hardin says there are no active settlement talks at the moment (via Courtney Zubowski of KPRC-TV).
For most observers, the football side of this matter is still on the backburner, but for the Texans, Watson, and any teams that might want to trade for the three-time Pro Bowler, it is very much a pressing issue. The NFL's investigation is ongoing, but Florio believes the league must make a decision as to whether it will place Watson on the Commissioner's Exempt list as soon as possible to be fair to all parties involved. Despite everything else that has happened since his trade demand earlier this year, Watson still wants to be traded and remains interested in the Broncos, though Denver reportedly would prefer to swing a deal for Packers QB Aaron Rodgers.
However, it's unclear when the NFL might make a decision with respect to Watson's playing eligibility. According to Hardin, the league has not even spoken to his client yet.
The criminal investigation into Watson is also ongoing.
Photo courtesy of USA Today Sports Images.
Follow @PFRumors