On this date in 1995, Washington signed linebacker Terry Crews. Yes, that Terry Crews.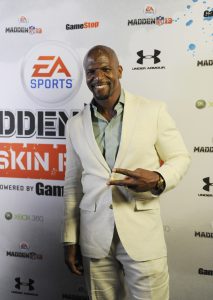 Crews, a 6'3″, 245-pound linebacker, was a standout at Western Michigan. The Los Angeles Rams took note and selected Crews with the No. 281 pick and he appeared in six games as a rookie in 1991. He later found his way to the Chargers, appearing in ten games for them in '93. His next NFL opportunity came with the Redskins, who inked him in the summer of 1995.
Like his previous stints with the Rams and Chargers, Crews' run in D.C. was rather unremarkable. He recorded only one solo tackle and one assisted tackle in that '95 season, though he did stick on the roster for the full season and dressed for all 16 games.
This would not be Crews' last NFL contract. Later, he signed on with the rival Eagles, but quickly realized that football wasn't for him.
"For two weeks, I stayed at the Holiday Inn across the street from Veterans Stadium. I just remember it was Christmas Day. It was the saddest thing ever, that Holiday Inn. I was eating old sausage and two little pancakes. It was so sad," Crews said (via Philly.com). "I was missing my family. We lost the game to the 49ers – it was a playoff game. I just thought, I don't want to do this anymore. The excitement wasn't there."
Crews didn't find excitement or millions in the NFL, but he found a different path to fulfillment and riches. The 2002 comedy "Friday After Next" launched Crews into a lucrative acting career that included roles in several hit movies, including football comedy "The Longest Yard." We won't list his full IMDb here, but you get the point – Crews hit it big, just not on the gridiron.
Crews' time in Washington wasn't notable move from a football perspective, nor was his short-lived trip through Philadelphia. But Crews' struggles throughout his NFL career made him appreciate the success that he discovered later in life.
"I was the name at the end of the roster," said Crews, reflecting on his former life as a professional football player. "It wasn't until after I became famous that people noticed I played in the NFL. I kind of snuck in!"
Photo courtesy of USA Today Sports Images.
Follow @PFRumors