It's not often that a team would be looking to move on from a soon-to-be third-year player who's collected 5.5 sacks in each of their first two NFL seasons. However, that's the position the Patriots may end up finding themselves in come preseason.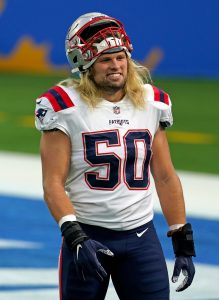 Recently, Doug Kyed of NESN.com pointed to 2019 third-round pick Chase Winovich as a surprise cut/trade candidate.
"I'm interested to see what kind of role Chase Winovich can find this offseason," Kyed wrote. "Linebacker is a crowded position, and Belichick made Winovich expendable a few times last season."
Winovich would seemingly fit the bill of an ideal Bill Belichick depth piece. The 26-year-old has shown plenty of potential, he's displayed versatility, he can play special teams, and (perhaps most important to Bill) he's inexpensive at around only $1.7MM combined for the next two years. In fact, the Patriots head coach was willing to provide some rare praise for the youngster.
"He's still a young player that's developing and can continue to grow, both in his understanding of our system and the techniques and some of the assignments that come with it," Belichick said recently (via WEEI). "His versatility leads to probably, I would say, a wider range of assignments than maybe some other players, including in the kicking game, but he does a good job of trying to manage all that and work on all of the things that will help the team."
So, with all that said, why would the Patriots consider moving on from Winovich? For starters, the team's depth at linebacker has seen a massive upgrade. Winovich generally spent the 2020 season serving as New England's second outside linebacker behind John Simon. In the span of an offseason, the team added both Matt Judon and Kyle Van Noy (who's back after one season in Miami), and Dont'a Hightower is set to return after sitting out the 2020 campaign. Plus, reports out of Patriots camp indicate that 2020 second-rounder Josh Uche is impressing. While Winovich has the versatility to play defensive end, he'll be hard pressed to earn playing time at linebacker.
Further, while Winovich has put up some solid counting stats, the advanced metrics paint a different picture. The defender proved to be above-average when it comes to pass-rushing and pass-coverage, but he's struggled mightily when it comes to stopping the run. If that trend continues, Winovich will have a tough time becoming a full-time player. Those run-stopping deficiencies could explain why he's often found himself in Belichick's doghouse throughout his two-year career. Winovich was often in and out of the lineup over the past two years, with the player alternating between frequently used starter to little-used backup.
Because of all those aforementioned positives (versatility, upside, affordability), the Patriots would probably be able to find a taker for Winovich if they decide to ultimately move on. Belichick would probably be more than satisfied with recouping part of the team's initial investment into the player (third-round pick, No. 77 overall). Perhaps a fourth-round pick could get it done, although that's just speculation on my side.
There's a chance that Winovich eventually transforms into yet another all-time Patriots great. However, based on the team's current roster crunch at linebacker, the young player could instead find himself on the way out of New England.
Follow @PFRumors