A face which is familiar to both Giants fans and new head coach Brian Daboll is set to be returning to East Rutherford. Quarterback Davis Webb is conducting a physical with the team, and is expected to sign, writes Darryl Slater of NJ.com.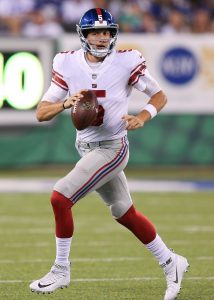 Webb was originally a third round pick of the Giants in 2017, as the team looked for a long-term replacement for Eli Manning. Things didn't go according to plan, though, as he was waived in September 2018 without having played a regular season game in New York.
He didn't have to go far to join his next NFL team, as the Jets immediately added him to their practice squad. Even though the former Cal product stuck around for the 2018 season, and actually got a one-year contract with the Jets, he found himself on the waiver wire again before the 2019 campaign started. He spent the past three seasons in Buffalo, twice signing reserve deals despite the fact he only appeared in one regular season game.
Webb's time in Buffalo, and in particular working with Daboll, has certainly left an impression. As Ryan Dunleavey of The New York Post tweets, the 27-year-old said of his new HC: "I'm a way better player and way better person than I was earlier. When I do get into coaching, I'm going to take the most I've ever learned from him".
Webb will add depth to a QB room featuring Daniel Jones – on whom much of the team's attention will be placed, as he enters his fourth NFL season – along with former fifth-rounder Jake Fromm.
Follow @PFRumors