The Bengals didn't sign Jessie Bates prior to the extension deadline, and despite having little leverage to avoid playing on the franchise tag in 2022, the safety is still away from the team as training camp starts. Speaking to reporters, Director of Player Personnel Duke Tobin acknowledged that the two sides "just didn't come together" on a new deal and there are "no hard feelings" (via ESPN's Ben Baby on Twitter).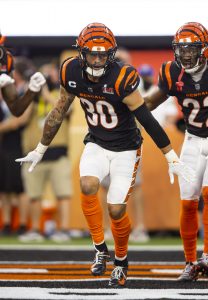 [RELATED: Jessie Bates Absent From Training Camps]
Predictably, Tobin revealed that the front office would be willing to resume negotiations with Bates following the upcoming season. Bates has not yet signed his tender — which means that he cannot be fined for skipping training camp — but he will either need to sign it at some point or sit out the entire 2022 campaign, which seems highly unlikely. The most likely route sees Bates return to the field for the 2022 season and then hit unrestricted free agent next offseason. For what it's worth, a trade isn't expected.
Meanwhile, the Bengals front office will soon have to shift focus to extending their franchise quarterback. Speaking to reporters, team president Mike Brown made it clear that the Bengals want to keep Joe Burrow long-term.
"I can tell you that we couldn't be happier with Joe Burrow," Brown said (via Baby). "He's everything you would wish for, especially for a quarterback in Cincinnati. Our whole focus is going to be on keeping him here."
Burrow is entering the third year of his rookie contract, meaning there's still plenty of time to negotiate a new pact. As Baby notes, the Bengals will also have to figure out how to proceed with an extension for wide receiver Tee Higgins, although Brown was clear that QB is the team's priority.
"Right now, our obvious, most important issue will be with our quarterback," Brown said. "It's not quite ready or ripe yet, but it's right down the track. We see the train coming."
Follow @PFRumors