Two notable absences were widely expected as training camps open this week: Chiefs left tackle Orlando Brown Jr. and Bengals safety Jessie Bates. To no surprise, then, their respective teams will be without them for the beginning of summer practices.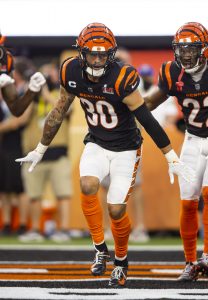 Brown's absence was confirmed by NFL Network's Mike Garafolo (video link). The news comes in the wake of details regarding the final offer made by the Chiefs to get the three-time Pro Bowler signed long-term. The proposed deal would have allowed Brown to reach his stated goal of becoming the league's highest-paid offensive lineman, but issues related to the structure and guarantees led to the deal falling through.
Reports have since surfaced about the team's frustrations regarding the process which has left both sides in their present situation. With Brown attached to a franchise tag valued at $16.7MM, head coach Andy Reid said, when asked about whether or not the 26-year-old would report to camp, "I don't know that. So I don't know whether he's going to be here or not. If he's here, great. And if he's not, we move on."
Bates, meanwhile, never came nearly as close as Brown did to inking a long-term extension, something which has been a point of contention dating back to last offseason. The 25-year-old has maintained throughout this process that he will not play on the franchise tag ($12.9MM), making his decision to stay away from camp (confirmed, on Twitter, by ESPN's Jeremy Fowler) the next logical move in this saga.
In a similar vein to the Chiefs with respect to Brown, the Bengals offered a five-year deal with insufficient guarantees to gain much traction in finalizing an agreement. Bates' absence will leave first-team reps available for Daxton Hill, the Bengals' top draft pick and long-term successor in the likely event Bates is gone by no later than March. A trade is not considered to be in the cards at this point.
Since neither player has signed their tags, they will not be subject to fines as a result of their absences. Sitting out the campaign remains their only alternative to eventually signing and reporting, though, an eventuality which will be closely monitored in the coming days and weeks.
Follow @PFRumors