The Bengals' franchise tag offseason with Jessie Bates has produced mostly reports of an impasse, leading to frustration from the talented safety. While 11th-hour momentum frequently comes on July 15 in these cases, it does not appear to be on tap in this one.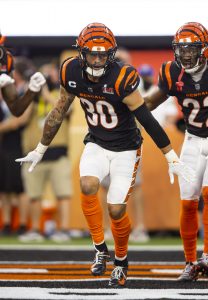 Bates and the Bengals have made "zero progress" on an extension ahead of Friday's 3pm CT deadline, Tyler Dragon of USA Today tweets. This situation has headed to this place for a while, dating back to the 2021 offseason — when Bates expressed disappointment no extension emerged ahead of his contract year. It appears a season on the franchise tender — one Bates has not signed — will be his 2022 path.
It is not difficult to see why Bates is balking at the Bengals' offer. Cincinnati is proposing a five-year deal that provides barely $16MM fully guaranteed, Ian Rapoport of NFL.com notes (on Twitter). This guarantee proposal would be well outside the top five at the position. Eight safeties signed for more than $20MM fully guaranteed. The Bengals do not guarantee salaries beyond the first year of contracts, joining the Packers on that front. This blueprint will be tested when the Bengals negotiate with Joe Burrow, but the team appears unwilling to break with procedure for Bates.
Until Bates signs his tender, he is not contractually obligated to attend Bengals training camp. That is the fifth-year safety's plan, per Dragon, who adds Bates has no intentions to report to camp.
Once Bates signs his tender, he will be tied to a $12.9MM guaranteed salary. While Le'Veon Bell did stick to his guns and skip the 2018 season, no one else has tried this tactic since the 1990s. It should be expected Bates will play for the Bengals in 2022, but after the past two offseasons, it is not hard to see this relationship ending in 2023. A second Bates tag would cost the Bengals $15.5MM next year.
Bates, 25, has missed just two games throughout his career and has started every game he's played. The former second-round pick has become one of the NFL's top safeties, but a value gap has formed.
The Bengals appear unwilling to pay Bates a deal that places him on the Minkah Fitzpatrick–Jamal Adams tier. Adams created that space by signing a $17.5MM-per-year deal in August 2021. There are four safeties (Marcus Williams, Kevin Byard, Eddie Jackson and Budda Baker) tied to deals ranging from $14MM AAV to $14.75MM per annum. While a compromise spot would exist in the Justin Simmons–Harrison Smith space ($15.25-$16MM per year), the salary cap is set to keep rising — after its 2021 dip — so Bates seeking a deal close to the top of the market makes sense.
Cincinnati has Vonn Bell entering a contract year as well, clouding the team's outlook at the position. But first-round pick Daxton Hill should be expected to become a starter soon. He is signed through 2025, with a fifth-year option that could take the deal to 2026. A Bates big-ticket deal alongside Hill's rookie contract would seem manageable, but the Bengals have perhaps their most notable extension in franchise history to consider in 2023. In addition to Burrow becoming extension-eligible next year, so will Tee Higgins, giving the AFC champions some long-term planning to do.
Follow @PFRumors