The Raiders have dedicated big contracts to a number of their star players over the past few years extending players like quarterback Derek Carr, defensive end Maxx Crosby, tackle Kolton Miller, wide receiver Hunter Renfrow, and tight end Darren Waller while signing free agents like wide receiver Davante Adams and defensive end Chandler Jones to large salaries, as well. Luckily for them, the next potential player up for a new deal plays at one of the league's cheaper positions.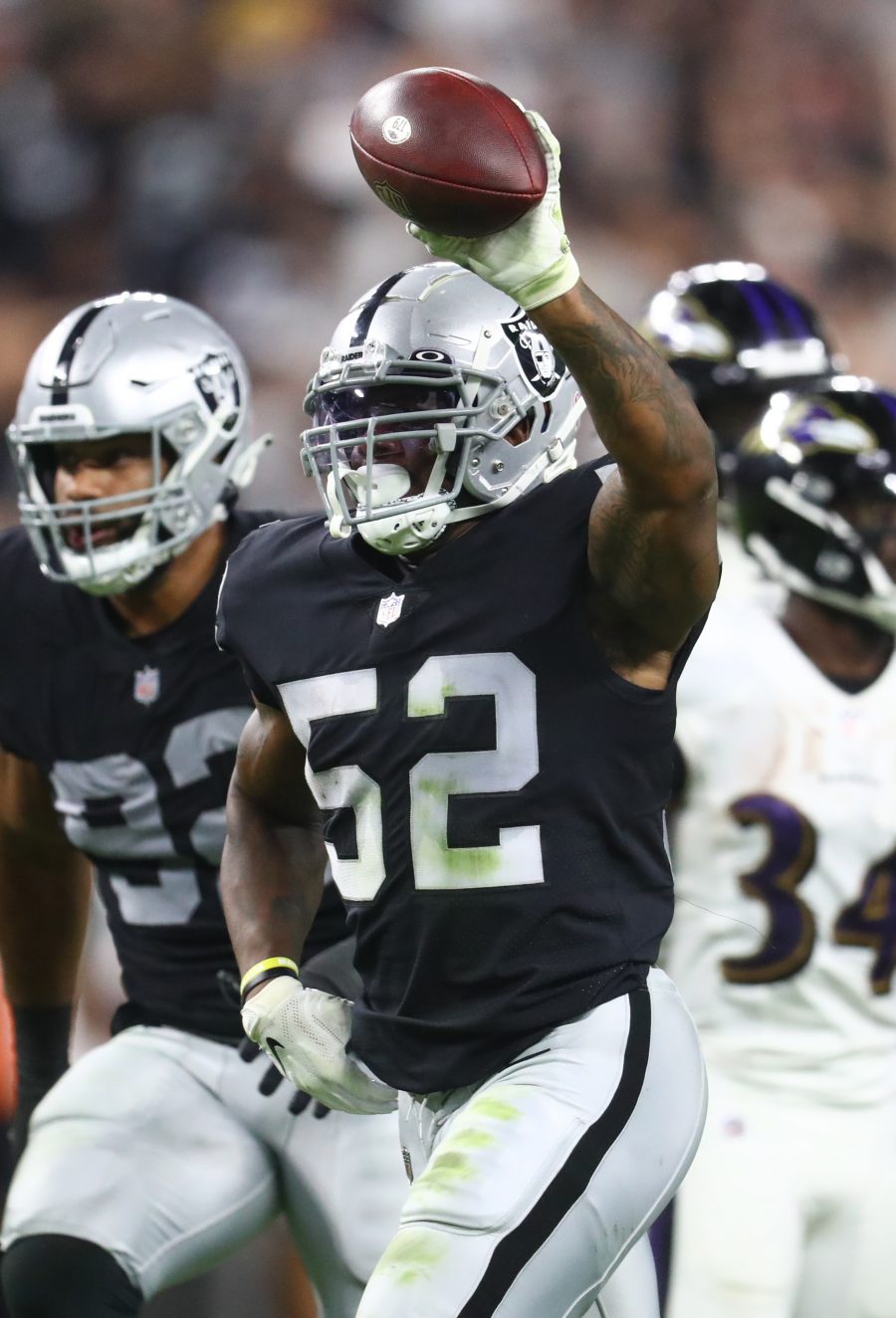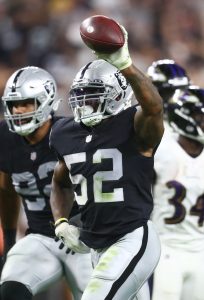 Physically, Denzel Perryman is a near replica of fellow Miami Hurricane alumnus Ray Lewis. Both are undersized for the linebacker position, sitting at around 6-foot tall and 240 pounds. Perryman's playing style is that of the prototypical, old-school linebacker. He's a thumper that is always around the ball-carrier but can struggle in some coverage situations. Pro Football Focus (subscription required) ranked him 16th among linebackers in run defense last year and 2nd in pass rush, but his lackluster coverage grades (41st) slot him as the 26th-ranked linebacker overall.
Perryman was a second-round pick for the Chargers back in 2015. He was expected to contribute right away, despite being limited throughout camp with a hamstring injury, but quickly pushed his way into the starting lineup by Week 6 of his rookie season when starter Manti Te'o suffered an injury. Perryman started alongside Donald Butler for two weeks before sustaining an injury himself. When Te'o and Perryman both returned from injury at the same time, then-San Diego defensive coordinator John Pagano named them both starters, demoting Butler to a backup role. He started the rest of the season for the Chargers and never really let go of that starting role.
After playing out his rookie contract, the Chargers extended Perryman on a two-year, $12MM deal. During the last year of his new contract, the Chargers decided to inject some youth into the linebacking corps, drafting Kenneth Murray in the first round of the 2020 NFL Draft. When Perryman's contract expired, Los Angeles decided to let him walk in free agency. Perryman's limited usage in his final two years with the Chargers hurt his value a bit and he signed a two-year, $6MM deal with the Panthers. A little more than two weeks before the season started, though, Carolina traded Perryman to the Raiders for the 2021 season.
2021 saw a complete resurgence for the ailing linebacker. While many assumed his best days were behind him and that he was doomed to serve as a depth piece or lower-tier starter for the remainder of his career, Perryman took in his new surroundings and opportunities and made out of them the best season of his seven-year career. Last year, Perryman finished the season at sixth in the league with 154 tackles, more than doubling his previous season-high of 73 set in his rookie season. After being packaged with a seventh-round pick to be exchanged for a sixth-round pick in the Carolina-Las Vegas deal, Perryman made the first Pro Bowl of his career.
After the Pro Bowl year, Perryman now appears to be a bit underpaid as he's set to earn just over $3MM this year. The inside linebacker position tends to run cheaper than others on the defense. The top paid players at the position (Colts linebacker Shaquille Leonard, $19.7MM annual average value, and Jets linebacker C.J. Mosley, $17MM AAV) have impressive annual salaries. Behind them, though, the top players in the game average anywhere from $8MM per year (Steelers linebacker Myles Jack) to $14.5MM per year (Titans linebacker Zach Cunningham). In terms of talent and ability, Perryman absolutely falls within this range, but there are a few other aspects to a new deal that may affect the final number.
The first factor in a new contract is age. Perryman is 29-years-old this season and, while he seems to be playing the best football of his career, approaching the 30-year mark is often a harbinger of decline in play. There are plenty of exceptions to the rule at the position, though. Bobby Wagner just signed a five-year, $50MM deal to join the Rams at 31 years old. Perryman's older doppelganger, Lewis, played well into his 30s, collecting first-team All-Pro and Pro Bowl accolades as late as 34 and 36 years old, respectively. So while his age may play a factor into the length of any new deal he receives, the fact that he is playing better than he ever has previously should help in making sure his age doesn't diminish his value.
The second factor facing Perryman's extension efforts is injury. Injuries have long plagued the veteran's career. In his full seven years of play, Perryman has never once appeared in every game of the season. His healthiest season came last year when he started and played in 15 games. He missed two regular season games due to an ankle injury that, later, forced him to leave the Raiders' playoff battle against the Bengals last year. Over the course of his career, Perryman has suffered an array of injuries ranging from his ankle to his shoulder including an LCL tear in his knee, hamstring sprains, and pectoral strains. The silver-lining here, similar to above, is that he displayed a durability last year unmatched by any previous season. If he is only getting healthier, then the amount he receives should not be adjusted too much. It should be expected, though, that his injury history may affect the guaranteed amount that receives.
An extension for Perryman likely keeps him under contract for another two or three years. If the team intends to reward Perryman for his Pro Bowl production last year, his AAV could get up to $10MM. It might be a bit more likely for his contract to end up around $8MM or $9MM per year. My guess is that, if the Raiders were to decide to extend him, it would be something like a three-year, $27MM deal with a guaranteed amount of $9MM.
The Raiders didn't invest any draft picks this year in young linebackers and the linebackers they brought in through free agency, Jayon Brown, Kenny Young, and Micah Kiser, don't seem to be any threat to steal Perryman's playing time. It seems like an ideal time for both sides to come to an extended agreement, then. The Raiders can secure their leader at linebacker for the next few seasons and Perryman can cash in on his newly inflated value.
Follow @PFRumors