OCTOBER 2: Bosa, who sustained a groin tear, is expected to miss eight to 10 weeks, as Adam Schefter of ESPN.com writes. Schefter adds that Bosa is not likely to return to his elite level of performance this season.
SEPTEMBER 28: After Brandon Staley expressed concern about Joey Bosa's groin injury, an IR trip appeared in play. The Chargers are taking that route with their perennial Pro Bowl pass rusher.
Bosa is heading to IR, per Lindsey Thiry of ESPN.com (on Twitter). While this will knock the seventh-year defender out for at least four games, a longer absence is likely in store. Bosa will undergo core muscle surgery in Philadelphia, Ian Rapoport of NFL.com tweets. The Chargers do expect him back later this season, with Mike Garafolo of NFL.com suggesting a possible two-month timetable (Twitter link). But this will be a difficult setback for the team's retooled defense.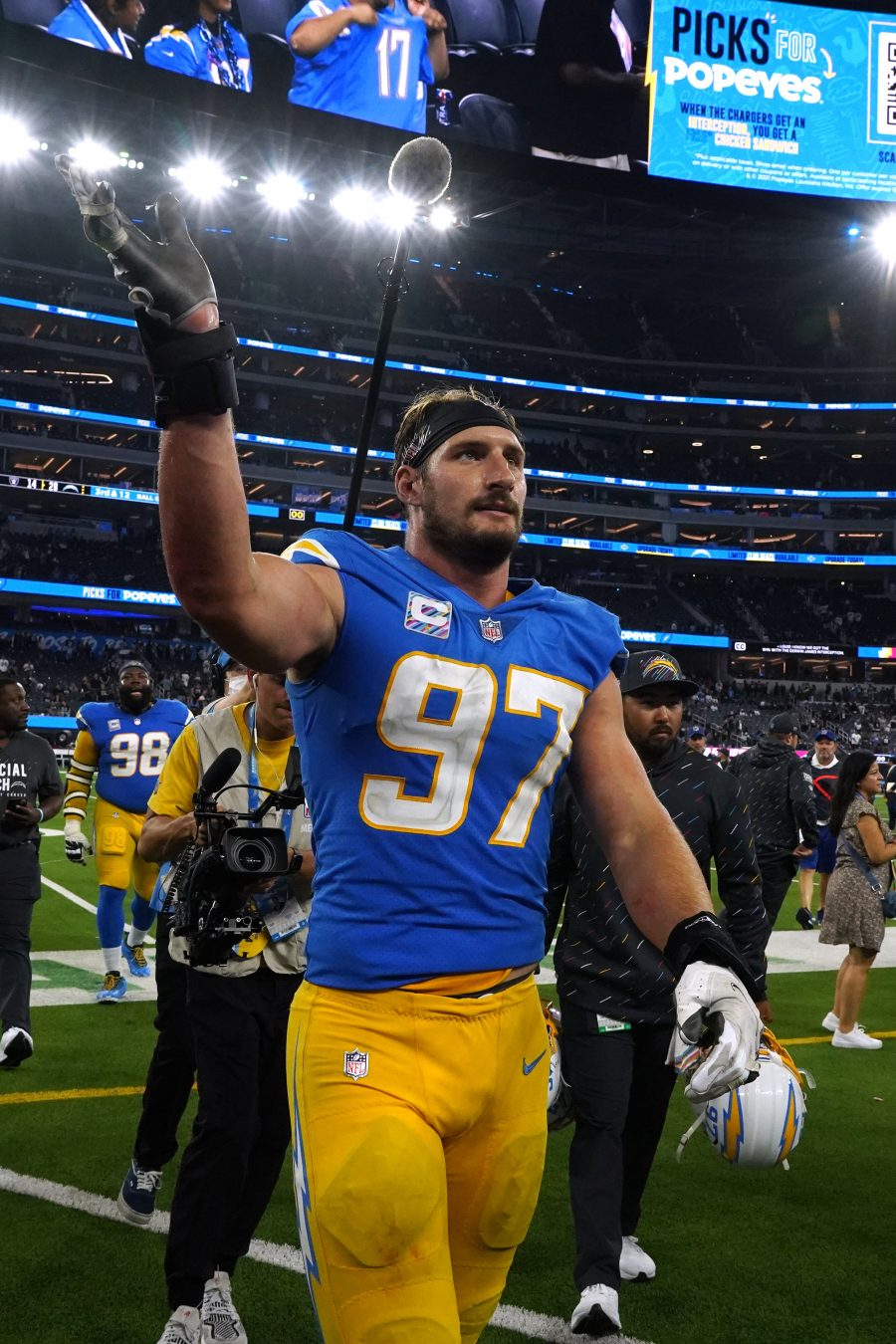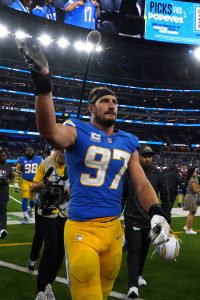 The Bolts' $27MM-per-year sack artist left the team's Week 3 game early. Left tackle Rashawn Slater joined Bosa in doing so. Slater is expected to miss the rest of the season with a biceps tear. Backup wide receiver Jalen Guyton also sustained a torn ACL during the Chargers' loss to the Jaguars. These maladies occurred during a game in which Pro Bowlers Corey Linsley, Keenan Allen and J.C. Jackson missed due to injury. Justin Herbert, of course, played through a rib cartilage fracture he suffered in Week 2.
This is a familiar development for the Chargers, who have dealt with extensive injury trouble in several recent seasons. It comes at a critical point on the franchise's timeline. Herbert is eligible for an extension in January, making the 2022 season perhaps his last on a rookie deal. Given where the quarterback market went this year, a deal that surpasses $50MM on average should be expected. The Chargers aggressively bolstered their roster this offseason, devoting considerable resources — at Staley's request — to upgrading their defense. Bosa being out undercuts that effort.
The Chargers acquired Khalil Mack to team with Bosa and form one of the top edge-rushing duos in recent memory. Mack has returned from the foot injury that ended his 2021 season early, but he will have to go it alone for a bit. For Bosa, this represents another even-year setback. Bosa, 27, missed four games as a rookie in 2016 (hamstring), was shut down for nine during the 2018 season (foot) and missed four more contests in 2020 (two concussions). Still, Bosa has received four Pro Bowl invites and has four double-digit sack seasons.
Herbert, Mack and Co. will need to steady this suddenly rocky season during Bosa's absence. Allen, Jackson and Linsley are not on IR and should be expected back soon. Though, Bosa and Slater's absences make Los Angeles' lineup less formidable.
Second-year rusher Chris Rumph, a fourth-round pick, was Bosa's primary replacement against the Jags. The Chargers also have the option of using hybrid linebacker Kyle Van Noy in more of a rushing role. The Patriots often went to this well. Van Noy totaled 21.5 sacks with New England and tallied 17.5 with the Pats and Dolphins from 2019-21.
Follow @PFRumors