10:41am: White will receive the call against Chicago, Saleh said. The former Cowboys fifth-round pick made three starts for an injured Wilson last season. White, 27, completed 66.7% of his passes last season and threw five touchdown passes against eight interceptions. Flacco will be White's backup, per Saleh, who said (via the New York Post's Brian Costello, on Twitter) Wilson will be inactive.
White created tremendous buzz with his 400-yard game against the eventual AFC champion Bengals, but after suffering an injury in the Jets' ensuing game, he crashed back to earth via a four-INT dud against the Bills. By benching a formerly coveted prospect for White, the Jets are placing a great deal of faith in a player who has not taken a 2022 snap.
10:03am: Robert Saleh opened the door to a Zach Wilson benching Monday, and the Jets are following through with the move. During a Wednesday team meeting, players learned the second-year quarterback will be benched for Week 12, Adam Schefter of ESPN.com reports (on Twitter).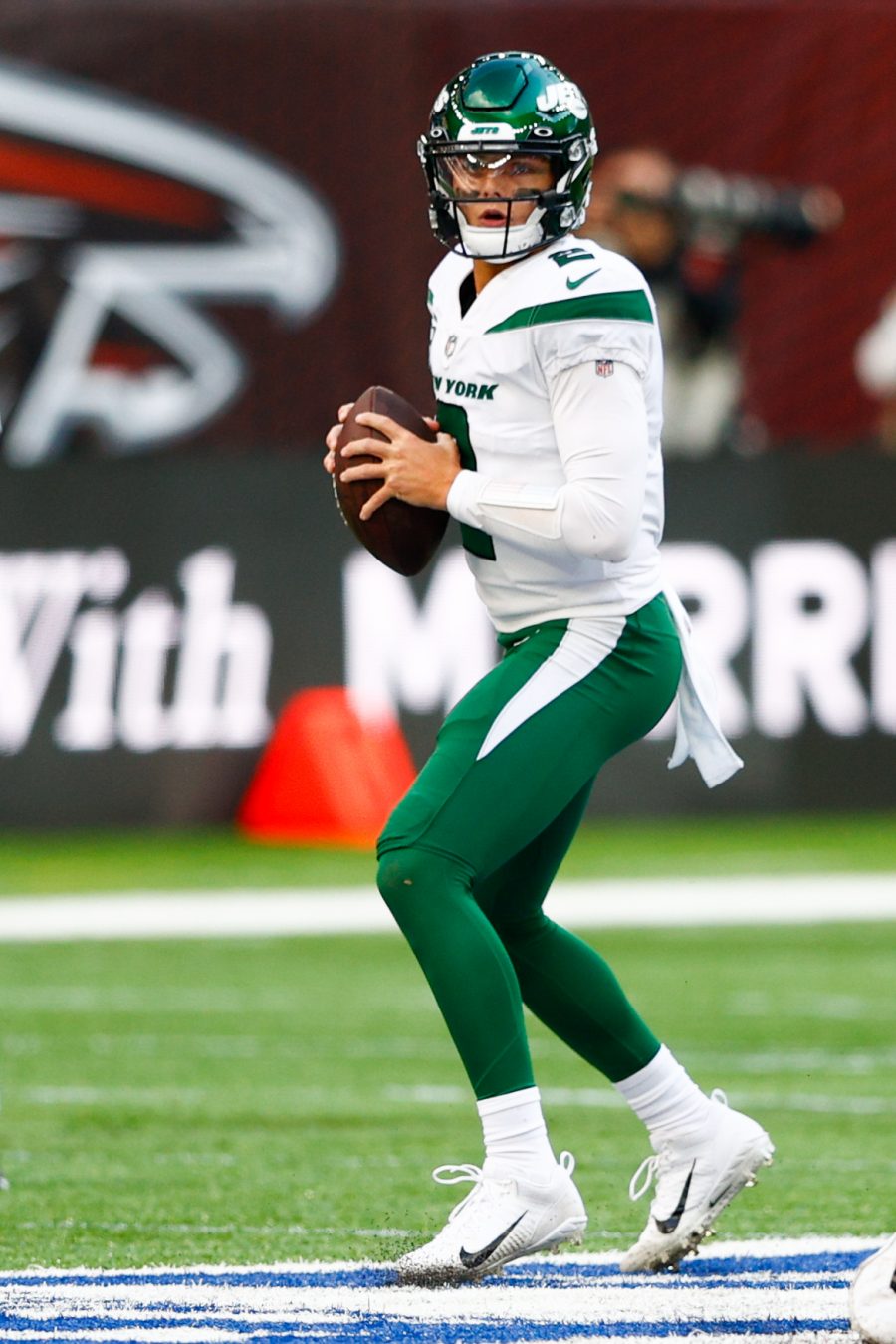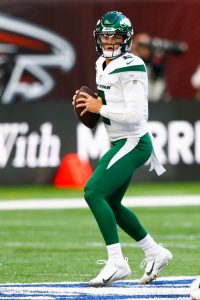 Considering the investment the Jets made in Wilson, it is obviously a major development they are sitting him due to performance issues so early in his tenure. The team bailed on a No. 3 overall pick (Sam Darnold) after three seasons to take Wilson second overall. But Wilson has floundered since returning from a preseason knee injury, putting Saleh in a bind.
At 6-4, the Jets have a chance to secure their first playoff berth since 2011. That currently represents the NFL's longest postseason drought — by a considerable margin. The team has greatly improved on defense, vaulting from 32nd in Saleh's first year to being a top-10 unit in both total defense and points allowed. Wilson has done well to restrict that defense, struggling to justify that No. 2 overall investment.
Wilson, who rocketed onto the first-round radar after a breakthrough 2020 season at BYU, has completed less than 56% of his passes this season and has thrown just four touchdown passes in seven 2022 starts. Wilson's 55.6% completion rate matches his 13-start rookie figure, inviting concern — especially with the Jets making more investments at receiver this offseason. The Jets are coming off one of the worst offensive performances in franchise history. Their 103 total yards is the fourth-lowest number in franchise annals. Their Wilson-directed Week 18 showing last season (53) ranks as the worst.
Wilson's comments after his 9-for-22, 77-yard outing in Foxborough also became an issue. The young passer indicating he did not feel he let his defense down rankled some defensive players. Saleh keeping Wilson as the starter may have created a locker room problem. Addressing the situation, Saleh said (via SNY's Connor Hughes, on Twitter) "maybe there's a little irritation at the moment, but I don't think there's hate." Still, this could be a significant turning point for the Jets, who have invested tremendous draft capital at the quarterback position in recent years. Wilson remaining on the bench the rest of the way certainly calls his long-term status into question.
The Jets recently demoted Week 1 starter Joe Flacco to their third-string post, moving Mike White — their initial Wilson replacement last year — to the backup job. White emerged as a Wilson threat last year, after becoming the first Jet to surpass 400 passing yards since Vinny Testaverde in an upset win over the Bengals. That talk died down after White struggled to replicate that form, however. When asked who would take over for Wilson if he did not receive the call against the Bears, Saleh did not say whether it would be White or Flacco. Despite starting just three games, Flacco still leads the Jets with five touchdown passes this season. Whoever does receive the call will be tasked with keeping the Jets in the playoff mix.
The Jets could conceivably circle back to Wilson, justifying this as a temporary shutdown to allow for further development. In explaining his decision to bench Wilson, Saleh said the former mid-major prospect's Jets career is "not over." Saleh said the intent is for Wilson to play again this season.
While undoubtedly a blow to the team's big-picture plan, Wilson also is not showing improvement during second season as a full-time starter. The Jets zeroed in on Wilson in 2021, moving the draft's suspense to the 49ers' No. 3 spot. After the Jaguars went with locked-in No. 1 prospect Trevor Lawrence, the Jets went with Wilson, doing so despite the latter's 2020 rise aided by a COVID-19-altered BYU schedule that featured lesser opposition. The Jets will face one of the QBs they bypassed — Justin Fields — on Sunday.
Follow @PFRumors