New England's interior offensive line took some hits in today's win over the Jets. Both starting center David Andrews and left guard Isaiah Wynn left today's game with injuries that could force the Patriots to reconfigure their men upfront for the remainder of the year.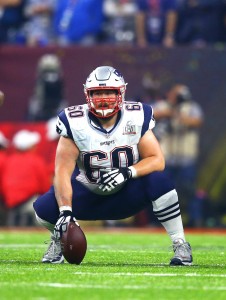 Andrews has been the longtime center in New England since signing with the team as an undrafted free agent in 2015. While he's missed his fair share of games in the past with injuries, a seven-game season would easily be a career-low for the 30-year-old out of Georgia. Andrews left today's game with a thigh injury, according to Ian Rapoport of NFL Network. He'll undergo more testing to determine the severity of the injury, but the Patriots are reportedly not expecting good news as they fear the injury may end his season.
Wynn has also been a consistent starting presence on the Patriots offensive line since being selected in the first-round four years ago. Wynn was originally intended to contribute as a tackle but was moved inside in 2020 and has continued in that role this season. Wynn is, unfortunately, a bit more accustomed to missing extended periods of time than Andrews. Wynn tore his Achilles tendon in 2018, forcing him to miss his entire rookie season. He spent stretches of time on injured reserve in each of the following two seasons for a toe injury and a knee injury. Wynn left today's game "with a foot injury," according to Jeff Howe of The Athletic, and could also miss extended time due to the ailment. He, too, will undergo further testing in order to determine the extent of the injury.
Rookie Cole Strange is expected to fill in for Wynn during any time he may miss. The two have been jostling in recent weeks for a starting spot, despite both holding starting roles for most of the season. With Wynn out, New England will have little choice but to let Strange take the opportunity. Andrew's backup is James Ferentz, who started at center for each of the past two games that Andrews has missed lately.
These injuries seem to pile onto similar blows to the team's offensive line this season. Andrews could be joining Chasen Hines and Marcus Cannon on IR, and, even if Wynn doesn't get assigned to IR, he may be sitting out like Andrew Stueber has done recently due to injury.
Before today's win over their division-opponents, the Patriots were fourth in the AFC East. They now sit at third with a 6-4 record, one win behind current division leaders Miami (7-3) and Buffalo (7-3). The injuries will certainly make it difficult for New England to stay in what has turned into a very intriguing division race.
Follow @PFRumors