The Panthers are sticking with P.J. Walker this week against the Bengals; Baker Mayfield will be Carolina's backup for the second straight week since returning from a high ankle sprain. A backup option in 2020 and 2021, Walker is the fifth player to be the Panthers' preferred starting quarterback since Cam Newton's first tenure wrapped in 2020, joining Teddy Bridgewater, Darnold, Newton (stint No. 2) and Mayfield.
Steve Wilks has made cryptic comments about Sam Darnold's status. The Panthers must activate Darnold by Nov. 9. Otherwise, the former No. 3 overall pick will go from 2021 Week 1 starter to a player that misses a full season due to a high ankle sprain.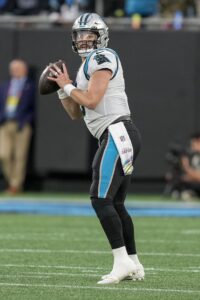 "I think Sam has been doing well in practice — in the things that he has progressed with, as far as really throwing the football," Wilks said, via the Charlotte Observer's Mike Kaye. "He hasn't really taken any live action since last year. Preseason was sparingly there, so it's still a process. I can't really say."
It would be surprising if the Panthers do not use one of their injury activations on Darnold. They have all eight of their activations remaining, and talk of Darnold being given another shot at the starting gig emerged as Mayfield struggled. Darnold ran into this ankle trouble in late August and was given a four- to six-week return timetable. We are well past that point, but the former Jets starter did return to practice at the end of that initial window.
The Panthers traded three draft choices — including a 2022 second-rounder — for the former No. 3 overall pick and picked up his fifth-year option shortly after doing so. Darnold is making more than Mayfield this year, but the Panthers — after not seeing much from the USC product last season — have not gotten anything from that $18.9MM salary. Carolina has three arms who could conceivably start down the stretch; all are on track for free agency in March.
Working with the Panthers' scout team this week, Mayfield said he would be interested in returning. Considering Matt Rhule is gone and Mayfield has been benched, it would surprise if the former No. 1 overall pick was a Panther in 2023. But the past two seasons have torpedoed the ex-playoff starter's value. If/once Darnold is activated, the prospect of Mayfield going from clear starter — after winning a training camp competition — to a gameday inactive would be in play. Mayfield said, via ESPN.com's David Newton, he has not spoken with Wilks or GM Scott Fitterer about his Carolina future.
"I care about winning right now; we'll see what happens, Mayfield said. "This is a great place. I would love to be here, but a lot of that stuff is out of my control. So I handle what I can, control what I can and just stay in the moment."
Next year's free agent QB class suddenly looks a bit deeper, given the improved play of Daniel Jones and resurgence of Geno Smith. This would stand to impact Darnold and Mayfield. Both the Giants and Seahawks, however, will be obvious threats to retain their incumbent starters. If that happens, Mayfield and Darnold would join the likes of Bridgewater, Jimmy Garoppolo, Jacoby Brissett, Andy Dalton and Gardner Minshew on the 2023 market. Tom Brady is also playing on an expiring deal, but it is highly uncertain the 45-year-old passer will attempt to play beyond this season. Lamar Jackson's contract is also up after 2022, but the Ravens quarterback will not reach free agency.
The Panthers could circle back to one of their current arms as a 2023 bridge option, but the team that has accumulated six additional draft picks — in the Robbie Anderson and Christian McCaffrey trades — will undoubtedly be linked to next year's quarterback prospects in the coming weeks and months.
Follow @PFRumors