DECEMBER 31: The second player to be activated from IR only two days after being designated to return, Bosa was officially activated by the Chargers today in time for tomorrow's contest against the cross-town Rams. After clinching a playoff spot last week, this gives Bosa a two-week period to get back up to full speed before the postseason begins.
In order to make room for Bosa on the active roster, Los Angeles waived running back Sony Michel. Michel has been the team's third running back behind workhorse starter Austin Ekeler and backup Joshua Kelley. Ekeler plays significant time in the Chargers backfield as the both the team's top rusher and most talented receiving back. Michel became an easy expense on a roster with a more established backup in Kelley and a backup with more youth in rookie fourth-round pick Isaiah Spiller.
In addition to those two roster moves, the Chargers have promoted defensive lineman David Moa and running back Larry Rountree from the practice squad as standard gameday elevations for Sunday.
DECEMBER 29: The seventh-year pass rusher will begin practicing Thursday. The Chargers have made the official transaction, starting Bosa's IR-return clock. Bosa said the core issue the surgery addressed had plagued him for years, via The Athletic's Daniel Popper (on Twitter).
DECEMBER 26: Again riddled with injuries to high-profile players, the Chargers are on track to have one of them back in uniform soon. Brandon Staley has floated the possibility of Joey Bosa and Rashawn Slater playing again this season. Bosa looks to get there first.
The Chargers are expected to have Bosa back at practice this week, according to Ian Rapoport and Bridget Condon of NFL.com (video link). The Pro Bowl pass rusher has been out since suffering a groin injury in Week 3. Bosa's return has gained steam in recent weeks, and the Bolts appear finally ready to see what he looks like in practice. From the day Bosa begins practicing, the Chargers will have three weeks to activate him from IR.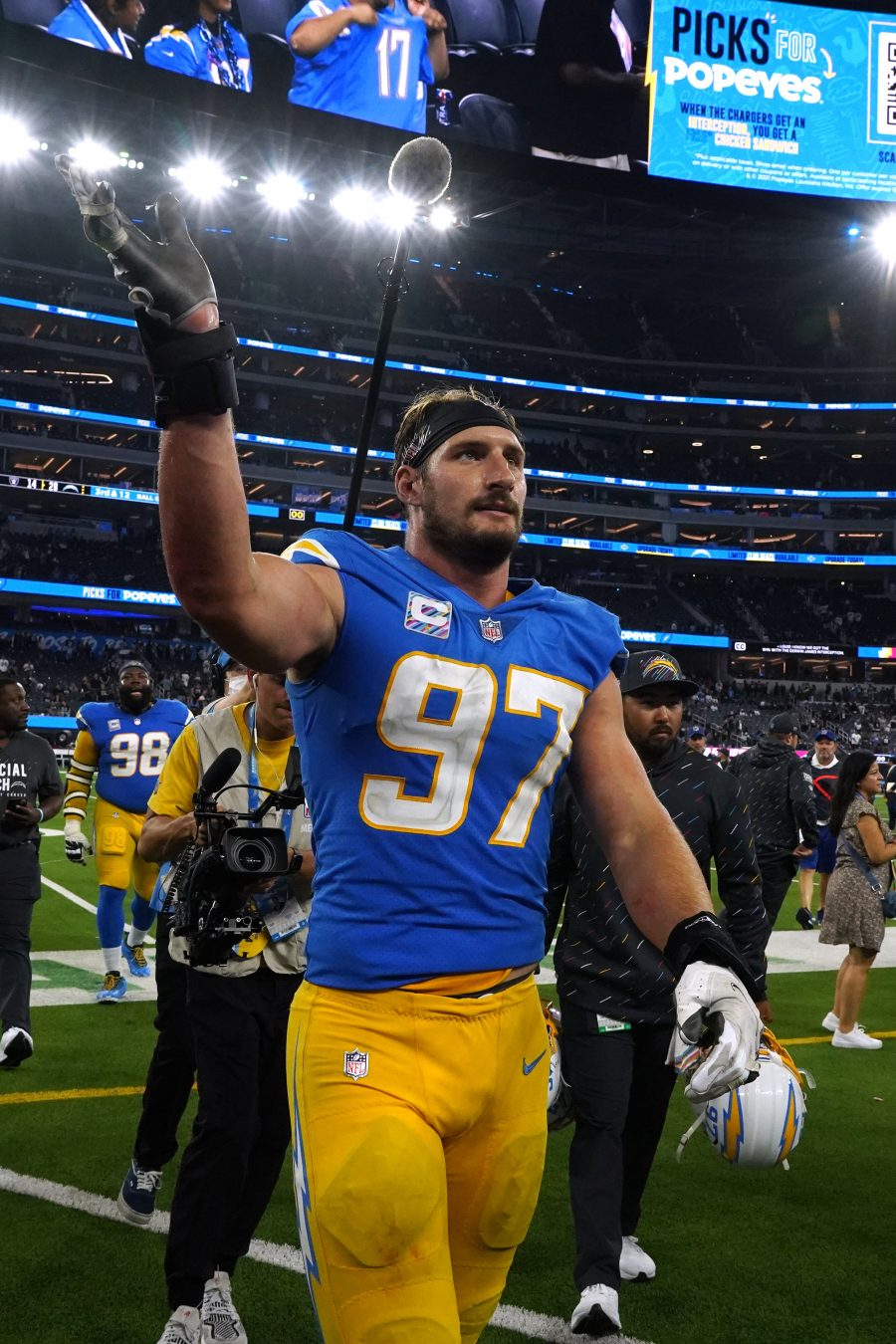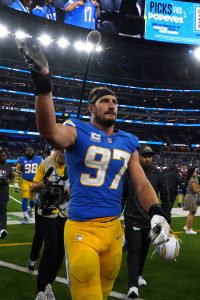 While Bosa has dealt with injuries at several points during his career, this has been his most significant. The four-time Pro Bowler will have missed 12 Bolts games after tonight's Colts matchup — one that can secure the team its first playoff berth in four years with a win — and has been one of several Charger Pro Bowlers to miss time this year.
The Bolts have Slater and J.C. Jackson on IR, while Keenan Allen, Derwin James and Corey Linsley have also missed stretches of the season. Ditto Mike Williams and most of the team's defensive line. But the team that again generated considerable offseason momentum is moving closer toward its optimal version. Allen, Linsley and Williams have been back for weeks, and James returns tonight.
Bosa's latest injury required surgery, and he has been rehabbing for months. It is not believed the former No. 3 overall pick will be 100% again until next season, but the Chargers clearly feel comfortable seeing how he looks ahead of a possible activation. Bosa missed four games as a rookie in 2016 (hamstring), was shut down for nine during the 2018 season (foot) and missed four more contests in 2020 (two concussions). He made a late-season return in 2018, when the Bolts last qualified for the playoffs, and is looking to re-emerge in similar fashion this year.
Still just 27, Bosa is attached to a monster contract — agreed to back in 2020 — and has four double-digit sack seasons on his resume. The Chargers only had two full games to deploy he and Khalil Mack together. After missing much of last season with a foot injury, Mack has stayed healthy this season. Bosa coming back would certainly help the former Defensive Player of the Year, who has been the focal point of offensive line attention for much of his first Chargers season. Mack has seven sacks, 10 quarterback hits and two forced fumbles this season — his seventh Pro Bowl campaign.
Follow @PFRumors