This offseason is set to be an intriguing one in the running back market for multiple reasons. Not only are their top running backs in the league set to hit the market, but there is depth to be found throughout the position from starters to role players to backups. Here's a quick rundown of some of the names your team may have the chance to add before the 2023 season.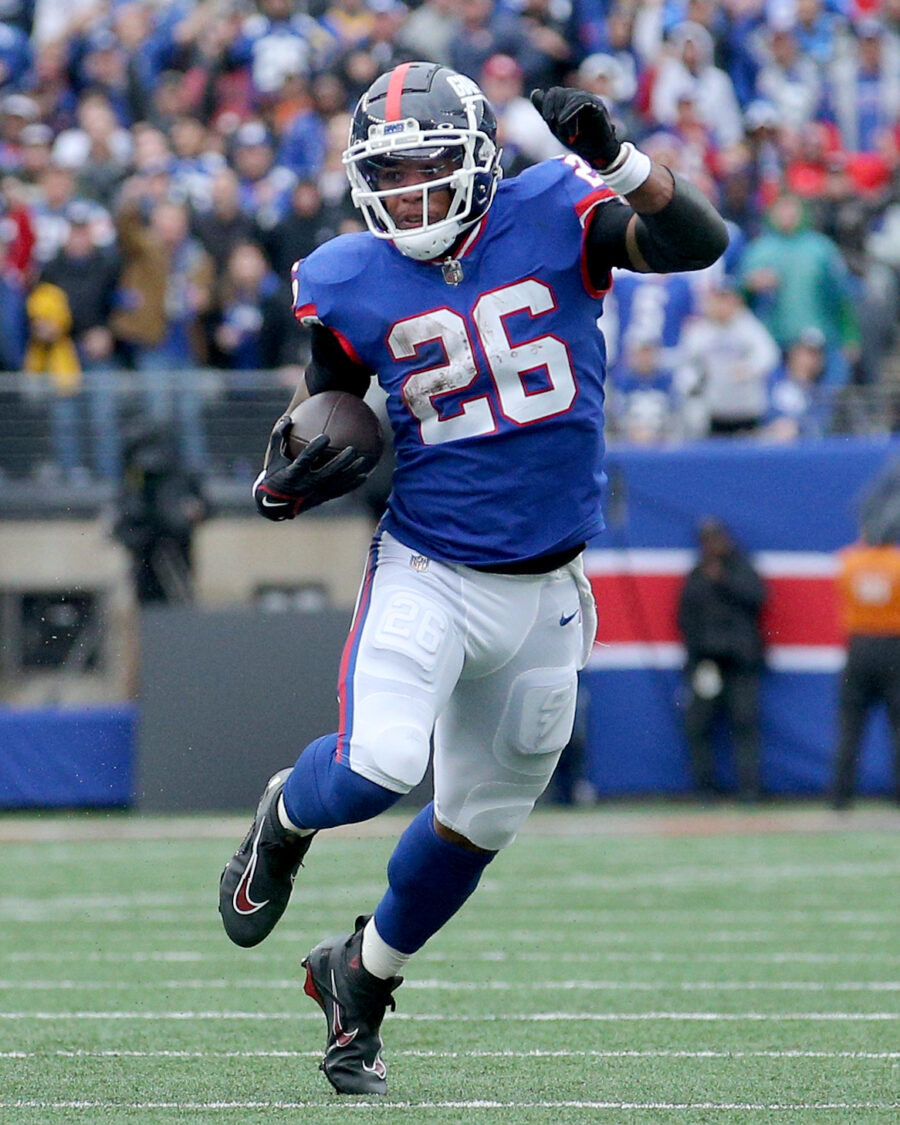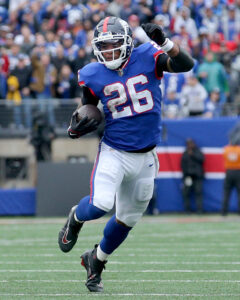 First off, there are some bona fide starters set to hit free agency this year. The Giants' Saquon Barkley and Raiders' Josh Jacobs are the two that mainly fall under this umbrella. Barkley had a resurgent 2022 season that saw him assert the rushing dominance that had been absent since his rookie season in 2018. Though he failed to amass the receiving numbers he held as a rookie, his Pro Bowl season should be enough to establish him as one of the best running backs available this offseason, if not the best.
[RELATED: 2023 NFL Franchise Tag Candidates]
If it's not Barkley, Jacobs has a strong claim of his own. The fourth-year rusher out of Alabama answered the calls questioning his future in Las Vegas with a career year that saw him rush for nearly 100 yards per game. Jacobs led the league with 1,653 rushing yards adding 12 touchdowns and 400 receiving yards for good measure. These two are the cream of the running back free agency crop and there's no doubt about it.
Next, there are a number of running backs with star power potential. They either just displayed career years that should excite teams who may want them, or they have shown such potential in the past. Cowboys running back Tony Pollard and Eagles back Miles Sanders lead this group. Pollard has truly been itching to show the NFL what he can do. He broke 1,000 yards rushing for the first time this season and has 1,726 rushing yards and 11 rushing touchdowns in the past two years, all while playing second fiddle to starter Ezekiel Elliott. Pollard routinely averages more yards per attempt than Elliott and, for the first time this year, despite having 38 fewer rush attempts, Pollard outgained Elliott by 131 yards. Pollard rightfully deserves a chance to be a lead back in the NFL. Will he get his opportunity next season? Sanders has had a bit more opportunity to establish himself as a lead back but finally succeeded this season after rushing for career highs of 1,269 rushing yards and 11 touchdowns. It's taken him awhile to get here, but in the new offense with Hurts and other weapons, Sanders finally proved he was worth the second-round pick Philadelphia used on him in 2019. After Sanders accounted for over 70% of the team's carries by running backs, the Eagles will have to decide just how valuable he is to the team.
Others who fall under this umbrella are the Browns' Kareem Hunt and Lions' Jamaal Williams. Hunt was a star in his rookie season with the Chiefs, leading the league in rushing that year with 1,327 yards. His sophomore season was as impressive until it was cut short when a video surfaced of him physically assaulting a woman. Since then, Hunt has played a competent second fiddle to Nick Chubb in Cleveland. He has failed to reach his lofty number from Kansas City but continues to be a strong addition to the offense. Heading in 2023 at 28 leaves Hunt with less and less time to regain his potential as a lead back. Williams, on the other hand, is a 28-year-old heading in the right direction. For the first time in his career, Williams was given the opportunity this season to be treated as a lead back and rewarded the Lions with a career-high 1,066 rushing yards and a league-leading 17 rushing touchdowns. Williams should certainly have earned himself a chance at another leading role somewhere next season.
This is already a ton of running back talent set to hit the market, but the depth doesn't stop there. Seahawks running back Rashaad Penny has averaged over six yards per carry in each of the last two seasons, despite his career being hamstringed by injuries. David Montgomery has rushed for over 800 yards and five touchdowns in each of his four seasons with the Bears. Bills running back Devin Singletary showed similar production in his last two years in Buffalo. And, only a year ago, Jets running back James Robinson was considered one of the best players in Jacksonville after totaling 1,837 rushing yards and 15 rushing touchdowns over his first two years.
Former 49ers running backs Raheem Mostert, Matt Breida, Jerick McKinnon, and Jeff Wilson all have shown some success in backup roles over the years and should find opportunities in the coming seasons. Veterans in Saints running back Mark Ingram, Buccaneers running back Giovani Bernard, Ravens running back Kenyan Drake, and Broncos running back Latavius Murray should all hit the market. A number of players who have established themselves as reliable backups should be available like the Bengals' Samaje Perine, Lions' Justin Jackson, Broncos' Marlon Mack, Vikings' Alexander Mattison, Ravens' Justice Hill and Seahawks' Travis Homer.
Not only is the free agent pool already stacked, but it may also benefit even more from a number of talented rushers who are set to have rather large cap hits next season. While talented, Saints running back Alvin Kamara's recent legal troubles may make his $16.03MM cap hit next year a bit less palatable. Arizona back James Conner's $10.45MM cap hit and Tampa Bay back Leonard Fournette's $8.47MM cap hit may make them potential cap casualties, as well. Similarly, Broncos running back Chase Edmonds ($5.92MM), Ravens running back Gus Edwards ($5.63MM), Falcons running back Cordarrelle Patterson ($5.50MM), and Bills running back Nyheim Hines ($4.79MM) all hold high cap hits for their relative production.
There are many factors that affect how this offseason will play out for all these rushers. A low franchise tag amount of $10.1MM may keep backs like Pollard, Sanders, and Williams in place for another year. A tag of that amount being placed on Barkley or Jacobs should, rightfully, upset either back, who should earn north of $12MM per year. The rest of the field may be up to the whims of the market. The pure abundance of talent in the market may make it difficult for anyone to demand a high price. Another factor working against them is that many teams are adopting a draft-only policy on running backs, using the rushers for four years, then going back to the college ranks to replace them. This will likely require free agents to take lesser deals in order remain viable options in the NFL.
Starting next week, teams will have the option to apply their tags to impending free agents. March 13 will begin a negotiating period for free agents with the rest of the league before free agency officially opens two days later. The draft will follow a couple weeks after. There is plenty to keep an eye on in this year's running back class, both in free agency and in the draft. It will be interesting to see how it all unfolds.