Add Brandon Aiyuk to the list of wide receivers generating trade interest this offseason. The 49ers have fielded inquiries from multiple teams on the former first-round pick, but John Lynch plans to keep him in San Francisco.
The 49ers are also planning to pick up Aiyuk's fifth-year option for 2024, Lynch said. That figure, per the San Francisco Chronicle's Eric Branch, is set to come in at $14.12MM. Aiyuk is set to count just $3.9MM against the 49ers' 2023 cap, which certainly helps drive some trade interest.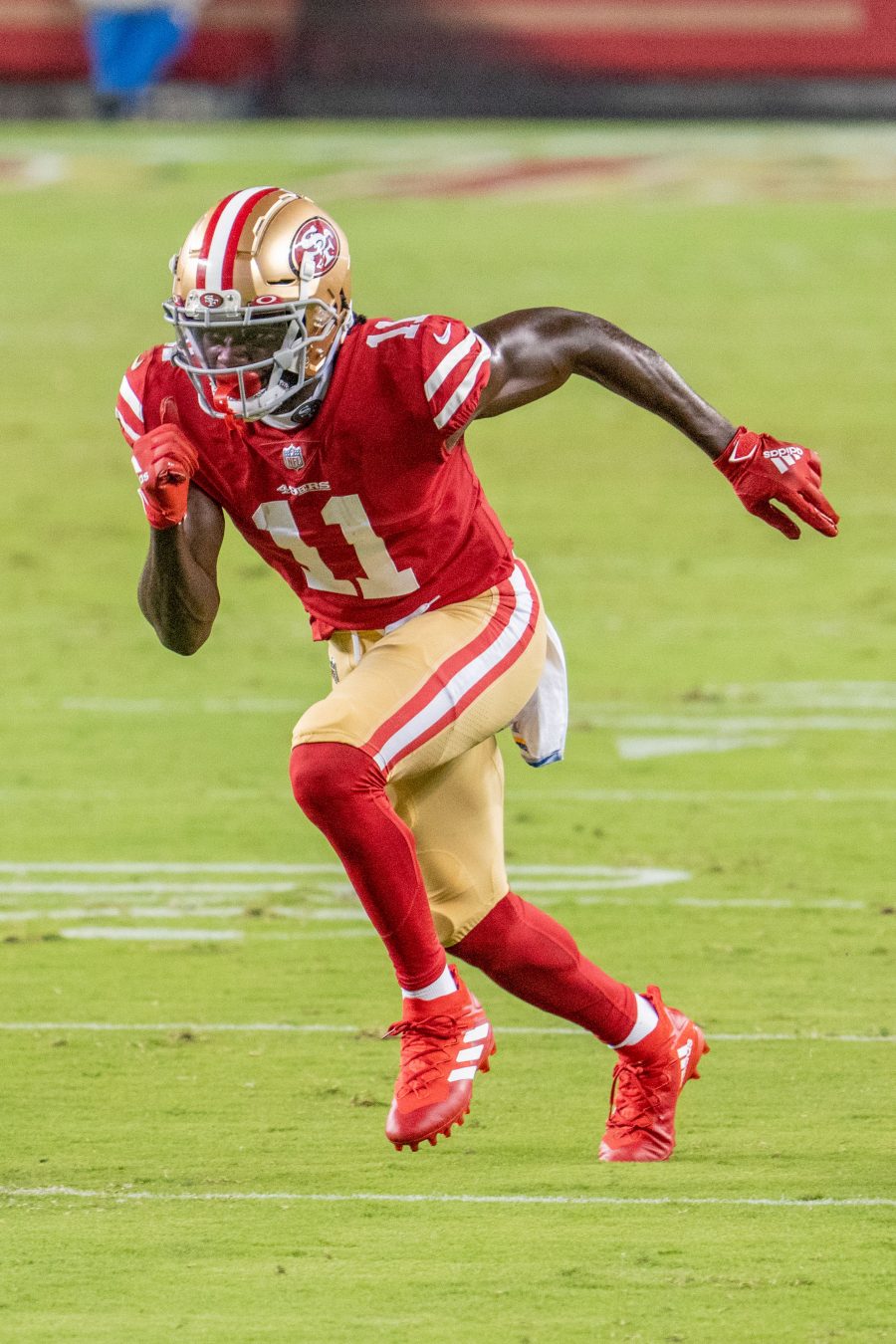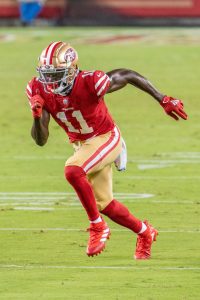 "Brandon's been excellent for us. I'd be shocked if we didn't," Lynch said Monday at the league meetings regarding the fifth-year option decision. "We still have some time … we're still discussing, but it probably makes sense to do that for Brandon. He's a really good player. He's a guy we're very fortunate to have and he's just coming into his own, too. He's only going to get better. So we're excited about watching Brandon move forward with us."
As Lynch confirmed what had long been assumed — Trent Williams' top-market salary impeded the team from paying Mike McGlinchey — teams will naturally wonder if the 49ers will be open to dealing Aiyuk months after they extended Deebo Samuel, who signed a three-year, $71.6MM deal last August. The 49ers also have a record-setting Nick Bosa extension in sight this offseason.
Lynch said "a lot of people" have asked about Aiyuk at the various league gatherings, but the 49ers plan to have he and Samuel back. The 49ers join the Bengals (Tee Higgins), Chargers (Keenan Allen) and Broncos (Jerry Jeudy and Courtland Sutton) to shoot down trade interest in wide receivers. These stances do not guarantee no trade will commence, but it will certainly take a big offer to convince the teams to change their minds.
Chosen in the space between Jeudy and Higgins' slots in 2020 (No. 25 overall), Aiyuk has continued to progress. Despite his name not coming up as often as Jeudy's in trade talks, Aiyuk has beaten the Denver wideout in eclipsing the 1,000-yard barrier. The Arizona State product, who is going into his age-25 season, tallied a career-high 1,015 receiving yards and eight touchdowns last year.
McGlinchey, who signed a five-year deal worth $87.5MM with the Broncos this month, said in an ESPN.com piece Kyle Shanahan informed him the team was considering a trade that would have shipped him out last year. At the time, McGlinchey was coming off a season-ending quad injury. That indication, one that stemmed from the price the 49ers expected him to fetch on the open market, came ahead of McGlinchey's fifth-year option season. Aiyuk is not at that point on his timeline, but a trade will be something to monitor — with Samuel signed through 2025 — regarding Aiyuk. Though, the 49ers being off Jimmy Garoppolo's contract may affect their interest in having both Samuel and Aiyuk on veteran deals.
Follow @PFRumors