MARCH 16: One of the top free agents to hit the market, McGlinchey did well to secure an agreement that features a virtual three-year guarantee. In addition to the veteran right tackle's 2023 and '24 base salaries being fully guaranteed, Albert Breer of SI.com notes his 2025 salary ($17.5MM) will become locked in on if he is still on Denver's roster in March 2024. This is not an uncommon structure, but it essentially will bring McGlinchey's full guarantee number up to $52.5MM.
While practical guarantees are present in other linemen's contracts, no current right tackle deal included more than $43MM guaranteed at signing. Payton signed off on that deal (Ramczyk's) as well. The Broncos have spent a decade trying to fill this position; they are paying up to do so.
MARCH 13: The Broncos are making an all-out effort to upgrade their offensive line Monday. Shortly after agreeing to terms with Ben Powers, they are signing another big fish. Right tackle Mike McGlinchey is joining the team, Dianna Russini of ESPN.com tweets.
A five-year 49ers starter, McGlinchey hit the legal tampering period as one of the market's top available players. The Broncos' right tackle spot has become one of the league's fastest-moving carousel positions. Denver has used a different right tackle starter in Week 1 in each of the past 10 seasons. While that streak will hit 11, the team is spending big bucks to ensure McGlinchey stops it for a while.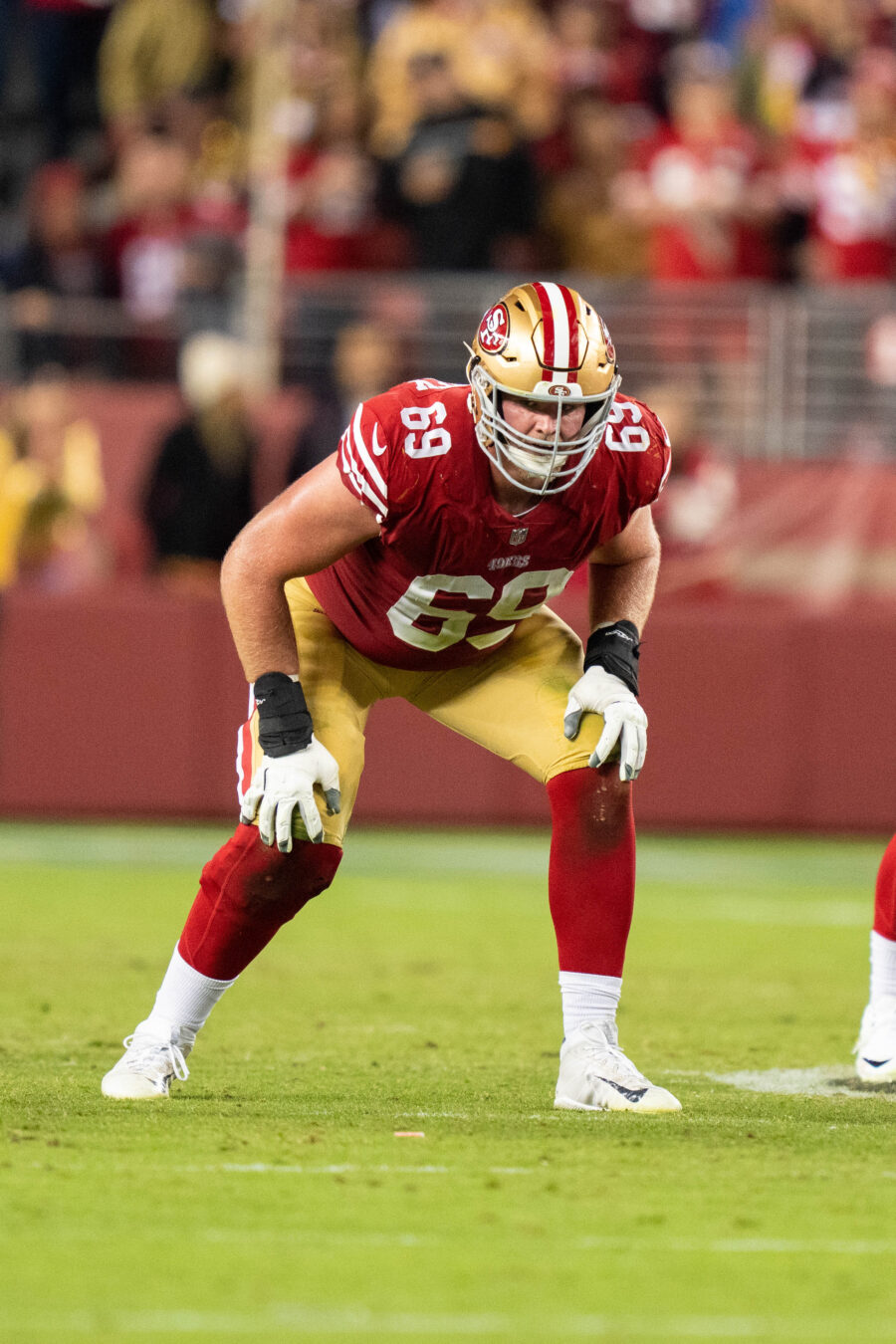 49ers GM John Lynch said he expected McGlinchey to have a robust market that would price himself out of San Francisco. With Trent Williams attached to the NFL's top offensive line contract, McGlinchey will collect his cash elsewhere. He will join Garett Bolles in Denver, which will soon have top-10 contracts devoted to left tackle and right tackle. As of midday Monday, the Broncos are the only team that can say that.
PFR ranked McGlinchey as the market's top right tackle, though this was a strong market at the position. The Broncos are choosing McGlinchey over the likes of Jawaan Taylor and Kaleb McGary, but the team's dire issues at right tackle will prompt a big payment. It is a five-year, $87.5MM deal for McGlinchey, Ian Rapoport of NFL.com tweets. At $17.5MM per year, McGlinchey becomes the NFL's fourth-highest-paid right tackle. Sean Payton authorized the top right tackle contract — Ryan Ramczyk's — back in 2021. Payton is continuing his O-line-centric focus in Denver.
In New Orleans, Payton continually devoted high picks to his offensive line. Extensions followed. The Broncos will now have two hired guns up front to join Bolles and Quinn Meinerz. While Denver's center position is uncertain, it will be difficult for the team — which has some needs that are not on the O-line — to devote too much capital here. Lloyd Cushenberry is entering a contract year and is coming off an injury-abbreviated season.
McGlinchey, 28, has been one of the NFL's top run-blocking tackles in recent years. The former top-10 pick who came to San Francisco after being Notre Dame's left tackle, McGlinchey rated fifth in ESPN's run block win rate last season. He started every game for the 49ers in 2022, bouncing back from a quad injury that ended his 2021 season early. McGlinchey is going into his age-28 season. The Broncos are betting on him to remain an upper-crust right tackle into his 30s. They have tried repeatedly to staff this position but have failed, with the biggest whiff coming via the four-year deal they gave Ja'Wuan James back in 2019.
The 49ers recently re-signed Colton McKivitz, giving them a much cheaper option to potentially succeed McGlinchey opposite Williams. Jaylon Moore also serves as an option for San Francisco, which has now lost five-year starting O-linemen — McGlinchey and guard Laken Tomlinson — in back-to-back offseasons.
Follow @PFRumors