Tom Brady sparked a frenzy earlier this week when he posted a cryptic photo of himself to Twitter. Although Adam Schefter of ESPN soon clarified in a tweet that it wasn't a statement on his impending free agency, that didn't stop the rumor mill from churning.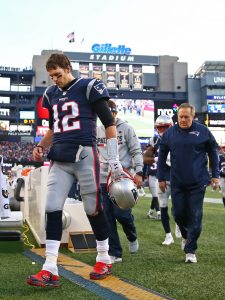 The potential new team for Brady "that continues to get the most buzz" is the Dolphins, according to Mike Florio of ProFootballTalk.com. While Brady going to a team that was in a full-blown rebuild this past season wasn't something anybody has expected, there are at least some connections. Dolphins head coach Brian Flores spent 15 seasons with Brady in New England, and there are other ex-Patriots on staff.
Florio also highlights the presence of Dolphins owner Stephen Ross' business partner Bruce Beal. Florio writes that there has been talk of "Beal buying the team and selling a sliver of it to Brady." One league source told Florio "that a sale to Beal is possible not long after" Miami finishes hosting the Super Bowl. All that being said, Ross himself quickly threw some cold water on all the speculation.
Responding to the report he might sell the team, Ross said "I have no interest in selling the team. Zero. Got it? People can write what they want to write. I'm going to own it until I die," per David Wilson of The Miami Herald (Twitter link). Beal still appears to be Ross' successor as owner, but it doesn't sound like he's selling anytime soon. Ross, 79, also didn't sound overly enthused about the possibility of adding Brady.
Ross said "we're building" and that "people are writing about it. People need something to write about," when asked about the Brady rumors, via Armando Salguero of The Miami Herald (Twitter link). It would've been very entertaining to see Brady stay in the AFC East and play the Pats twice a year, but it doesn't seem too likely as of right now.
Photo courtesy of USA Today Sports Images.