The Titans placed edge defender Jadeveon Clowney on injured reserve a little over two weeks ago, and the team hoped he might be back in time for a playoff push. However, as Ian Rapoport of NFL.com writes, Clowney underwent surgery on Wednesday to repair his left meniscus and will require several months of rehab. As such, his season is over.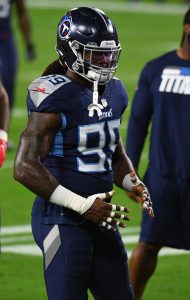 Clowney was perhaps the most-discussed player on the market this year, and his long free agency journey finally culminated in a one-year, $13MM pact with the Titans in August. Tennessee's return on its investment was underwhelming, to say the least, as Clowney failed to produce a sack in eight games with the team.
Still, as has generally been the case with Clowney, the raw sack totals do not necessarily tell the whole story. Pro Football Focus' advanced metrics peg him as the 16th-best edge player in the league, out of 106 qualifiers, and PFF gives him above-average marks in both run defense and as a pass rusher (he grades exceptionally high in pass coverage).
That is perhaps why the Titans still have interest in re-signing Clowney. Rapoport says Tennessee could explore a new deal if the price is right, and given that the former No. 1 overall pick will be coming off a second consecutive disappointing season in terms of surface-level stats, he could very well be had on a modest contract.
The meniscus tear may also depress his market, especially considering his prior injury history. Fortunately, the latest injury was to his left knee, and the surgery was a straightforward affair with no complications. Earlier in his career, Clowney underwent microfracture surgery on his right knee.
He is expected to be fully recovered by the time free agency opens in March.
Photo courtesy of USA Today Sports Images.