Joe Philbin has made his first move as interim head coach. The Packers announced that they've "parted ways" with associate head coach/linebackers coach Winston Moss. ESPN's Rob Demovsky reports that it was Philbin's decision to make the move.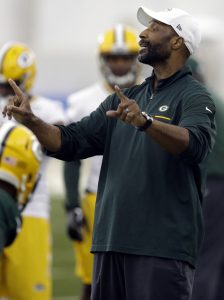 "We thank Winston for his contributions to the Packers over the past 13 years," said Philbin. "We hope for the best for Winston and his family moving forward."
Following an 11-year playing career, Moss joined the Seahawks as a defensive quality control assistant back in 1998. He spent half-a-decade with the Saints before moving on to the Packers, where he had been coaching since 2006. Former Packers head coach Mike McCarthy promoted Moss to assistant head coach in 2007, and Moss was the only major defensive coach to keep his job following mass firings after the 2008 campaign.
Moss has played a major role in developing many of the Packers' notable linebackers, including Clay Matthews, Nick Perry, and A.J. Hawk. Moss also earned praise for transitioning Julius Peppers to a 3-4 outside linebacker. The 52-year-old coached Team Irvin during the 2016 Pro Bowl, and he interviewed for the Lions head coaching gig this past offseason.