Earl Thomas signed a huge extension on Monday, making him the highest paid safety in the NFL. The reason Thomas got that money is due to the rarity of true to form center field type safety in today's game. The versatility that a speedy defensive back that can play in the middle of the defense, providing coverage skills as well as strength bringing down the ball carrier makes a defensive coordinator's job much easier. If not easier, then definitely more fun.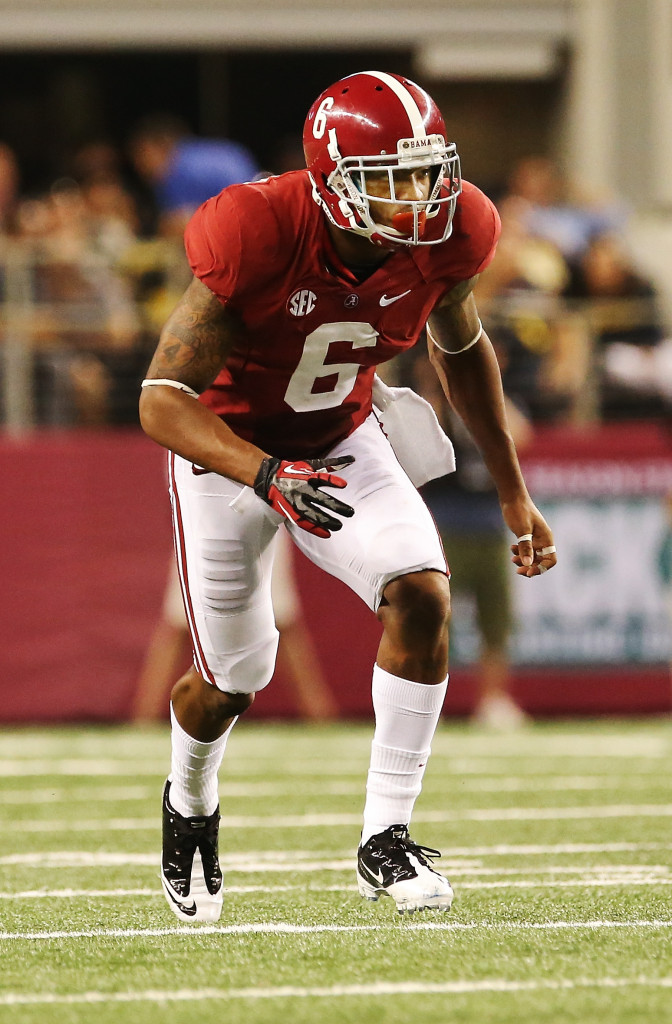 There is only one safety in the mold of Thomas projected to be picked in the first round of the upcoming NFL Draft, and that is Alabama's Ha Ha Clinton-Dix. Dix played three seasons with the Crimson Tide, and was a part of two national championship teams. His five interceptions as a sophomore led a highly regarded Alabama defense. Clinton-Dix was suspended for two games during the 2013 season, due to "unspecified team rules violations." Despite missing two games, he was named First Team All-SEC after his junior season, and was a Consensus All-American safety.
Clinton-Dix measured out well at the NFL combine, standing tall at 6'1″ and 208 pounds. He ran a respectable 4.58 40-yard dash. It does not put him in the category of elite athletes, but it is a combination of size and speed that is desirable in a prospect. Under Nick Saban, he learned how to play the position efficiently. According to NFL.com, he is quick to read and react to plays, and makes up for his average speed by taking great angles to the football, where he becomes a nightmare due to his good ball skills and ability to turn defense into offense.
Like many Saban coached defensive backs, Clinton-Dix shined in college coming up to stop the run. Not one to shy from contact, he gets into the alley and is a strong open field tackler. While he does not have the top speed to run with the fastest receivers in the NFL, nor the bulk to be considered a true in the box safety, he does provide versatility in his ability to switch from a run stopper to a pass defender from play to play.
Safety is a tough position to gauge in regards to this draft. Clinton-Dix is not the clear cut top option, as Louisville's Calvin Pryor has been making headway. The two are very different players as well, as Clinton-Dix has the reputation for staying in the middle of the field and making plays on the ball, whereas Pryor is known as the big hitter. Style will play a huge role in which player comes off the board first.
Clinton-Dix starts to gain a lot of traction among mock drafts starting with the Lions (No. 10). If the Lions pass on him, he begins to make a lot of sense for the Rams (No. 13) and the Bears (No. 14). ESPN's Mel Kiper, Jr. agrees that the Rams could jump on him, and Todd McShay has him landing in St. Louis as well (subscription required). The Vikings (No. 8) seem like the highest he could possibly go, and if the Steelers (No. 15) do pass, the Cowboys (No. 16), Ravens (No. 17), and Jets (No. 18) all have significant need at safety.
Photo courtesy of USA Today Sports Images.
Follow @PFRumors