Coming out of high school, Jadeveon Clowney was the number one recruit in his senior class. He was the best defensive player in college football at his best. Now he is the best bet to be the number one overall pick in the 2014 NFL Draft.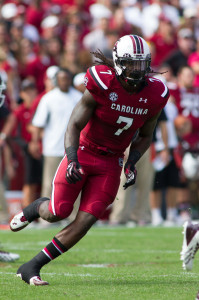 A player of Clowney's status could not come easy. It started early, when he famously decided to hold out on his college acceptance decision until after National Signing Day, electing to instead announce his decision live on ESPN, on Valentine's Day, which doubled as his 18th birthday. He chose South Carolina and his hometown Gamecocks over the more highly touted programs among the SEC and ACC.aft. He was the number one recruit coming out of high school in 2011, and has basically been anointed as a certainty ever since, although his recruitment had earned him the label of a "diva" in the eyes of the media, which would be the first knock on him as a future NFL star.
Then the domination began. Clowney more than lived up to the hype during his first two seasons in Columbia, South Carolina. He posted 8.0 sacks and five forced fumbles as a freshman for a South Carolina team that went 11-2. That season he had the luxury of following the lead of another pass rushing standout in Melvin Ingram, who wound up as a first-round pick to the Chargers in the following draft. As a sophomore, Clowney was able to take all the spotlight. His 13.0 sacks left him as the most feared pass rusher in the nation, and solidified him as a very high draft pick, with most scouts noting the he would have been the first overall pick had he been eligible for the 2013 NFL Draft.
Controversy came again that offseason, as many NFL experts and media personalities noted that Clowney had nothing to gain by returning to school. He would risk a career debilitating injury, but could not raise his draft stock at all. Sports radio and NFL shows discussed whether it would be more beneficial to him if he were to skip school and workout full time, as he would have been basically ensured a spot in the top five if he was not still drafted first overall a year later.
Clowney did return to school, but battled through injuries and inconsistent effort until once again, his merits as a prospect were questioned. He missed two games entirely, and ended up with statistics that fell short of previous numbers. Still in play for the first pick, his case was not as rock solid as it had been a year earlier, especially as the Texans, Jaguars, Browns, and Raiders possessed huge needs elsewhere on offense, particularly at quarterback and receiver. The Rams, set at quarterback, already own a dynamic pass rushing duo of Robert Quinn and Chris Long. Clowney would truly have to impress to stay in the top five.
Of course, that is exactly what Clowney did at the NFL Combine in Indianapolis. He measured in at a large 6'6″, weighing a lean 266 pounds with 34.5 inch arms and ten inch hands. Then he took that giant frame for a run, posting a blazing 4.53 40-yard dash, with extremely impressive numbers across the board in the other drills as well.
Even still, not everyone is sold on Clowney. Greg Cosell called him a "raw" athlete, and stated that he believes pass rusher Khalil Mack should be rated as the top player in the draft at that position.
Hall of Fame defensive lineman and Fox Sports analyst Warren Sapp was also critical of Clowney, saying, "I look at Jadeveon Clowney's (game) tape and I don't see a guy that is playing with his hair on fire, making plays, running up and down the field sideline to sideline, doing all of the things."
ESPN analyst Merril Hoge, who played running back for the Steelers, was even harsher of Clowney as a football player. "You look at him as a fundamental football player when you talk about feet, hip and hands, like we watch Khlail Mack, he's actually atrocious," he said. "Clowney as a football player is not very good. Amazing athlete. Don't get confused by being an athlete and being a good football player. Not a very good football player."
Even his peers took shots at him, notably when Auburn defensive end Dee Ford declared himself the better option for teams looking for a pass rusher. "I'm better. Let's put it like this. People like to talk about size all the time. Size is pretty much overrated in my eyes," said Ford. "You can look at guys like Robert Mathis, Elvis Dumervil, Von Miller. These are 6-2 guys and under. People are just looking at the fact that he is a physical specimen. Honestly if you watch the film, he plays like a blind dog in a meat market basically."
Despite those who are no longer sold on Clowney's ability, he still has a good chance of going first in this draft, and is seemingly a lock for the top three in one of the most wide open drafts in a while. CBS Sports has all four major mock drafts currently with Clowney as the first player off the board (three to the Texans, one projecting the Falcons trading up). NFL.com posts eight mock drafts, of which six have Clowney going first, with Bortles taking the top spot in the other two. From ESPN, both Mel Kiper, Jr. and Todd McShay have Clowney atop their most recent mocks. We won't know until that first name is called on May 8th, but star or bust, or somewhere in between, some people are going to be very wrong on this divisive yet incredible NFL prospect.
Follow @PFRumors