The University at Buffalo has produced NFL players before, but (with all due respect to James Starks and Trevor Scott) Khalil Mack is set to enter the league as the most acclaimed Bull in school history, with his talent and seemingly endless potential likely making him a top-five selection in next month's draft.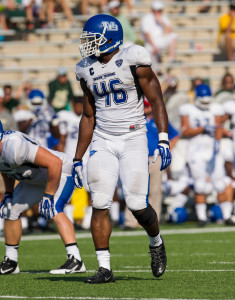 Graded as just a two-star recruit coming out of high school, Mack has always played with something of a chip on his shoulder. In the 2009 version of EA Sports' NCAA Football, he was given an overall rating of only 46 (out of possible 99), making him one of the worst players in the game. Mack used this slight as motivation, choosing 46 as his jersey number throughout his dominating college years.
And dominate he did. In 2013, Mack's second straight season as a Butkus Award finalist, he registered 100 tackles, 10.5 sacks, three interceptions, and five forced fumbles. The edge rusher was named the Mid-American Conference's Defensive Player of the Year, and a second-team All-American. He set a NCAA record with 16 career forced fumbles, and finished tied for first in career tackles for loss (75).
Explosiveness is the key to Mack's game — his vertical jump is an astounding 40 inches, and his first-step quickness from the outside linebacker position is unparallelled in this draft. He rarely gets pancaked by opposing offensive lineman, and any OL trying to block Mack one-on-one, especially at the second level, will face severe difficulty. The 23-year-old is a master of many pass-rushing maneuvers, but the outside move is his specialty, as his almost flawless technique allows him to leave offensive tackles off-balance. Additionally, Mack has the speed, exhibited by a 4.65 40-yard-dash, to drop in pass coverage and, with a bit more experience, could be a nice weapon against physical tight ends running seam routes between the hash marks.
The primary concern for Mack, like most prospects from small schools, is the level of competition he faced. The MAC is certainly not the SEC, and it is not even comparable to the Pac-12 or the Big 12. However, Mack, in something of a coming-out party, did perform extraordinary well against Big 10 powerhouse Ohio State, showing that he can hang with elevated competition. Analysts have also noted that Mack has the tendency to play with reckless abandon at times instead of relying on his sound technique, indicating that harnessing his skill will be a critical test at the next level.
Mack, at 6'3″ and 251 pounds, could fit a multitude of defensive schemes — he probably makes the most sense as a 3-4 outside linebacker, but could also play OLB in a 4-3, or even, in a pinch, as a 4-3 defensive end. He is a dark horse candidate to go No. 1 overall to the Texans, as some believe that he is a better fit than Jadeveon Clowney for Houston's 3-4 defense. The Jaguars, owners of the third pick, are looking for a pass rusher to stabilize their front seven, and teams like the Raiders, Falcons, Vikings, and Bills could all be interested in the dynamic edge player. Along with Clowney, Sammy Watkins, and Greg Robinson, Mack is considered one of the elite players in next month's draft, and it would be surprising to see him fall out of the top five selections.
Photo courtesy of USA Today Sports Images.
Follow @PFRumors