In a draft chock full of talented wide receivers, no one has the kind of upside that Sammy Watkins offers. The Clemson star is a mortal lock for the top ten and highly likely to go inside of the top five thanks to his top-level speed and playmaking ability.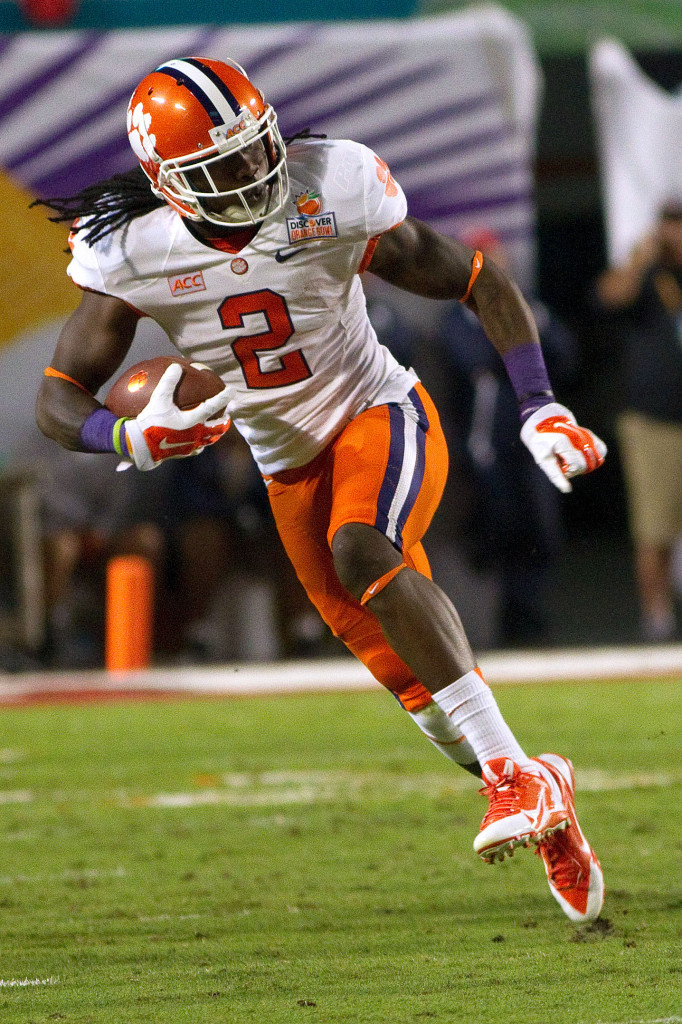 Watkins has the ability to burn cornerbacks deep, but that's far from his only tool to make an impact on the field. The wide receiver has routinely shown the ability to take a short pass and turn it into a major gain with his agility and quickness. Beyond the physical skills, Watkins has the innate knowhow to get away from cornerbacks that you rarely see from someone his age. Nothing is ever guaranteed in the long-term, but his makeup implies that he could have an instant impact in the NFL ala A.J. Green or Julio Jones.
A team that embraces a west coast offense could really help Watkins flourish. Some have said that Watkins is a product of the offensive system at Clemson – a valid concern – but the liberal use of short passes and bubble screens could help make him feel like he's still wearing neon orange on a Saturday. Taking that a step further, Watkins might be a good match for a rookie or sophomore quarterback. Veteran receivers can help with the maturation process, but having a safety blanket like Watkins who can take a five-yard pass deep down the field can bring additional comfort.
That's not to say that there aren't concerns about Watkins' transition to the next level. For starters, at 6-foot and change (or 6'1″, depending on who you ask), the speedster could have some trouble against larger cornerbacks out of the Seahawks mold. You also won't mistake Watkins for David Boston – he's got a good sized frame and is defined at 211 pounds, but he doesn't have the kind of major body mass that can offset his stature. Most of this league's elite wide receivers stand at 6'3″ or taller, and that's no coincidence. Watkins will have to adjust his game to find the football amongst the trees if he wants to get into the same stratosphere as Green, Jones, Brandon Marshall, Larry Fitzgerald, and all the rest.
Beyond that, Watkins has yet to show the ability to run a wide range of routes in game action. That doesn't mean that he couldn't run a multitude of crisp routes, but that is something of an unknown about Watkins since the Tigers aren't known for mixing things up too much with their receivers. Can you blame Clemson? When dumpoff passes and bubble screens fluster opponents on a weekly basis, there's no reason to fix what isn't broken.
So where will Watkins wind up? Looking at the top of the draft, the Jaguars (No. 3) would be a logical landing spot since Justin Blackmon is on thin ice, but Jacksonville's needs go far beyond receiver. At No. 4, the Browns have been frequently talked about as a team that would make sense for Watkins and we're inclined to agree. Cleveland needs a signal caller too, but they could have a few attractive options in play at No. 26, including Fresno State's Derek Carr. if the Browns go quarterback at No. 4, the Raiders (another team with multiple needs) will have to give some serious thought to drafting Watkins. If the late Al Davis was still with us, there's no way he'd turn down Watkins and his 4.43 second 40-yard-dash time. The Buccaneers (No. 7) and the Lions (No. 10) are also high on Watkins, but they'll probably have to move up if they want to grab him. Any way you slice it, it's hard to see the Clemson star falling out of the top ten.
Photo courtesy of USA Today Sports Images.
Follow @PFRumors