Yesterday, we learned that the Buccaneers have reached out to the agent of star defensive tackle Gerald McCoy in hopes of initiating talks on a contract extension, so it only makes sense to continue our series on extension candidates with a more detailed piece on McCoy.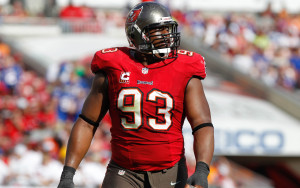 McCoy, taken in the first round of the 2010 draft–just one pick after Lions DT Ndamukong Suh–struggled with injuries in each of his first two seasons in the league, missing three games with a left biceps tear in 2010 and missing 11 games with a right biceps tear in 2011. However, he showed flashes of dominance during those years and then established himself as a bonafide star in 2012, racking up five sacks, 37 quarterback hurries, and, most importantly, anchoring the interior of Tampa Bay's stifling run defense.
Things only got better for McCoy in 2013, as he piled up 10 sacks and, according to Pro Football Focus' advanced metrics (subscription required), graded out as the top defensive tackle in the game. He will become a free agent at the end of the 2014 season, and, if he has not received an extension by that time, will be hitting the free agent market as a game-changing interior lineman at age 27.
As a top draft pick in the last year of the old CBA, McCoy is already a very wealthy man, having a signed a five-year, $63MM rookie contract in the summer of 2010. So what will his next contract look like? Probably pretty similar to the first one. The Bengals' Geno Atkins, who is about a month younger than McCoy and who finished right above McCoy as PFF's best defensive tackle in 2012–Atkins was 11th best in 2013, despite missing seven games with an ACL tear–signed a five-year, $55MM extension with Cincinnati in September of 2013. Two years earlier, a then-27-year-old Haloti Ngata signed a five-year extension with the Ravens worth $61MM. Ngata was reportedly offered a lucrative, long-term extension this offseason, but there is some dispute surrounding that rumor and no concrete financial details were released.
It seems, then, that McCoy can reasonably expect an extension in the five-year, $55-60MM range. ESPN.com's Pat Yaskinsas suggested something even more lucrative, calling McCoy Tampa Bay's "best player" and opining that a contract worth $13MM annually would not be unreasonable. For his part, McCoy has expressed excitement about the defense that new head coach Lovie Smith plans to install and has indicated that he has no intentions of holding out if he does not have a new deal by training camp. Judging by yesterday's report, the Bucs hope that a new deal will, in fact, be reached before the start of the season, which would allow them to continue to reap the benefits of their star tackle as he progresses through his prime physical years.
Photo courtesy of USA Today Sports Images
Follow @PFRumors