The Ravens had high hopes for Jimmy Smith when they selected him with the 27th overall pick of the 2011 draft. Labeled by some as the most "pro-ready" cornerback in that draft class, Smith's stock took a hit because of perceived character issues stemming from several failed drug tests and an aggravated assault charge. The Ravens, noting that those incidents came early in his collegiate career, rolled the dice on Smith, hoping he and Lardarius Webb might combine to form a fearsome duo in the secondary.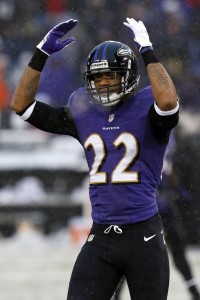 Although Smith has had no off-field troubles since entering the league, his career got off to an inauspicious start when he suffered an ankle injury covering the Ravens' first kickoff of the first regular season game of 2011. Smith returned to the field a few weeks later and showed flashes of his elite skill throughout the rest of the season, including an interception of Tom Brady in the 2011 AFC Championship Game.
In 2012, however, Smith battled through health and performance problems, missing five games due to a sports hernia injury and struggling with his consistency when he did see the field. But in Super Bowl XLVII, Smith played an integral role in the Ravens' goal-line stand that denied the 49ers' attempts to take the lead in the closing minutes, and that effort appeared to catapult him into 2013.
Smith started all 16 games in 2013, recording two interceptions and finally displaying on a consistent basis the blend of athleticism and technical skill that made him so appealing to Baltimore in 2011. As such, it was a foregone conclusion that the Ravens would pick up his fifth-year option, which they did in April of this year, keeping him in Baltimore through the end of the 2015 campaign.
Nonetheless, the team has expressed interest in extending its budding star. As our Luke Adams pointed out in his piece on the extension possibilities for the Cardinals' Patrick Peterson, extensions for top cornerbacks are becoming more and more lucrative. Richard Sherman's new deal with the Seahawks averages $14MM annually, while Joe Haden's extension with Cleveland includes a $22MM guarantee. Those contracts represent a sizable increase from the already hefty free agent deals handed out to 2014 free agents Darrelle Revis, Aqib Talib, and Vontae Davis.
Admittedly, Smith is not yet in the same conversation as Sherman, Haden, and Peterson. Pro Football Focus' advanced metrics (subscription required) ranked all three players among the top 20 cornerbacks in the league, whereas Smith checked in at No. 36. Of course, Peterson's value is further enhanced by his return skills, and although Smith was a reliable special teams contributor earlier in his career, his value as a shutdown corner far outweighs his value as a gunner.
The Ravens, however, would stand to benefit from extending Smith sooner rather than later. A cornerback with his abilities is an increasingly critical component of a championship formula, and there is no reason to believe his 2013 successes were a fluke. If he repeats his 2013 performance in 2014, he will have officially established himself as one of the top corners in the league, and he will be justified in asking for a contract similar to Sherman's and Haden's. Although Smith's second contract will probably not quite reach that level of lucrativeness, the longer the Ravens wait, the more expensive he will be.
Photo courtesy of USA Today Sports Images.
Follow @PFRumors