Earlier this offseason, the Broncos watched as a receiver who averaged 86 receptions, 1,176 yards, and 12 touchdowns during his last two seasons in Denver departed in free agency, signing a five-year deal with the Jets. Although the Broncos reportedly had some interest in re-signing Eric Decker, the team didn't appear to go to great lengths to retain him, in part because Denver still has another wideout, Demaryius Thomas, who is a year away from free agency himself and matched or exceeded Decker's numbers in those two seasons.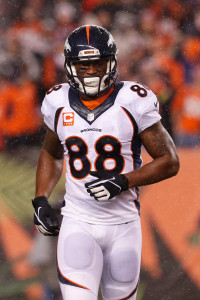 After hauling in just 54 passes during his first two NFL seasons, Thomas broke out when Peyton Manning arrived in Denver, averaging 93 catches, 1,432 yards, and 12 TDs in 2012 and 2013. In addition to posting massive numbers in the traditional receiving categories, Thomas also performed extremely well according to advanced stats. Football Outsiders ranked him third in 2012 and first in 2013 in terms of DYAR, while Pro Football Focus' grades had him as the league's second-best wideout in 2012 and fifth-best in 2013 (subscription required).
When Decker hit free agency, his true value was subject to increased scrutiny. Many observers wondered how much of Decker's production was tied to the fact that he was catching passes from Manning and benefiting from defenses focusing on Thomas, Wes Welker, and the Broncos' other weapons. It's fair to assume that Thomas will face the same questions, and it's also reasonable to conclude that perhaps he wouldn't be posting the same sort of numbers in an offense with a mediocre quarterback throwing him the ball, into more frequent double or triple coverage.
Still, Thomas' combination of size, speed, and hands make him one of the league's better wideouts no matter whose passes he's catching and who's covering him, and his relative youth (26) means he should have plenty more prime years on the way. So it makes sense that the Broncos have initiated extension talks with the former 22nd overall pick, perhaps even offering him a new five-year contract already, though there are conflicting reports on whether an official proposal is actually on the table.
A look at the list of top wide receiver contracts at OverTheCap.com shows that plenty of five-year deals have been signed in recent years — Greg Jennings ($45MM), Vincent Jackson ($55MM), Dwayne Bowe ($56MM), Mike Wallace ($60MM), and Percy Harvin ($64.25MM) are just a few of the players whose current contracts span five years and have base values that range from between $9-13MM annually. In his talks with the Broncos, it makes sense that Thomas and his reps would push to exceed the figures for players like Wallace and Harvin, whose resumés weren't quite as impressive as the Denver receiver's is.
Only two receivers have a larger per-year value on their current contracts than Harvin, with Calvin Johnson and Larry Fitzgerald in a stratosphere all on their own, averaging more than $16MM per season. Both players are also on seven-year deals, rather than five-year pacts. Johnson signed his latest contract after a season in which he grabbed 16 touchdowns and nearly racked up 1,700 receiving yards, while Fitzgerald's extension came on the heels of four straight Pro Bowl seasons in which he never caught less than 90 balls, even when Derek Anderson and John Skelton were the ones throwing those balls.
Based on his accomplishments so far, Thomas doesn't appear qualified to join Johnson and Fitzgerald in that $16MM+ range, but it seems clear he should surpass Harvin and potentially become the third-highest-paid receiver in the NFL, depending on what happens with Dez Bryant and 2015's other free agents. I'd expect Denver to be exploring a deal in the range of $65MM for five new years, with $20MM+ in guaranteed money.
Whether that sort of commitment appeals to Thomas is the big question. Another huge year could move him a step closer to Megatron/Fitzgerald territory, perhaps warranting a deal in the neighborhood of $14-15MM annually. However, the former Georgia Tech standout might be wise not to overplay his hand. Not reaching an agreement with the Broncos this year means the team could use its franchise tag on him next year, postponing his free agency until 2016. By that point, there's a decent chance Manning will no longer be quarterbacking in Denver, which may make the Broncos reluctant to spend huge money on a receiver if they're not confident about a new signal-caller getting him the ball. Thomas would still be in line for a big multiyear deal on the open market, but the best way to maximize his payday could be to ink that next contract when his numbers are still getting that Manning bump — that means doing it sooner rather than later.
As such, I expect we'll see Thomas and the Broncos reach a long-term agreement before or during training camp. If it's a five-year deal, something in the range of $65-70MM seems about right to me. Whether the two sides agree with that assessment remains to be seen.
Photo courtesy of USA Today Sports Images.
Follow @PFRumors