A former first-round pick, Bengals tight end Jermaine Gresham has earned spots in two Pro Bowls during the first four years of his NFL career, accumulating 218 total receptions for 2,262 yards and 19 touchdowns in 59 career overall contests. In many instances, those kind of impressive results would have the player's team working hard to ensure he remains under contract beyond the 2014 season, the final year of his rookie deal.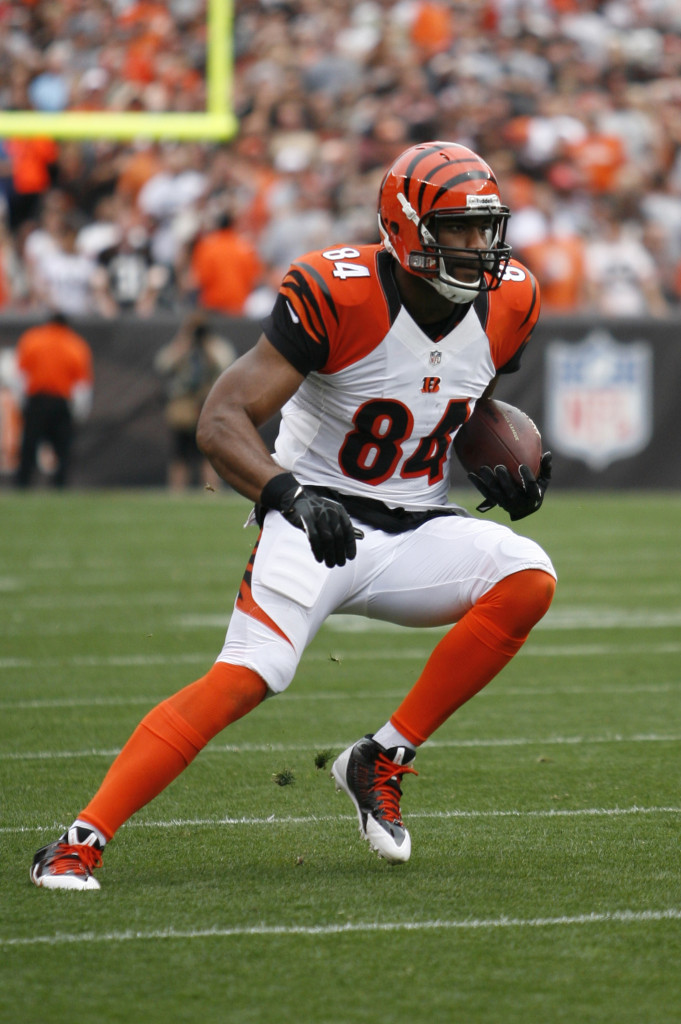 In Cincinnati though, the Bengals' interest in a long-term commitment to Gresham remains unclear. The team has a pair of more pressing extension candidates to worry about this summer, with quarterback Andy Dalton and standout linebacker Vontaze Burfict both eligible for new deals. Still, when head coach Marvin Lewis spoke about a Dalton extension on SiriusXM NFL Radio earlier this month, he pointed out that getting something done with the signal-caller would allow the club to focus on locking up other players — although he didn't mention Gresham by name, Lewis identified "our tight end" as one of those extension candidates.
Of course, while Lewis has some input on roster decisions, it'll be the front office, led by general manager Mike Brown, that ultimately has the final say on whether Gresham remains in Cincinnati for the long term. And there have been a few signals that extending the tight end's contract may not be in the club's plans. For one, just three years after selecting Gresham 21st overall in the draft, the Bengals picked a tight end again at No. 21 a year ago, snatching up Tyler Eifert out of Notre Dame. Eifert didn't immediately usurp Gresham as the No. 1 option at the position, but the Bengals took advantage of his presence by implementing a two-tight-end offense, and the rookie certainly cut into Gresham's targets. After seeing 92 passes thrown his way in 2012, Gresham was targeted just 63 times last season, with Eifert earning 56 targets of his own.
While the Bengals' decision to draft Eifert a year ago may have been largely a product of the team wanting to run an offense with two pass-catching tight ends, Cincinnati also had reason to want an insurance policy for Gresham. Even though he was coming off consecutive Pro Bowl seasons, Gresham actually ranked dead last among 62 qualified tight ends in '12, according to Pro Football Focus' grades (subscription required), which docked him for his poor run blocking and an inability to avoid penalties. In both 2012 and 2013, no other tight end was called for more penalties than Gresham, who also tied for the most fumbles (five) among tight ends during those two seasons.
Just as one can't overlook Gresham's propensity to make mistakes though, his playmaking ability shouldn't be underrated — the 26-year-old typically ranks among the tight end leaders when it comes to yards after catch and missed tackles. After Cincinnati lost Andrew Hawkins in free agency this offseason, the team will be relying more than ever on its tight ends to help carry the receiving load alongside A.J. Green and Marvin Jones, so even with Dalton potentially looking Eifert's way more often, Gresham could be primed for a productive contract year.
Ultimately, I think the Bengals will wait to open extension talks with Gresham, whose place on the roster going forward looks significantly more precarious than it did a year ago. As ESPN.com's Coley Harvey observed recently in a mailbag, Gresham's relationship with fans in Cincinnati has been rocky, and the young tight end may ultimately command more on the open market than the Bengals are willing to pay. I do expect the team to make some effort to re-up Gresham before he reaches unrestricted free agency, but Dalton and Burfict will be the priorities, and if Eifert continues to emerge in his second year, there won't be as much urgency for the Bengals to negotiate with Gresham.
If and when the two sides do engage in contract discussions, Brandon Pettigrew's new contract with the Lions may serve as a logical point of comparison. Pettigrew's career per-year averages of about 57 receptions and 566 receiving yards are essentially identical to Gresham's (55 and 566), and Pettigrew will also cede targets to a young first-round tight end (Eric Ebron) going forward. The Lions locked up Pettigrew this spring for four years and $16MM, with $5.2MM in guaranteed money. If the Bengals can get Gresham for a little cheaper than that, I think the club will be interested in working out an extension. If Gresham is aiming to top Pettigrew's deal, he's more likely to do it on the open market than in Cincinnati.
Photo courtesy of USA Today Sports Images.
Follow @PFRumors