We learned yesterday that Drew Rosenhaus, the agent for Steelers' right tackle Marcus Gilbert, had approached the club about a possible long-term deal for Gilbert. Although those talks are in the preliminary stages at this point, it may behoove the Steelers, who have struggled to get consistent production from their offensive line in recent years, to act before Gilbert hits the open market at the end of this season.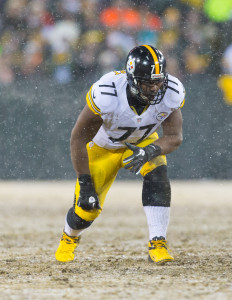 To be certain, Gilbert is not an elite talent. Although we caution that Pro Football Focus' advanced metrics are not the be-all and end-all of player evaluation, those metrics combined with the "eye test" make for a fairly valuable analytical tool, and in this instance, the PFF grades (subscription required) accurately suggest that Gilbert is a solid pass blocker but struggles with run blocking. As compared to other offensive tackles, Gilbert is decidedly average, ranking 36th out of 76 qualified tackles in 2011, his rookie season, and 50th out of 76 in 2013 (he played only five games in 2012 after suffering an ankle injury in Week 6 of that season).
Nonetheless, even average lineman fared pretty well in free agency this year. As we noted yesterday, right tackles Austin Howard, Breno Giacomini, and Michael Oher all received four- or five-year deals worth between $4MM and $6MM per season. Only one of those players–Giacomini–performed better than Gilbert in 2013, according to PFF, and none of them were better in 2011. As such, Gilbert could reasonably demand at least as much, and will certainly get it should he hit free agency.
Gilbert, taken in the second round of the 2011 draft, is part of Pittsburgh's recent movement to provide better protection to quarterback Ben Roethlisberger and to revive their once-dominant running game. He is one of four offensive linemen taken in the first or second round in the past five years, along with tackle Mike Adams, guard David DeCastro, and recently-extended center Maurkice Pouncey. Although DeCastro and Pouncey have played well, Adams has struggled in his two seasons in the league, and the Steelers would like to be confident in at least one of their bookends in the long term.
Although he has stated that he loves playing in Pittsburgh and would not want to go elsewhere, the contracts that his peers received this offseason–along with the fact that he is represented by Rosenhaus–suggest that Gilbert will not be taking a hometown discount. However, solid tackles are hard to find, and the Steelers have gone through enough turmoil on their line in recent seasons to let a chance at real stability walk away (indeed, the chance to a keep core group of players in a given unit intact is an oft-overlooked but critical component of these discussions). It may be difficult to keep Gilbert on board, given that Roethlisberger, Jason Worilds, and Cortez Allen are also extension candidates, but Pittsburgh may have no other choice.
Photo courtesy of USA Today Sports Images
Follow @PFRumors