Notable signings:
Notable losses:
Extensions and restructures:
Trades:
Draft picks:
Other:
Following the 2012 season, the Ravens were on top of the world. After winning the AFC North with a 10-6 record, they went on incredible ride through the playoffs that was culminated by beating the 49ers in Super Bowl XLVII. Joe Flacco, the Super Bowl MVP-winning quarterback who had bet on himself in the offseason, came up aces, securing a six-year, $120.6MM contract. All was well in Baltimore, and the team was expected to remain competitive for years to come.
The 2013 season didn't play out as planned, however — Flacco and the entire offense regressed, finishing 25th in scoring, 28th in total yardage, and 30th in offensive DVOA. Even the team's vaunted defense suffered, and the Ravens finished third in the division with an 8-8 record, missing the playoffs for the first time during John Harbaugh's tenure as head coach.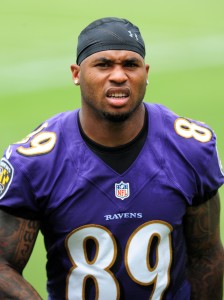 To help repair its offense, Baltimore hired former Texans head coach Gary Kubiak to replace play-caller Jim Caldwell, who took the head job with the Lions. Kubiak is a known fan of multiple tight end formations, and he will have plenty of options to work with in 2014. After inking four-year veteran Dennis Pitta to a five-year, $32MM extension, the Ravens brought in Kubiak's former protégé Owen Daniels, signing him to bargain one-year deal worth $1MM. Add in third-round pick Crockett Gillmore, and this looks like a tight end group that could serve as the basis for a play-action-heavy offensive scheme.
Joining the TEs on offense will be new addition Steve Smith, who signed for three years and $10.5MM. The 35-year-old Smith, who will line up opposite Torrey Smith, certainly isn't the player he once was, but is entering an offense where he will be surrounded by more playmakers than in Carolina. He should act as a nice complementary piece, and bring some of the toughness and attitude for which the Ravens were once known. Jacoby Jones, who will add speed both on offense and special teams, was retained on a four-year, $12MM pact. Baltimore signed Justin Forsett (another former Kubiak student), but the running back corps will remain largely the same. Ray Rice was the worst RB in football season according to Pro Football Focus (subscription required), and will likely be facing a suspension due to a domestic incident. As such, Forsett, fourth-rounder Lorenzo Taliaferro, and Bernard Pierce may have to play a larger role to begin the season.
Another change on offense will be the implementation of a zone-blocking scheme along the offensive line. Center Jeremy Zuttah was acquired (then extended) from the Buccaneers with that transition in mind, as the versatile 28-year-old is a smart player who can fit along most any front five. The Ravens also brought back left tackle Eugene Monroe, whom they acquired from the Jaguars in midseason, on a five-year deal worth $37.5MM, and he should add stability to Flacco's blindside. No replacement was signed to take over right tackle following the departure of Michael Oher, so the winner of a Ricky Wagner–Ryan Jensen battle will likely man the right side come September.
On the defensive side of the ball, Baltimore's moves exhibited why Ozzie Newsome is regarded as one of the best general managers in the game. The Ravens, sticking to their best-player-available strategy in the draft, selected Alabama linebacker C.J. Mosley, regarded by some as the best defensive prospect in the draft, with pick No. 17. Mosley should become an immediate starter in the middle alongside veteran Daryl Smith, who was re-signed on a four-year, $13.6MM contract. Smith, who racked 123 tackles, five sacks, and three interceptions in 2013, and Mosley should form one of the better inside linebacker duos in the league. The outside linebacker spots will be held down once again by Terrell Suggs, who was extended through 2018, and Elvis Dumervil, with Pernell McPhee and 2013 second-rounder Courtney Upshaw backing them up.
In front of the linebackers, second-rounder Timmy Jernigan (another Newsome draft-day steal) will be joining an already-stout defensive line. Jernigan, at 6'2″, 300 pounds, will be part of a rotation at end in the Ravens' 3-4 defense, along with Brandon Williams and Chris Canty, as the team seeks to replace the production of Arthur Jones, who left for Indianapolis. At nose tackle, the über-effective Haloti Ngata will enter his ninth season in the league, and will be backed up by the massive Terrence Cody.
Cornerback remains one of the most stable positions on the Ravens roster; Lardarius Webb and Jimmy Smith, whose fifth-year option was exercised, will attempt to shut down opposing receivers. Baltimore's safety group, however, will have a bit different look — gone is James Ihedigbo, and in are free agent signee Darian Stewart (one year, $1.3MM) and third-round pick Terrance Brooks, who will likely play in some sort of rotation opposite Matt Elam, the team's 2013 first-round-pick.
There are still pressing issues to be resolved in Baltimore — an extension for Jimmy Smith needs to be worked out, the defense needs to get even younger, and the offensive line could use a veteran addition. Additionally, Flacco's massive contract figures to hinder the Ravens' cap situation for some time. However, the team has one of the best GM-coach tandems in the NFL in Newsome and Harbaugh, and the methodical, detail-oriented approach on display year-after-year in Baltimore will likely continue to serve the team well. The Ravens probably aren't the favorites in a tight AFC North, but a wild card spot isn't out of the question, and might even be likely.
Spotrac and Over The Cap were used in the creation of this post.

Follow @PFRumors