Notable signings:
Notable losses:
Extensions and restructures:
Trades:
Draft picks:
Justin Gilbert, CB, Oklahoma State (1.8)
Johnny Manziel, QB, Texas A&M (1.22): Signed
Joel Bitonio, OT, Nevada (2.35): Signed
Chris Kirksey, LB, Iowa (3.71): Signed
Terrance West, RB, Towson (3.94): Signed
Pierre Desir, CB, Lindenwood (4.127): Signed
Other:
Ask your non-football watching mom to name a player out of this year's NFL draft and, odds are, she won't come up with Jadeveon Clowney, Greg Robinson, Blake Bortles, or Sammy Watkins. Texas A&M quarterback Johnny Manziel was the 22nd player taken in the May draft, but you wouldn't know it based on the way it was covered. In Manziel, the Browns potentially got their quarterback of the future. They also opened themselves up to a media circus and questions regarding inflatable swans and top 40 rappers.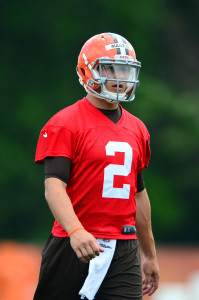 Can Manziel break the Browns' prodigious streak of disappointing quarterbacks? Owner Jimmy Haslam and at least one homeless gentleman in Cleveland seem to think so. Johnny Football can scramble like few others can, has good instincts at times, and can also air it out when needed. On the flip side, Manziel is under 6'0″, has questionable accuracy, and some get the sense that he's more into partying than football. How it all works out for the Browns is anyone's guess. In the short-term, Manziel is working on beating out incumbent Brian Hoyer for the starting job. If it were up to fan referendum, Manziel would win in a landslide, but coach Mike Pettine has spoken highly of Hoyer.
While everyone fawns and/or frets over Manziel, Browns top pick Justin Gilbert is enjoying the solitude. More people should be talking about Gilbert though. The former Oklahoma State cornerback was clearly the best at his position in this year's class, in our humble opinion, which is why the Browns shuffled from No. 4 to No. 9 back up to No. 8 to land him. With Gilbert in the fold, the Browns have a worthy sidekick for Joe Haden who has established himself as one of the very best (maybe the best) cornerbacks in the NFL. Gilbert's coverage still needs some work, but he already has NFL-grade ball skills and should make an immediate impact this season.
Speaking of Haden, the Browns locked up their star CB for the long haul with a five year, $67.5MM deal that will keep him in Cleveland through 2019. The pact, which includes $22.678MM guaranteed, won't have Haden resting on his laurels. "This contract makes me want to play like the best cornerback in the league," Haden told reporters after the deal was announced. The deal certainly pays Haden like he's the best CB in the league. While the $13.6MM average annual value on the extension itself is a little less than what Seattle's Richard Sherman got ($14MM per year), Haden's new pact includes a $14MM signing bonus, $22MM in fully guaranteed money, and another $23MM that's guaranteed for injury only, all numbers that exceed what Sherman received.
Elsewhere in the secondary, the Browns signed hard-hitting veteran safety Donte Whitner. The four-year, $28MM deal makes Whitner a top ten safety in terms of salary and gives the Browns a fill-in for the departed T.J. Ward. The 28-year-old is coming off of back-to-back Pro Bowl seasons and figures to bring the boom, even though he has decided against dropping the "W" from his surname.
Whoever is under center for the Browns in 2014 will have the pleasure of working with All-Pro center Alex Mack. That seemed to be anything but a certainty for much of the offseason. Tons of teams showed interest and the Jaguars made an aggressive pitch for him by coming up with a five-year, $42MM offer sheet to try and bring him down south. Ultimately, however, the Browns matched the offer sheet and avoided having to fill a massive, massive hole on their offensive line. Mack will earn $10MM this year, $8MM in 2015, and he can earn $8MM in 2016 if he doesn't opt out. Mack, 28, has ranked among the top 10 centers according to Pro Football Focus' advanced metrics (subscription required) in each one of his five seasons since entering the league in 2009. In 2013, he placed fourth overall, grading well above-average as both a pass blocker and a run blocker. Keeping Mack wasn't cheap, but it's well worth it for the Browns, especially if they plan on rolling with a rookie QB.
Mack will lead an offensive line that will be charged with opening up holes for the speedy Ben Tate. Tate has spent the last few years as Arian Foster's understudy in Houston and each time Foster hit the injured list with a bum hamstring, Tate filled in admirably and showed that he can be a starting caliber running back. It was a depressed market for RBs this offseason and the soon-to-be 26-year-old got a deal that could wind up being a one-year, $2.5MM and has a ceiling of just $7MM over two years. Even though Tate has had injury woes of his own, including broken ribs last season, we're predicting that this deal will be a major win for the Browns.
To upgrade their receiving corps, the Browns plucked promising receiver Andrew Hawkins away from the Bengals. The four-year, $13.6MM deal ($6.8MM guaranteed) is a bit of a gamble and explains why the Bengals didn't bother to match. The 28-year-old had his best year in 2012, racking up 51 catches for 533 yards and four touchdowns. However, he began 2013 on the IR with a bum ankle and only recorded 12 receptions in the season's second half. Obviously, Cleveland is expecting bigger things out of him going forward.
Hawkins was supposed to serve as a complement to No. 1 WR Josh Gordon, but a season long suspension for marijuana use threw a wrench into those plans. Gordon was an absolute stud in 2013, hauling in 87 catches for 1,646 yards and nine touchdowns in 14 games. The Browns have added other bodies this offseason, but they haven't exactly found a Gordon replacement. Miles Austin was once viewed as a top wide receiver, but his hamstring issues kept him off the field for much of last season. Veteran Nate Burleson was also brought aboard, but he's cut out for a supporting role, not a starring one.
On the other side of the ball, the Browns landed veteran linebacker Karlos Dansby in free agency with a four-year, $24MM deal. Dansby, who turns 33 in the fall, recorded 121 tackles, 6.5 sacks, and a career-high four interceptions, including two for touchdowns for the Cardinals last season. Pro Football Focus had Dansby ranked fifth among inside linebackers last seasons and gave him high marks for his pass coverage. The Browns saw locker room leader D'Qwell Jackson leave for the Colts but in Dansby they found a very suitable replacement. It's possible that Jackson, who is two years younger than Dansby, will prove to be the better investment over the long haul. In the short term, however, Dansby might represent a decent-sized upgrade.
Some of the Browns' biggest changes this offseason came off the field. The Browns installed Pettine, a Rex Ryan disciple and defensive guru, to take over for the well-liked Rob Chudzinski. In his first (and only) year as the Bills' defensive coordinator, Pettine took Buffalo from the 27th ranked defense in the league to a top-five unit according to Football Outsiders' DVOA. Joining Pettine on staff will be Kyle Shanahan and Jim O'Neil as offensive and defensive coordinators. Then, after hiring Pettine, the Browns underwent a major front office shakeup when they named Ray Farmer as the team's new General Manager and bounced predecessor Michael Lombardi. CEO Joe Banner also got the heave-ho in the shuffle. Farmer has made his mark on the franchise since taking over, but if you're inclined to believe that the Manziel pick came from upper management, you have to wonder if he'll truly have full autonomy in all decisions.
Spotrac and Over The Cap were used in the creation of this post. Photo courtesy of USA Today Sports Images.
Follow @PFRumors