The 49ers have been forced to pick their battles when it comes to handing out fresh contracts — while they have yet to pony up new money for Vernon Davis or Alex Boone, San Francisco has extended both Colin Kaepernick and Joe Staley, and seem likely to do the same for Michael Crabtree (whom PFR's Luke Adams examined as an extension candidate last week). Guard Mike Iupati appears to be on the outside looking in when it comes to a new deal; his contract, which is set to pay him a base salary of $2.97MM, expires after 2014, and it's unlikely he will return to the Bay Area.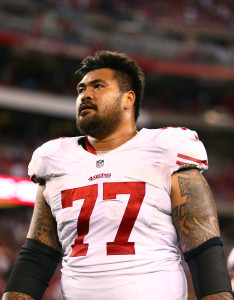 Offensive guard isn't typically a highly-valued position, even when the player in question is as talented as Iupati. As Eric Branch of the San Francisco Chronicle writes, only eight guards have been selected in the first round of the draft since 2000. Additionally, the 49ers have already heavily invested along the offensive line, handing both Staley and right tackle Anthony Davis new contracts over the past 18 months, so the team, with only about $5MM in cap space with which to work, might be wary about pouring more money into its front five.
Additionally, San Francisco has set itself up well in the event that Iupati does leave via free agency. In fact, the team held "behind-closed-doors conversations" last season regarding its options if Iupati leaves, according to Matt Maiocco of CSNBayArea.com. In May, with their seemingly endless supply of draft picks, the 49ers added viable guard replacements in the third round. Pick No. 70 Marcus Martin was viewed as one of the top centers available in the draft, but if Daniel Kilgore cements that position for San Francisco, Martin could conceivably be shifted to guard. Clemson product Brandon Thomas, picked 30 spots after Martin, is a natural guard, but will miss the upcoming season after tearing his ACL during predraft workouts. He'll be ready for the 2015 opener, however, and his presence could allow San Francisco to let Iupati walk.
In the likely event that the Iupati departs the 49ers, he will draw plenty of interest around the league. After being selected with the 17th pick in 2010, the 27-year-old Iupati has started 60 out of a possible 64 games. He was selected to the Pro Bowl in both 2012 and 2013, and was named an All-Pro in 2012. Pro Football Focus' metrics (subscription required) have fluctuated on Iupati: During his first three seasons, Iupati never ranked lower than 13th among guards, and topped out at 5th overall in 2012. Last season, however, Iupati fell all the way to 35th at his position, largely due to his subpar pass blocking grade.
2013's poor performance aside, Iupati is in line for a hefty payday, with Matt Barrows of the Sacramento Bee opining that Iupati could become the highest-paid guard in the league. Working in his favor is the lack of competition among prospective free agents at his position group next offseason. The Broncos' Orlando Franklin had a nice season as a tackle last season, and if he succeeds in his transition to guard, could be looking at large contract. The rest of the 2015 free agent guard class, however, is filled with second- and third-tier options like Jeromey Clary, Willie Colon, James Carpenter, and Lance Louis.
Currently, the highest-paid guards in the league on an average annual value basis are Carl Nicks, Logan Mankins, and Jahri Evans, who earn $9.5MM, $8.5MM, and $8.1MM, respectively. Nicks also received the largest guarantee at $25MM, good for an guarantee per year of $5MM; 52.6% of his contract was guaranteed. After those three players, the total values and guarantees fall quickly into a second tier, Andy Levitre, Ben Grubbs, and Josh Sitton all earning between $6.5-8MM per season.
Iupati's new deal will almost certainly fall into the first tier of guards. After his declining level of play in 2013, a lot hinges on his 2014 performance. With a solid season, I could see him topping Nicks' contract, and perhaps even cracking the $10MM per season barrier. He could be looking at a guarantee in the neighborhood of $26-28MM. It's a lot of money for a non-premier position, but I think Iupati is well-regarded enough around the league that a bidding war could ensue. Even with a lackluster season, Iupati should still match Evans' $8.1MM average salary.
An extension with the 49ers can't be completely ignored. Perhaps Iupati wants to stay in San Francisco, where he plays on perhaps the league's best offensive line. The Niners' coaching staff and front office are solid, and the team is expected to remain competitive for some time. If that means enough to Iupati, maybe he would take a discount to stay in San Francisco. But the more likely scenario entails him leaving the Bay Area, and seeking the highest contract for his services.
Follow @PFRumors