Notable signings:
Notable losses:
Extensions and restructures:
Trades:
Draft picks:
Other:
When the Lions qualified for the playoffs in 2011 after an 11-year absence, it seemed only a matter of time before they would make a serious run at the Lombardi Trophy. They had an explosive offense, a strong enough defense, and had shown steady improvement under head coach Jim Schwartz. Unfortunately, they were unable to continue along that positive trajectory. After failing to reach the playoffs in 2012 and 2013, the team overhauled its coaching staff in the hopes of re-establishing itself as a serious contender in the NFC.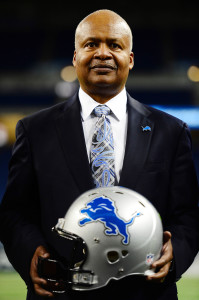 After firing Schwartz, the team hired Jim Caldwell in January of this year as his replacement. Caldwell's hire was something of a surprise. He served as head coach of the Colts from 2009 to 2011, guiding Indianapolis to two AFC South titles and an AFC championship during that time. However, star quarterback Peyton Manning missed the 2011 season due to injury, and the team collapsed in his absence. After a 2-14 campaign, Caldwell was fired and resurfaced as quarterbacks coach of the Ravens shortly thereafter.
Despite not having any experience as a playcaller, Caldwell replaced Cam Cameron as Baltimore's offensive coordinator when Cameron was fired late in the 2012 season. Caldwell utilized Cameron's playbook more effectively than Cameron did, and he oversaw Joe Flacco's historic playoff run that culminated in a Super Bowl victory. However, 2013 was an unmitigated disaster for the Ravens' offense, and Caldwell had no remedy for his woeful unit. Nonetheless, the Lions liked what they saw in Caldwell as a manager of staff and players, and handed him the reins of their promising but underachieving roster.
Caldwell brought in Joe Lombardi, a young and respected offensive mind who had served as the Saints' quarterbacks coach since 2009, as his offensive coordinator. He then hired Teryl Austin, who had been the Ravens' secondary coach since 2011, to run the defense.
As is often the case when a new coaching regime takes over, there has been a great deal of optimism surrounding the Lions' new staff. As far as the team's offense is concerned, such optimism is more than justified. An already dynamic attack was augmented by two significant additions, Golden Tate and Eric Ebron. Tate slowly came into his own in Seattle before signing a lucrative deal with Detroit, and he projects as the team's No. 2 receiver opposite the game's most dominant wideout, Calvin Johnson. The Lions hope Tate, who is a talented playmaker in his own right, can direct some of the attention of opposing defenses off of Johnson, something that Nate Burleson–who left for the Browns this offseason–could never really accomplish.
In Ebron, the team landed the consensus No. 1 tight end in this year's draft. Many pundits predict that Ebron, with his blend of size and speed, can impact Detroit's passing game the way Jimmy Graham and Rob Gronkowski impacted the offenses of their respective clubs. While Ebron may eventually approach that level of success, it might take a season or two before the Lions truly reap the benefits of his talent. Ebron has struggled with drops in offseason workouts–which is a concern, given that drops plagued him in college as well–and with grasping Lombardi's offense. Nonetheless, it will be impossible for defenses to adequately cover every player in the Lions' aerial attack, and if those defenses continue to double-team Johnson, quarterback Matt Stafford might see Ebron running free down the seam many times over the course of the season (it is also important to note that the team re-signed tight end Brandon Pettigrew. Pettigrew is a talented enough pass catcher himself, but he is also one of the few tight ends in the league who offers receiving and blocking abilities, so his presence will probably be an underappreciated but invaluable glue for this offense).
Defense, however, will again be a concern. The Lions struggled mightily against the pass in 2013, and they released top corner Chris Houston and safety Louis Delmas. They added veteran corners Rashean Mathis and Cassius Vaughn on one-year minimum contracts, but it is unrealistic to expect much out of those two players. New strong safety James Ihedigbo, signed as a free agent from the Ravens, offers quality play as a run-stopper and occasional pass rusher, but, like traditional strong safeties, does not offer much by way of pass coverage. As such, the onus will fall upon corner Darius Slay and free safety Glover Quin to pick up the slack on the back end of the defense.
The front seven, however, offers more promise. The defensive line is anchored by Nick Fairley and Ndamukong Suh, and Ziggy Ansah demonstrated tremendous upside in his rookie campaign that he should be able to build upon in 2014. Meanwhile, the Lions supplemented their linebacker corps, anchored by veterans Stephen Tulloch and DeAndre Levy–who enjoyed the very definition of a breakout season in 2013–with intriguing talent Kyle Van Noy, whom they selected in the second round of this year's draft. Van Noy was a late riser in the draft, and the Lions liked him enough to trade their No. 45, No . 111, and No. 227 picks to Seattle to move up five spots to nab him. Van Noy is not an elite athlete–which probably kept him out of the first round–but he does everything else well, and he should see a lot of snaps in his rookie season.
There will also be a kicking competition between Nate Freese, whom the team selected in the seventh round of this year's draft, and Giorgio Tavecchio, who has been in camp with the 49ers and Packers in recent seasons but who has not yet established himself in the league. Freese, as a draftee, is the presumptive favorite, and the Lions hope he will be the team's long-term solution at the position after veteran David Akers struggled in 2013 to replace the production of stalwart Jason Hanson. Both Freese and Tavecchio, however, have struggled thus far.
The Lions are unquestionably a team with talent, and the coaching changes were probably necessary ones, as the proverbial message of Schwartz and company had apparently grown stale. However, outside of their possibly dynamic offense, they are also a team with flaws. Fortunately for them, the Packers and Bears have vulnerabilities of their own, and the Vikings appear to be at least a year away from legitimate contention. As such, the Lions have a real chance to make a run at the NFC North crown, but, failing that, a wild card berth is well within their reach.
Spotrac and Over The Cap were used in the creation of this post.

Photo courtesy of USA Today Sports Images
Follow @PFRumors