Notable signings:
Notable losses:
Trades:
Draft picks:
Ja'Wuan James, OT, Tennessee (1.19): Signed
Jarvis Landry, WR, LSU (2.63): Signed
Billy Turner, OT, North Dakota State (3.67)
Walt Aikens, CB, Liberty (4.125): Signed
Arthur Lynch, TE, Georgia (5.155): Signed
Jordan Tripp, OLB, Montana (5.171): Signed
Matt Hazel, WR, Coastal Carolina (6.190): Signed
Terrence Fede, DE, Marist (7.234): Signed
Other:
The Dolphins threw around some cash this offseason, but it wasn't all blown on one or two blockbuster signings. By dispersing their resources all over the field, Miami has managed to fill a number of holes and position themselves to contend in the AFC East.
The Dolphins' most expensive move was signing offensive tackle Branden Albert to a five year, $47MM deal with $20MM guaranteed and that's no surprise when you consider what a mess their offensive line was in 2013. The entire locker room was derailed by last year's scandal, but the offensive line in particular was decimated with starters Jonathan Martin and Richie Incognito unavailable. Some were critical of the Albert signing since he is coming up on his 30th birthday and could wind up transitioning over to the less crucial right tackle position. Yes, this might have been something of an overpay for the veteran. However, he recorded positive grades for four straight seasons, according to Pro Football Focus, and the Dolphins desperately needed him. Albert's deal might have been foolish for any other team, but it made complete sense for the Dolphins.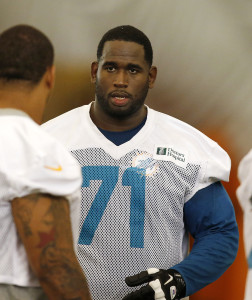 Joining Albert on the o-line will be Shelley Smith at one of the guard positions. The 26-year-old received a +7.0 grade from Pro Football Focus last season, which placed him 23rd out of 81 qualified guards, despite his lack of playing time. To fill the hole at right tackle, the Dolphins tabbed Tennessee's Ju'Wuan James with the 19th overall pick. The Dolphins were said to be infatuated with James in the weeks leading up to the draft and it's easy to see why. At 6'6″ and 311 pounds, James brings serious size and four years of experience in the extremely tough SEC. Most saw James as a second round talent, but the Dolphins weren't willing to chance it. Miami's o-line of Albert, Dallas Thomas, Mike Pouncey, Smith, and James figures to be a significant upgrade over last season.
Those five men will be charged with protecting third-year starter Ryan Tannehill and a backfield including Daniel Thomas, Lamar Miller, and newcomer Knowshon Moreno. The 12th overall pick in 2009 came the Dolphins on a cheap one-year, $3MM deal that is less than 50% guaranteed. Moreno posted his first 1,000-yard season in 2013, racking up 13 overall regular-season touchdowns and although Denver's explosive offense aided those numbers, Moreno figures to be an upgrade over Thomas and Miller. Moreno should also be motivated to perform and cash in next offseason after this one-year pact. Second-round wide receiver Jarvis Landry isn't a freak athlete like LSU teammate Odell Beckham but he's a crisp route runner that should provide Tannehill with an additional weapon.
Moving to the other side of the ball, the Dolphins made some significant changes on their offensive line. Defensive tackle Paul Soliai was not retained by Miami (and might not have even gotten an offer) and cashed in on a five-year, $32MM deal. Meanwhile, his partner in crime Randy Starks was kept with a reasonable two-year, $10MM deal ($5MM guaranteed). The 6'4″, 344 pound Soliai is a disruptive force, but free agent Earl Mitchell should be able to fill that space just fine. At $16MM over four years ($5MM guaranteed), the former Texans defensive end is a whole lot cheaper, too.
In the secondary, the Dolphins surprised some when they gave a two year deal to cornerback Cortland Finnegan. The Rams released Finnegan back in March when they couldn't get him to take an acceptable pay cut and weeks later the Dolphins gave him a two year, $11MM contract with $5.5MM guaranteed. Finnegan, whose 2013 season was cut short by a fractured orbital bone, was one of the league's worst corners even before the injury, according to Pro Football Focus (subscription required). PFF ranked Finnegan 109th out of 110 qualified corners, with a grade of -19.7 in just seven games. A longtime starter for the Titans, the former seventh-round pick was named to the All-Pro first team in 2008, but has seen his production fall off in recent years. Presumably, the Dolphins are hoping that Brett Grimes will shoulder most of the responsibility in the secondary, making things easier on Finnegan. Speaking of Grimes, he'll be in South Florida for the foreseeable future after signing a new four years, $32MM deal. Safety Louis Delmas, who was cut loose by the Lions in February, also came aboard on a reasonably priced make-good contract.
While the Albert and Finnegan contracts were head-scratchers for a lot of people, the Dolphins undeniably got stronger on both sides of the ball with their moves this offseason.
Spotrac and Over The Cap were used in the creation of this post. Photo courtesy of USA Today Sports Images.
Follow @PFRumors