Notable signings:
Notable losses:
Extensions and restructures:
Trades:
Draft picks:
Other:
The Patriots didn't come into this offseason with a ton of cap space but somehow they found a way to make some solid upgrades and fill holes with what little they had. Pound-for-pound, it might have been one of the best offseasons of any team in the NFL.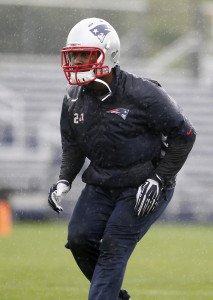 Things didn't look so great for the Patriots when the Broncos plucked free agent cornerback Aqib Talib earlier this offseason. After all, how do you respond to losing one of the better cornerbacks in the NFL? Answer: sign a better one. New England was able to convince Darrelle Revis to come aboard on a deal that basically amounts to a franchise tender, making their secondary even stronger. Revis' status beyond this season is anything but certain, but in the interim, Bill Belichick & Co. must be champing at the bit to get the season started. If all goes according to plan, Revis Island will reestablish itself in Foxboro before he moves on elsewhere, giving New England cap space to work with beyond this season.
The Pats also made another strong upgrade to their secondary with their signing of Brandon Browner. Yes, the cornerback will be sidelined for the first quarter of the season thanks to his suspension, but he's a bargain on a deal that tops out at $3.46MM and will leave the Pats without any real penalty should they cut bait. If Browner stays on the straight and narrow, he could be a strong partner on the other side of the field for Revis, with veteran Kyle Arrington there to man the slot. Former Eagles safety Patrick Chung, who was signed to a $1.1MM deal, will be an asset in reserve as well as a strong special teamer. Safety Adrian Wilson, who tore achilles during preseason last year, will be seeking employment elsewhere.
There was also change in the front seven. Veteran linebacker Brandon Spikes left to join up with the Bills and the Pats will work from within to help fill the gap. Dont'a Hightower will shift back over to middle linebacker with Jerod Mayo and Jamie Collins likely joining him in the starting lineup. Hightower is a deceptively fast LB who should be able to do just fine with his increased coverage demands. Collins, who found the spotlight in last year's playoffs, has the athleticism to keep the pressure on opposing QBs.
To bolster the d-line, the Patriots picked up talented defensive tackle Dominique Easley out of Florida. Easley was arguably the most explosive defensive lineman in the draft but fell to the Pats at No. 29 thanks to an injury history that includes two torn ACLs. If he's healthy, it wouldn't be a surprise to see him stand as one of the best talents from the 2014 draft. If he's not, then the Pats' d-line will be hurting. Veteran Will Smith will also be on board to provide additional depth.
On the other side of the ball, the Patriots wisely waited out the market to get a reasonable deal done with wide receiver Julian Edelman. While Edelman looked to be an extremely hot commodity at the start of free agency, the Patriots stayed cool and signed him to a four-year, $17MM deal that has $8MM guaranteed. To strengthen things up further down the depth chart, the Pats signed longtime Panthers receiver Brandon LaFell. Often dwarfed by No. 1 target Steve Smith, LaFell has shown flashes of brilliance in Carolina and should do quite well out of the slot. A three-year, $9MM deal ($3MM guaranteed) seems like a fair deal for both sides.
There will be some change in the backfield this season after LeGarrette Blount left to join the Steelers. Blount wasn't a central part of the gameplan last season, but he came on strong at the end of the year and showed promise as a power rusher. Fourth round pick James White out of Wisconsin could come in and fill fill his spot on the depth chart admirably, even if he'll do it with less brute force than his predecessor.
Second-round pick Jimmy Garoppolo doesn't want to hear it, but there has been non-stop talk of the Northern Illinois signal caller becoming the heir apparent to Tom Brady. Brady isn't going anywhere right now, so more immediately, Garoppolo is being groomed to blossom into a solid No. 2 starting in 2015 when Ryan Mallett could find himself elsewhere. The Pats were looking hard at other QBs in the draft, including Greg Schiano's crush Tom Savage, but ultimately they fell in love with Garoppolo and his lightning quick release.
Not much was expected out of New England this offseason give their cap situation, but they actually restocked quite well and positioned themselves as one of the AFC's strongest teams in 2014, thanks mostly to the Revis signing. Whether it's enough to topple the likes of the Broncos or even the boom-or-bust Jets in the AFC East, however, remains to be seen.
Spotrac and Over The Cap were used in the creation of this post. Photo courtesy of USA Today Sports Images.
Follow @PFRumors