Notable signings:
Notable losses:
Trades:
Draft picks:
Other:
Things got weird in Tampa Bay last year. Real weird. Former Rutgers coach Greg Schiano kicked off the season with what many perceived as a campaign against his own starting quarterback. Josh Freeman wasn't voted as a team captain for the first time since his 2009 rookie season, but when teammates huddled up to discuss the election process, they came away with the conclusion that it was rigged and Freeman rightfully should have had a C on his jersey, according to Pro Football Talk's Mike Florio. Weeks later, word came out that Freeman had to enroll in the league's drug program for abusing Adderall and the NFLPA filed a grievance on the matter for breach of confidentiality. There was speculation that Schiano was the one who stripped Freeman of his captaincy and the one who leaked news of the drug problem to the press. When you couple that with an 0-8 start that ended in a 4-12 record for 2013, the Bucs had no choice but to bounce the discipline-loving, cliched sound bite-giving coach. Now, the Bucs will be guided by former Bears coach Lovie Smith who is set to bring the Tampa 2 back to Tampa and, hopefully, foster a healthier environment in the locker room.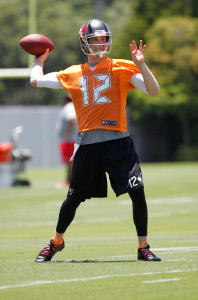 After the Bucs demoted Freeman (and later cut him), rookie quarterback Mike Glennon was thrust into the starting role and performed about as well as you'd expect most rookie signal callers to perform. Glennon produced an cumulative -6.1 rating from Pro Football Focus, placing him 33rd amongst all eligible QBs in their rankings. Taking his spot on the depth chart will be free agent pickup Josh McCown, who ranked 9th in PFF's QB rankings. The veteran journeyman started for the Bears in place of Jay Cutler last season after he was lost to injury and filled in admirably, The 35-year-old ended the 2013 season completing 66.8 of his passes for 1,829 yards with 13 touchdowns, one interception and a 109.0 passer rating, the third highest behind Peyton Manning and Nick Foles. In fact, McCown left such a strong impression in Chicago that many fans wondered why the Bears didn't re-sign him rather than giving an expensive long-term deal to Cutler. Some might wonder if the veteran can replicate his play from last season, but he would appear to be a nice upgrade over the rising sophomore Glennon, who can still be groomed as the club's QB of the future.
McCown will have the pleasure of throwing to three-time Pro Bowler Vincent Jackson and No. 7 overall pick Mike Evans. The Texas A&M product rocketed up draft charts across the NFL in the weeks leading up to the draft and firmly established himself as the best wide receiver in the class behind Clemson's Sammy Watkins. In Evans, the Bucs are getting a big 6'5″ target who is hard to take down and can eke out extra yards after a catch that many WRs wouldn't be able to. Evans doesn't offer the blazing speed of Watkins or Odell Beckham Jr., the third WR to come off the board in the draft, but he offers serious upside in his own right and appears to be rather NFL-ready. Meanwhile, Mike Williams, who spent the first four years of his career with the Bucs, was shipped to the Bills for a sixth-round choice.
As if that wasn't enough to help McCown in his first year with Tampa Bay, the Bucs also drafted Washington tight end Austin Seferian-Jenkins in the second round and signed former Raiders and Giants tight end Brandon Myers to a two-year deal. Seferian-Jenkins, like many of the league's top tight ends, comes from a basketball background and that shows with his high-end athleticism. The 6'5″ athlete has very strong agility and soft hands for a player of his size and is also a decent blocker. Heading into the draft, some teams were wary of the 21-year-old's perceived character flaws thanks to a 2013 DUI arrest. However, the Bucs interviewed the youngster extensively and walked away without concern.
In March, left tackle Anthony Collins was brought aboard to help protect the starting backfield of McCown and Doug Martin. Collins got a five-year, $30MM deal ($9MM guaranteed) from Tampa Bay even though he never had an extended run as a starter during his six seasons with the Bengals. Still, in his 673 offensive snaps last season, Collins never recorded a negative grade in a game, according to PFF (subscription required). If he can bring that kind of production as a starter, then the Bucs will look pretty smart in the long run.
Also new to the Bucs' starting o-line is former Packers center Evan Dietrich-Smith. Dietrich-Smith also doesn't have a ton of starting experience, having started just nine games during his first three seasons in Green Bay before starting in all 16 games for the Packers in 2013. Still, PFF (subscription required) ranked him No. 8 out of 35 qualified centers and he graded particularly well as a pass blocker. Off the bench, the Bucs added guard Oniel Cousins and retained OG Jamon Meredith with a two-year deal. Jeremy Zuttah, a former Rutgers notable who was a holdover from the Schiano era, was sent to the Ravens for a fifth-round choice (fellow RU alums Brian Leonard and Tiquan Underwood were also released).
Tampa Bay's biggest financial commitment of the offseason came on the other side of the ball when they inked defensive end Michael Johnson to a five-year contract worth $43.75MM with $24MM in guaranteed cash. The Bengals free agent was this year's fifth-best free agent according to our own Luke Adams and graded out as one of the best 4-3 defensive ends last season in stopping the run. Johnson's 3.5 sacks in 2013 pale in comparison to his 11.5 sacks from 2012, but he's still a dominant force that should help disrupt opposing offenses. Along with with defensive tackle Gerald McCoy, who was the statistical leader amongst DTs in stopping the run, the Bucs should have a fearsome defensive line to help anchor Smith's defense. Former Seahawks defensive tackle Clinton McDonald was also brought aboard on a four-year, $12MM deal and he's expected to sit behind McCoy and Akeem Spence on the depth chart.
The Bucs said goodbye to Darrelle Revis this offseason in order to get out from under his $16MM annual cap hit. While he'll look to hold his position as one of the league's top cornerbacks in New England, Tampa Bay brought in Alterraun Verner to take his place. Verner, widely regarded as the second-best free agent cornerback on the open market behind Aqib Talib (excluding Revis, of course, who did not become an FA until he was released by Tampa Bay), signed a rather team-friendly deal considering what he brings to the table. Verner isn't a truly elite corner like Revis, but since entering the league in 2010, Verner has never placed outside the top 25 in Pro Football Focus' cornerback rankings. Verner will help anchor a secondary that has some question marks, including starting strong safety Mark Barron. Barron missed most of the Bucs' OTAs and minicamp with what was thought to be hamstring issue, but he actually underwent arthroscopic surgery on his right knee in January.
The Bucs got a lot done over the offseason, but they'd still like to hammer out a new deal with McCoy and keep him in the fold for the long term. In the short-term, it's a new era in Tampa Bay and while they might not look the part of Super Bowl contenders, it's certainly a step up from where they were last season under their old regime.
Spotrac and Over The Cap were used in the creation of this post. Photo courtesy USA Today Sports Images.

Follow @PFRumors