Given that later rounds of the NFL draft tend to be crapshoots, the success of two players selected in the sixth round of the 2011 draft is something at which to marvel. The more notable player, chosen with pick No. 191, is Eagles center Jason Kelce. The former Cincinnati Bearcat, now regarded as one of the best centers in the league, was signed to a six-year, $37.5MM extension in February.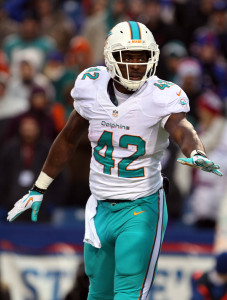 Chosen 17 picks before Kelce was a slightly more anonymous player — tight end Charles Clay. Clay, 25, is not only entering the his fourth season with the Dolphins, but the final year of his rookie contract. As such, he could be a candidate for a new deal that, if not equal to the length and/or compensation of Kelce, more correctly aligns with his production. In fact, Barry Jackson of the Miami Herald reports that Clay's agent has approached the Dolphins about an extension, but the talks haven't led to any serious negotiations.
Clay entered the league three years ago after playing college ball at Tulsa. During his rookie season, he displayed versatility by spending time at both tight end and fullback, but finished with just 16 receptions for 233 yards and three touchdowns. After transitioning to playing solely TE in 2012, he ended the year with a nearly identical statistical line. Clay broke out in 2013, however, displaying a rapport with quarterback Ryan Tannehill and catching 69 balls for 759 yards and six touchdowns — he also rushed the ball seven times.
Advanced metrics don't indicate as much positive development for Clay as do traditional stats. Pro Football Focus' grades (subscription required) have painted Clay as merely ordinary over the course of his career — he ranked as just the 36th- and 34th-best tight end in the league in 2012 and 2013 respectively. Last year, specifically, PFF painted Clay as a well above-average pass-catcher, but lackluster in terms of pass-blocking. Football Outsiders has a similar opinion of Clay, as he finished 41st and 20th in DVOA over the past two years.
There are several potential roadblocks regarding extension talks from the Dolphins' point of view, two of which Jackson notes. First, Clay only has one season of above-average production; Miami might want to wait and see if he is able to maintain last year's level of play. Second, Clay recently aggravated his surgically-repaired knee, so the Dolphins could be wary of further injury risk. It's just my speculation, but the Dolphins might also be worried about Clay's fit in new offensive coordinator Bill Lazor's scheme. Lazor worked under Chip Kelly in Philadelphia last year, and tight ends weren't overly featured in the Eagles offense.
So what would a Clay extension look like? He probably won't match Kyle Rudolph's five-year, $36.5MM deal — Rudolph had a second-round pedigree, and the Vikings were likely projecting a big season for the fourth-year TE with the help of offensive coordinator Norv Turner. Further down the list of tight end contracts is Jared Cook's five-year, $35.1MM pact with the Rams, which now looks like a major overpay. Descend further, and find the contracts of Brandon Pettigrew and Anthony Fasano that probably set the floor for Clay — four years, $16MM, with between $4-5MM guaranteed.
Among tight ends, there isn't a perfect comparable with which to juxtapose Clay. The best deal to view might be that of Martellus Bennett, who received a $5.1MM AAV over four years, with $5.215MM in guarantees. Bennett is probably a better overall player, but Clay is two years younger and offers more versatility. The Dolphins will have to judge whether they value Clay as much as the Bears valued Bennett. In the end, I would guess a deal gets worked out, perhaps in-season. Working with an innovative coordinator like Lazor, Clay could be in for an even bigger season, and Miami could win big with a forward-looking contract.
Photo courtesy of USA Sports Images.
Follow @PFRumors