Torrey Smith, who was drafted by the Ravens with the 58th overall pick in the 2011 draft, is entering the final year of his rookie contract. Although he struggled with drops in his first training camp, he was given a chance to start against the Rams in Week 3 of his rookie season when veteran Lee Evans went down with an injury. In the first quarter in St. Louis, Smith recorded the first three receptions of his pro career; they all went for touchdowns.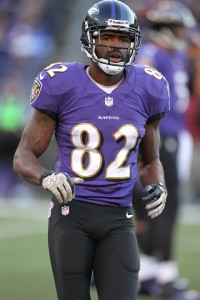 Since then, Smith has established himself as Baltimore's premier receiving threat. Even when he shared a field with Anquan Boldin, his speed and play-making ability was the element of the Ravens' passing game that drew the most attention from opposing defenses. Last season, he set career highs in receptions (65) and yards (1,128) and boasted an impressive 17.4 yards per reception, which matched his 2012 mark and serves as a testament to his big play potential.
However, he has been referred to as a "one-trick pony," with his one trick being his ability to blow past opposing corners on deep routes. Although that assessment may be somewhat harsh, his route running has not developed as much as the team would like and his hands still let him down on occasion (though he has demonstrated marked improvement in each of those areas over the course of his first several seasons in the league). For what it's worth, he also ranked as the 76th-best receiver out of 108 eligible wideouts, according to Pro Football Focus' advanced metrics (subscription required).
As such, it is difficult to put a finger on what an extension for Smith might look like. 2014 will be a defining season for a number of Ravens' offensive players, as the unit will now be guided by the West Coast leanings of respected offensive mind Gary Kubiak, who is being treated as something of a savior among Baltimore fans. If Smith demonstrates continued improvement in his raw statistics while also showing advancements in his route running ability–indeed, Kubiak's offense will require proficiency in short and intermediate routes, even if he takes a few shots downfield every game–he will be in line for a huge payday (think something along the lines of the five-year, $60MM deal Mike Wallace signed last season). If, on the other hand, he stagnates a bit, he will still be paid handsomely, but his new contract would likely keep him in the second or third tier of receivers. Something akin to the five-year, $42.5MM deal that Antonio Brown signed in July 2012 would probably be a reasonable benchmark.
Back in March, we learned that the Ravens made it known that a new contract for Smith was a priority, and Smith indicated that the feeling was mutual. Smith, who grew up in Virginia and went on to star at the University of Maryland, is not a true No. 1 receiver just yet. However, he is far and away the closest thing to a No. 1 that the Ravens have ever drafted, he has come up with a number of clutch catches, and he has been a consistent and positive presence in the Baltimore community. It is understandable, then, why both parties have interest in getting something done.
At this point, though, it does not appear that a new deal will be reached until the 2014 season is over. Although we do not know what offers the team has previously extended to Smith, it could be that, like his teammate Joe Flacco in 2012, Smith is "betting on himself" this year. With Steve Smith playing opposite him and a top-flight offensive coordinator on board–not to mention new wide receivers coach Bobby Engram, who, in his playing career, excelled in the areas where Smith still struggles–the conditions are perfect for Smith to take the proverbial next step and land a mega-deal in the process. The Ravens would probably be glad to meet his price if he does so, even if that price makes Smith one of the richest wideouts in the league.
Photo courtesy of USA Today Sports Images
Follow @PFRumors