As I noted in my evaluation of Jonathan Vilma's free agency stock, there are several positions in today's NFL that are quite fungible — among them are running back, inside linebacker, and offensive guard. Of these devalued positions, guard might be the spot where veteran experience is still highly esteemed. Unlike the backfield or a front seven, a successful offensive line requires not only talent, but a sort of unspoken connectivity among the linemen. The best front fives in football are often those who have experienced stability, allowing the five players to mesh.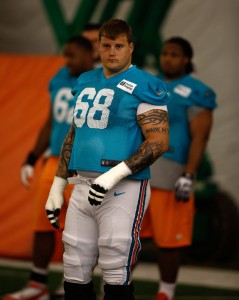 If a team suffers a guard injury in the coming weeks, it may not want to turn to a rookie or another unseasoned young player. Rather, a team in need of line help might seek a veteran player with several years of experience under his belt. At this point in the offseason, however, such players don't come without warts, so if and when a team looks for reinforcements at guard, the best remaining option might be the embattled Richie Incognito.
The reason why Incognito is still unemployed is obvious — his involvement in the Jonathan Martin scandal, during which Incognito bullied and harassed Martin until he left the team, is unsettling, to say the least. From an outsider's perspective, it's hard to judge whether Incognito's behavior was incongruent with that of a typical NFL locker room. But the fact that he remains unsigned is an indication that either teams were disturbed by Incognito's conduct, or aren't willing to handle the media swarm that would occur following his signing.
But despite Incognito's troubles, the reality of the NFL is that talent wins out. Players like Michael Vick and Ben Roethlisberger were accused of and/or charged with unsavory acts, but both were allowed back into the NFL. Vick was signed to a massive extension with the Eagles, and the Steelers will look to tack on years to Roethlisberger's deal after 2014. If a player is able to compete at a high level, the league tends to look the other way when it comes to his past.
The 6'3″, 320-pound Incognito has certainly displayed effectiveness since entering the NFL as a third-round pick of the Rams in 2006. After several anger-related incidents, and racking up 38 penalites (seven unnecessary roughness calls), he was waived by St. Louis in 2009. After being claimed by the Bills, he spent one season in Buffalo before playing with the Dolphins from 2010-13. He was suspended indefinitely in November of last year, and his contract expired after the season.
In total, Incognito has started 102 games over the course of his career, spending time at both guard spots (though he has played only left guard in recent seasons). Pro Football Focus' data (subscription required) only goes back to 2007, but the site's advanced metrics have positively graded each of Incognito's seasons. For most of his career, PFF's statistics indicated that Incognito was a better run-blocker than pass-protector, but since 2012, those data points have flipped. Regardless, Incognito is unquestionably a top-30 guard, and topped out as the 16th-best guard in the league in 2010.
So will Incognito find a team for 2014? It's difficult to project — on May 28, one general manager told Mike Freeman of Bleacher Report that despite Incognito's attempts to get back in the league, his return was unlikely, as "no one trusts him." A month later, sources were telling Freeman's colleague, Dan Pompei, that while Incognito is easily the best available interior lineman, no team wants to deal with the fallout of signing him. However, on August 8, Incognito told Josh Peter of USA Today that his agent had received "a few nibbles" from teams during the offseason.
Any team that brings in Incognito will factor in the possibility that he will be suspended and miss a portion of 2014. However, NFL commissioner Roger Goodell recently sounded quite pleased with Incognito's headway since the bullying incident took place. "It's a broad issue," said Goodell, via Connor Orr of the Newark Star-Ledger. "I would say that the one person who has been very responsive in going through the program has been Richie Incognito. We're working with his people and monitoring his progress on that front."
The Giants could have interest in Incognito — longtime guard Chris Snee announced his retirement last month, and New York had no problem bringing in Incognito's former teammate John Jerry, who was also involved in the Martin scandal. The Buccaneers, who parted ways with Carl Nicks on July 25, could also use help at guard. Additionally, teams will inevitably suffer injuries at the position as the preseason proceeds, and will seek to add veteran depth.
In the end, Incognito's fate will be determined by a simple cost-benefit analysis: Factoring in the inexorable media pressure that would ensue, is Incognito's above-average play worth the headache of adding him? My guess is yes — his talent is undeniable, and a team will eventually get desperate enough to sign him. Guaranteed money or a guaranteed roster spot will be out of the question, but some team will be willing to take a gamble on Incognito in order to reap the reward.
Photo courtesy of USA Today Sports Images.
Follow @PFRumors