Notable signings:
Notable losses:
Extensions and restructures:
Trades:
Draft picks:
Other:
There was a time when the NFC West wasn't all that menacing. That's not quite the case anymore. The Cardinals' 10-6 mark earned them nothing more than a bronze medal thanks to being in the same group as the 49ers and the Super Bowl champion Seahawks. Arizona made a handful of moves this offseason that could give them a better chance in one of the NFL's toughest divisions.
The Cardinals' offensive line left something to be desired in 2013 and it was no surprise that Jared Veldheer turned out to be their biggest offseason expenditure. Former first-round pick Levi Brown was the club's starting left tackle to kick off the season but the club couldn't withstand him poor play any longer and shipped him to the Steelers in October. Bradley Sowell stepped into the role in his place, but didn't do much better. Enter Veldheer. The Raiders didn't see the 26-year-old as a top shelf left tackle but Arizona certainly did and they were delighted to land him with a five-year, $35MM deal. Veldheer missed eleven games last season thanks to a triceps injury but he looked just fine in his partial season and could prove to be quite the value for the Cards. At the very least, he'll be a noticeable upgrade over the matador that was Brown.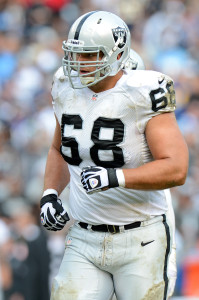 Wide receiver Andre Roberts left to sign with the Redskins where he expected to see more targets before the club added DeSean Jackson, but they added wide receiver and return specialist Ted Ginn Jr. to a three-year deal. The 28-year-old was back for 26 punt returns and 25 kickoff returns for Carolina last season but he also enjoyed his best season as a WR, hauling in 36 catches and 556 receiving yards with five TDs, showing that he's more than a strong return man. The Giants, Bucs, and others had interest in adding Ginn and it's not hard to see why. The Cards also added a pair of tight ends in former Viking John Carlson and rookie Troy Niklas. Carlson, who was also drawing interest from the Jets and Packers, recorded a total of 40 receptions for 387 yards in his two seasons with the Vikings as the team's second tight end behind Kyle Rudolph.
One of the Cardinals' most notable offseason moves came just days ago when they signed cornerback Patrick Peterson to a brand-new five-year, $70.05MM extension. Typically, we'd round that number down, but the extra $50K elevates Peterson above Seahawks star Richard Sherman as the league's highest-paid cornerback in terms of average annual value. While Sherman and Joe Haden (and scores of fans) might have a bone to pick with Peterson holding that mantle, there's no denying that Peterson is a true shutdown cornerback and his age (24) is no small factor in his value. Peterson became the first 2011 first-round pick to ink a contract extension and after setting the table for Cowboys lineman Tyron Smith, he'll probably open up the flood gates for others in the coming weeks.
When opposing quarterbacks find their top receiver smothered by Peterson, they won't have an easy time completing a pass elsewhere thanks to rookie safety Deone Bucannon and free agent pickup Antonio Cromartie. Last year was the fifth straight season in which the 29-year-old recorded at least three interceptions, though he wasn't as strong in coverage as usual, according to Pro Football Focus' metrics (subscription required). After ranking 16th among cornerbacks in 2012, he placed in the bottom 10 in 2013, with receivers averaging 19.1 YPC on their 49 receptions against him. If Cromartie gets back to his old self, however, the one-year, $4MM make-good contract will be a major bargain. The Cardinals traded back from No. 20 to the No. 27 pick and some were surprised when they used that selection to grab Bucannon. However, Arizona knew they needed a heavy hitter in the secondary and the Washington State product certainly fits the bill. Bucannon should serve as a nice compliment to speedy safety Tyrann Mathieu.
While the secondary improved, one has to wonder about the state of the front seven and the linebacking corps in particular. Inside linebacker Karlos Dansby, who career year with 112 tackles, 6.0 sacks and four interceptions, left to sign with the Browns. Daryl Washington, who could have capably stepped into his shoes, was suspended for the 2014 season thanks to his latest substance-abuse policy violation. Free agent pickup Larry Foote will be expected to help fill the void, but it's hard to say what kind of impact he can have coming off of a season in which he missed all but one game. Also, while he started 16 games at ILB in 2012, he ranked just 46th of 53 qualified inside linebackers, according to Pro Football Focus' advanced metrics (subscription required). Rising sophomore Larry Minter will also see some more playing time, but it's hard to see that duo replicating the kind of production that Dansby and/or Washington would have brought.
Spotrac and Over The Cap were used in the creation of this post. Photo courtesy of USA Today Sports Images.
Follow @PFRumors