SUNDAY, 8:21am: Mike Florio of Pro Football Talk adds a couple of final details on Watt's extension. In addition to setting forth Watt's base salaries and roster bonuses for each year of the deal, Florio notes that, starting in 2016, the contract contains an annual $500,000 de-escalator, which will be triggered if Watt fails to complete offseason workouts. Based on that arrangement, Florio predicts that Watt is likely to remain a Texan until at least 2017, at which point the team can go year-to-year with him. Of course, what Jadeveon Clowney has accomplished–and how much he is being paid–at that time will have a significant impact on Houston's decision-making.
TUESDAY, 8:28am: According to Andrew Brandt of TheMMQB.com (via Twitter), about $30.9MM of Watt's new money is fully guaranteed at the time of his signing. The $51MM+ initially reported will all be fully guaranteed by the start of the 2016 league year — presumably, it's guaranteed for injury only at this point.
TUESDAY, 12:47am: Watt's six-year extension is worth $100MM, with $51.876MM in guaranteed money, tweets McClain. Again, we'll have to await the specifics, but assuming it isn't being artificially inflated, that's a pretty massive figure.
TUESDAY, 12:30am: It's been a productive long weekend for J.J. Watt and the Texans, who have agreed to terms on a new contract for the star defensive lineman, reports John McClain of the Houston Chronicle. According to McClain (via Twitter), after negotiating for weeks, the team and agent Tom Condon worked on a deal until late Monday night before reaching an agreement.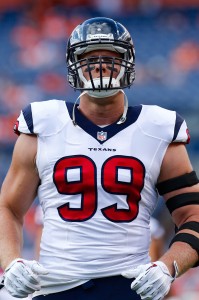 According to Chris Mortensen of ESPN.com (via Twitter), Watt's new contract will be for six years and will be worth in the neighborhood of $99MM, including $51MM in guaranteed money. We'll have to wait to see how much of that money is fully guaranteed, and how exactly the contract breaks down, but Mortensen's report suggests Watt's deal will surpass Mario Williams' six-year, $96MM pact, and will make him the NFL's highest-paid defensive lineman. It should also keep him locked up through the 2021 season.
Because he was a first-round pick in 2011, Watt still had two years remaining on his rookie contract. The Wisconsin product had been set to earn a base salary of about $1.9MM in 2014, and the Texans also exercised their fifth-year option for 2015, worth $6.969MM. Considering the team could have had Watt for two more years at a bargain price and then would have had the option to use the franchise tag on him twice, the 25-year-old didn't seem to have a lot of leverage. Still, it seems the club was motivated to lock up the league's best defensive player rather than letting the situation drag on.
Since entering the league as the 11th overall pick in the 2011 draft, Watt has been a dominant force on the Texans' defensive line, averaging more than 12 sacks per season, including 20.5 in 2012. Pro Football Focus' advanced metrics (subscription required) paint a clear picture of the sort of elite defender Watt is, with the Texans lineman recording grades of +94.2 in '12 and +99.8 last season. By comparison, the only other two 3-4 defensive ends to grade higher than +30.0 in a season during that span were Muhammad Wilkerson (+37.2 in 2012) and Calais Campbell (+34.1 in 2013).
By agreeing to a new deal before the regular season gets underway, Watt avoids having to wait until after the season to revisit the topic, since the Texans have a policy about not discussing extensions during the season. The former 11th overall pick had suggested a couple weeks ago that it would be "great" to get a new contract done before the season began, and it appears his camp and the club worked hard to make that happen.
With the deal, Watt becomes the third 2011 first-rounder to sign a long-term extension. Patrick Peterson of the Cardinals and Tyron Smith of the Cowboys also reached agreements on new contracts with their respective clubs.
Photo courtesy of USA Today Sports Images.
Follow @PFRumors