Whether or not they strictly adhere to them, many teams have policies in place that precludes in-season contract extensions, even for players on the verge of free agency. A Week 1 deadline for contract negotiations means that players won't be distracted during the season by haggling over contract figures, and can focus all their attention on their performance on the field as they play for a new contract.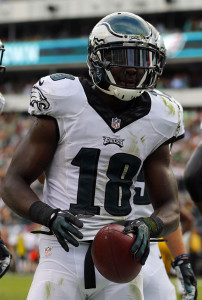 The Eagles haven't completed an in-season extension for one of their players since 2009, but the club isn't entirely opposed to the concept. Jeff McLane of the Philadelphia Inquirer reported last week that the team is open to the idea of locking up No. 1 receiver Jeremy Maclin to a deal that will keep him in an Eagles uniform beyond this season. While it's not clear if negotiations between Philadelphia and Maclin's camp are underway, the 26-year-old is eligible for free agency in March, so the team should be motivated to get something done, if not during the season, then shortly thereafter.
Coming off an ACL injury that wiped out his 2013 season, Maclin settled for a one-year, $5.5MM contract, even though the Eagles were willing to make him a longer-term offer. The former 19th overall pick reportedly turned down a five-year proposal from the team, preferring to bet on himself to have a big 2014 season and earn a more lucrative deal in 2015.
While terms of the Eagles' five-year offer to Maclin aren't known, it wouldn't surprise me if it was in the same ballpark as the contract offered to and signed by fellow wideout Riley Cooper. After setting career-highs in receptions (47), receiving yards (835), and touchdowns (eight) during the 2013 campaign, Cooper received a five-year, $22.5MM contract, with $8MM in fully guaranteed money. Maclin's track record suggested he had a higher ceiling – and floor – than Cooper, so perhaps the Eagles offered him a little more in terms of annual average salary or guaranteed money. But Maclin was coming off a serious knee injury, so it seems unlikely Philadelphia made him too lucrative an offer, especially considering the Missouri product opted for the one-year deal instead.
A contract in the ballpark of Cooper's deal may have been a fair offer eight months ago, but Maclin's value is already on the rise through four games this season. He leads the Eagles in all major receiving categories, and is on pace to establish new career-bests in receptions (80), receiving yards (1,412), and touchdowns (12).
Of course, projecting one's pace after just a quarter of the season is a dangerous game, particularly for a player like Maclin, who is coming off a major injury a year ago and hasn't played a full 16-game slate since 2010. Still, Maclin's early-season production suggests he's capable of assuming the role of Philadelphia's top wideout now that DeSean Jackson is in Washington, and if he and the Eagles open extension talks, Maclin's September play will factor significantly in his asking price.
As long as Maclin continues to produce and stays healthy, he should have a chance to match or exceed the five-year contracts signed by the top free agent wideouts of 2014's class — Eric Decker's $36.25MM pact and Golden Tate's $31MM deal would likely be targets for Maclin and his agent, and you can certainly make a case that those players are appropriate comparables for the Eagles wideout.
Decker's numbers during his final two years in Denver were markedly better than any of Maclin's full-season totals, but those figures were impacted greatly by the fact that Peyton Manning was throwing passes to Decker. As for Tate, in a more conservative Seattle offense, his 64-catch, 898-yard production in 2013 looks pretty similar to the sort of seasons Maclin was posting during his first four years in Philadelphia. In a more pass-heavy Lions offense this season, Tate is off to a start similar to Maclin's, minus the touchdowns — 24 receptions for 317 yards.
The Eagles may be inclined to wait until season's end to address Maclin's contract situation, in order to ensure he stays healthy and continues to build rapport with quarterback Nick Foles. But if the sixth-year wideout does both of those things, his stock will only continue to rise right along with his 2014 receiving totals. Getting him locked up now to a contract in the neighborhood of Decker's could be Philadelphia's most prudent move, and perhaps an annual salary in the $7-8MM range would be enough to get Maclin to sign off the sort of five-year contract he turned down last winter.
Follow @PFRumors