Kicker is among the most volatile positions in the NFL — in fact, 41% of kickers (13-of-32) weren't with their current team as recently as 2012. With a position that fluid, teams look fondly upon stability, meaning available solid veterans won't be out of work for long. In the case of Matt Prater, it might be mere days until he finds a new job.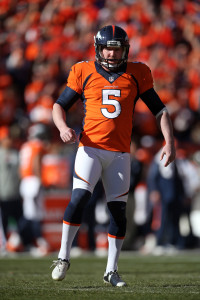 Prater, 30, entered the league in 2005 as an undrafted free agent out of Central Florida. Like most kickers, he was extremely nomadic during the early portion of his career, spending time with the Lions, Dolphins, and Falcons before becoming the Broncos' full-time kicker in 2008. During his time in Denver, Prater converted 82.9% of field goals. 2013 was perhaps his best season to date, as he made 25-of-26 field goals, and graded out as Pro Football Focus' No. 1 placekicker (subscription required).
Though other external factors could have been at play, it seems that two components played a part in the Broncos releasing Prater on Friday — off-the-field issues and cap space. Prater was suspended for the first four games of 2014 for violating the league's substance abuse policy; he was also arrested for DUI in both 2008 and 2011. Given the NFL's hyper-sensitivity to distractions, it's no wonder Denver decided to part ways with a relatively replaceable player who was causing trouble.
Replacing Prater as the Broncos kicker is Brandon McManus, a second-year player earning just $410K this season. Prater, meanwhile, was set to count more than $7MM against Denver's cap during 2014-15. As Jason Fitzgerald observed on yesterday's Over the Cap podcast, the Broncos have several extensions looming, as both Demaryius Thomas and Julius Thomas are in line for new contracts. Additionally, said Fitzgerald, Denver's high-octane offense means the team isn't often settling for field goals, lessening the need for a high-priced kicker. It simply didn't make financial sense for the Broncos to keep Prater around, so they cut him before his 2014 salary became guaranteed.
The list of teams in need of a kicker could certainly change as the season progresses, but right now, it seems as though the Lions could be a perfect fit for Prater. After waiving Nate Freese following his early-season struggles, Detroit brought in ex-Eagle Alex Henery. Henery, however, missed all three of his field goal attempts in today's game against the Bills, and is now 1-for-5 on the season. Both Kyle Meinke of MLive.com and Jason La Canfora of CBSSports.com suggested that the Lions could be interested in Prater, and that was before Henery's misfires this afternoon. Fitzgerald notes (via Twitter) that Detroit, which only has about $1MM in cap space, might have to restructure some contracts or defer money until 2015 in order to sign Prater.
La Canfora also mentioned the Saints as a possibility for Prater, while I'd add that the Titans could soon be interested in moving on from Ryan Succop, who missed both of his field goal attempts in Week 3 and is 6-for-8 on the season. Ultimately, Prater will likely find a new team shortly, and it seems as though Detroit could be his destination.
Follow @PFRumors