Despite a reputation for mastering the draft process, Patriots head coach Bill Belichick's record of procuring and developing defensive back talent isn't very impressive. Over the past decade, Belichick has regrettably used first- and second-round picks on players such such as Terrence Wheatley (2008), Darius Butler (2009), and Ras-I Dowling (2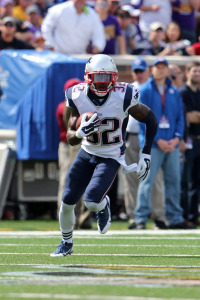 011), each of whom failed to live up to expectations. Not every attempt to add pieces to the New England secondary has been a disaster, as Brandon Meriweather (2007) and Patrick Chung (2009) proved somewhat useful during their tenure with the Pats. However, no Patriots defensive back draft selection of the past ten years has matched the production of 2010 first-rounder Devin McCourty, whose rookie contract expires after this season.
Since joining the Patriots four years ago, the 27-year-old McCourty has displayed impressive versatility in addition to excellent play. During his first two seasons in the league, he played strictly cornerback, and was employed primarily on the left side of the defense. The Rutgers product regressed from his rookie season to his sophomore campaign — though he graded as the league's seventh-best CB in 2010, per Pro Football Focus (subscription required), he fell to 57th in 2011. McCourty was still effective against the run in '11, but his coverage grade lagged, which might have factored into New England's decision to convert him to safety.
The positional transformation began in 2012, as McCourty began splitting his snaps between corner and safety. He spent more time at S (about 57% of his snaps), and PFF rated him as above-average at both positions. McCourty's best season to-date came last year, when he finished with 58 tackles and one interception in 15 games, and ended up as the No. 1 safety in the league per PFF's metrics. He's started every game this season, and been a factor in both pass and run coverage, accruing 20 tackles and one pick.
Given that the Patriots added Darrelle Revis and Brandon Browner via free agency during the offseason, it's a little surprising that their pass defense isn't among the NFL's elite. New England ranks 19th in passing yards allowed, 11th in yards per attempt allowed, and 16th in pass defense DVOA. However, Browner didn't play until Week 6 following a suspension, so the unit has had much time to mesh. Additionally, the Patriots pass-rush isn't special, meaning opposing quarterbacks have a lot of time to attack New England's secondary. Though they rank 13th in sacks, the Pats are 28th in adjusted sack rate, a figure that doesn't figure to improve as long as Chandler Jones is sidelined with an injury.
Nevertheless, it seems to be a given that the Patriots would want to retain McCourty, who was named an All-Pro in both 2010 and 2013. Given that Revis won't return to New England unless he negotiates a new deal (he's signed for 2015, but with a $25MM cap charge, he'll be cut), the Patriots probably want to keep their leader in the secondary around. News surrounding McCourty extension talks has been slim, but Jason La Canfora of CBSSports.com reported in early August that two sides had exchanged initial proposals, but weren't overly close to an agreement. At the time, La Canfora noted that talks could heat up before the season; while that obviously didn't happen, it wouldn't be shock to see a deal struck in-season.
McCourty is earning $3.92MM in base salary this season. Add in his prorated roster bonus, and a $50K workout bonus, and he counts $5.115MM against the cap. When discussing an extension, he and his representatives would surely look to either match or exceed the deals signed by Earl Thomas and Jairus Byrd earlier this year. Both are rangy free safeties like McCourty, as opposed to in-the-box strong safeties like Dashon Goldson, so their contracts work well as comparables. Thomas' deal was an extension, however, while Byrd joined the Saints via free agency, so his contract might present the better option for locating a benchmark.
Thomas, who is two years younger than McCourty, received $40MM over four years, with nearly half ($19.725MM) guaranteed. McCourty has been the better player since he made the switch to full-time safety per PFF, but the advanced metrics aren't the be-all, end-all of player evaluation. Soft factors are important, as well — McCourty doesn't have the reputation that Thomas, regarded as the league's best safety, does. Additionally, Thomas was coming off a season as a key component of one of the best pass defenses in NFL history as he discussed an extension with Seattle; McCourty, as noted, plays on a below-average unit.
I don't think McCourty will be able to match Thomas' contract; at $10MM per season, Thomas redefined the market for safeties in a way that I don't believe McCourty can. But $9MM a per year, the same amount Byrd received, should be in reach for McCourty. And while Byrd only got 33.9% of his total deal guaranteed, McCourty would likely see more than that — I'd peg it closer to Thomas' 49.3%, so perhaps around $17MM over a four-year contract. In total, a four-year extension worth roughly $37MM, with $17-18MM guaranteed, would make sense for both sides. The Patriots like to use in-game roster bonuses in their deals, but given that McCourty doesn't have an injury history or character concerns, I wouldn't expect them to be too large.
New England's fiscal situation shouldn't present a barrier to negotiations. The Patriots currently have $4.281MM in 2015 cap space available, but they can save about $3.3MM by releasing Danny Amendola and Michael Hoomanawanui. The club can clear an additional ~$7.567MM by parting ways with veteran defensive tackle Vince Wilfork, a move that seems likely given his lack of production this season.
If a deal can't be worked out, the club has the option to place the franchise tag on McCourty. Safety had the third-cheapest tag figure in 2014, exceeding only tight end and kicker/punter, and that probably won't change next season. The number itself will rise from $8.433MM, but so will the league-wide salary cap, so the figure shouldn't present a problem. Securing a player with McCourty's talent on a one-year deal for around $9MM would be a steal, but both the team and the player would surely like to work out a contract that enables McCourty to remain in New England for the forseeable future.
Photo courtesy of USA Today Sports Images.
Follow @PFRumors