With the offseason around the corner, the Lions' most pressing concern from a roster standpoint is undeniably the impending free agency of defensive tackle Ndamukong Suh, who topped the most recent edition of our 2015 Free Agent Power Rankings. Reports had indicated the Detroit would consider all the options at its disposal to retain Suh, and today Chris Mortensen of ESPN reported that the Lions are in a good position to re-sign the All-Pro. But because Suh is expected to receive a contract that rivals the $100MM pact between J.J. Watt and the Texans, the Lions probably won't be able to keep its other talented defensive tackle, fourth-year player Nick Fairley.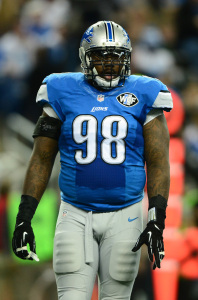 Assuming a $140MM cap, the Lions will have approximately $15.4MM of 2015 cap space with which to work. Depending on how Suh's potential extension is structured, much of that space could be already be spoken for. Mortensen's report indicated that receiver Calvin Johnson could restructure his contract to create more financial flexibility for the club, allowing the Lions to re-sign Suh and add even more talent. Regardless, cap space in Detroit figures to be tight, leading Dave Birkett of the Detroit Free Press to tweet today that Fairley returning to the Motor City is a "long shot."
Of course, the Lions could have had Fairley under team control for the 2015 season had they opted to exercise his fifth-year option last May. Because it selected Fairley in the first round of the 2011 draft, Detroit could have retained Fairley next season for a base salary in the neighborhood of $5.5MM. General manager Martin Mayhew & Co. opted to decline the option, and explained the decision as a motivational tactic, hoping to push Fairley into performing at high level in 2014. The maneuver created something of a Catch-22 — though Fairley did perform well last season, the Lions have now allowed him to hit free agency a year earlier than was needed.
Utilizing the fifth-year option decision as a strategy to motivate Fairley was an understandable move at the time, as the former 11th overall draft pick had failed to live up to expectations. The Auburn product started just 22 games during his first three seasons in the NFL, posting 12.5 sacks over that span. He had a nice season in 2012, grading as the fifth-best defensive tackle among 85 qualifiers per Pro Football Focus (subscription required). In '13, however, Fairley slipped to to No. 31 per PFF, as his run defense grade slipped significantly.
In 2014, Fairley was playing at perhaps his highest level yet before suffering a sprained MCL and PCL in Week 8 — he didn't play again the rest of the season. Despite his limited amounted of snaps (297), he still placed as the league's 18th-best DT per PFF; his grade would have been better save for is -4.0 penalty mark. Fairley's absence on the Detroit defense was tangible — though the unit ranked third in DVOA, it placed seventh in weighted DVOA, which more heavily factors more recent performance.
Fairley will be a part of a relatively strong free agent defensive tackle class, but assuming Suh remains in Detroit, Fairley would have a claim to the No. 1 spot at the position. He's undoubtedly a top-five choice among DTs, with Terrance Knighton, Jared Odrick, and Dan Williams also intriguing FAs for clubs looking for interior defensive line help. Williams is a 3-4 nose tackle, so he probably won't interest the same teams that look into Fairley; Knighton, as well, is more of a space-eater. Odrick is probably the most similar competitor among free agent tackles, and it's notable that Fairley and Odrick produced the top two pass-rushing grades among FA defensive tackles, per PFF.
Given his uneven career performance and his recent injury history, Fairley certainly isn't in line for a Watt/Suh/Gerald McCoy-type contract that averages more than $12MM per year. The Geno Atkins deal, with an AAV of roughly $10.7MM, is probably out of reach as well. Linval Joseph's five-year, $31.25MM pact with the Vikings, signed last offseason, is pretty clearly the floor for Fairley. Joseph was a bit younger than Fairley at the time he inked his contract, but Joseph had never played to the level that Fairely has demonstrated he's capable of. As such, Fairley will probably be looking for a five-year deal with an AAV that pushes $7MM, with guarantees in the neighborhood of $13-14MM.
Fairley shouldn't suffer from a lack of suitors, as clubs that perhaps had their eye on Suh can turn their attention to Fairley, provided Suh stays with the Lions. Teams such as the Raiders, Jaguars, Bengals, Broncos (should they lose Knighton), and Falcons (depending on scheme) all make sense for Fairley, who just turned 27 years old. He's spent his career in a 4-3 defensive front, and given his pass-rushing acumen, it would likely serve him to stay in that scheme. But at 6'4″ and more than 300 pounds, he could conceivably play end in a 3-4 look, and interest clubs like the Chargers, Colts, and Titans, but again, his talents play up in a 4-3. Additionally, if former Lions head coach Jim Schwartz lands a role with a team, it will be interesting to see if he lobbies to bring in Fairley, his ex-pupil.
Fairley said back in August that he'd like to stay with the Lions, but given the massive contract that Suh will garner, it seems wholly unlikely Detroit can keep both its defensive tackles. The club was already spending the second-most on its defensive line in 2014, and that figure would surely rise with new contracts for both Suh and Fairley. Free agency now presents that most likely (and tantalizing) route for Fairely, who should do well on the open market.
Follow @PFRumors