Pending free agents:
Top 10 2015 cap hits:
Notable coaching changes:
Draft:
Other:
Overview
The Ravens suffered an agonizing loss at the hands of the eventual-champion Patriots in the divisional round of the 2014 playoffs to bring a disappointing end to an up-and-down season. Nonetheless, there is reason for optimism in Baltimore, as Joe Flacco enjoyed a career year behind an improved offensive line, and the offense as a whole made tremendous strides under offensive coordinator Gary Kubiak. Although Kubiak left Baltimore to become head coach of the Broncos, the transition to the West Coast leanings of former Bears head coach and noted offensive mind Marc Trestman should be a fairly seamless one.
On the defensive side of the ball, veteran pass rushers Elvis Dumervil and Terrell Suggs combined with young talents like C.J. Mosley, Pernell McPhee, and Brandon Williams to form an imposing front seven, and the special teams unit, buoyed by the feet of Justin Tucker and Sam Koch, enjoyed another strong year. According to Football Outsiders' Defense-adjusted Value Over Average metric, Baltimore boasted the ninth-best offense in the league, the eight-best defense, and the second-best special teams unit. Although the AFC North may again prove to be one of, if not the, toughest division in football in 2015, the Ravens should once again be neck-and-neck with the Bengals and Steelers in the fight for the division crown.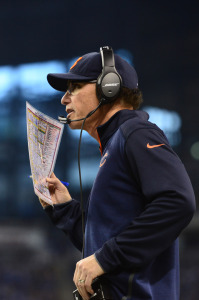 Positions Of Need
Nonetheless, there is plenty of room for concern. The Ravens have a limited amount of cap space entering the offseason, and a big reason for that is the $9.5MM of dead money that former running back Ray Rice will count against the cap. Between Rice and Dennis Pitta, whose playing status for 2015–and for his career–is up in the air after a second major hip injury ended his season in Week 3, the Ravens will devote nearly $16MM of cap room to players who might not even play a snap next season.
Despite that, Baltimore will have to find a way to address a few significant needs. Offensively, the team once again may find itself in need of at least one wide receiver, as Torrey Smith's future in Baltimore is highly uncertain. Smith is far and away the best receiver the Ravens have ever drafted, as the team has struggled to groom young receiving talent and in recent years has increasingly looked to veterans like Derrick Mason, Anquan Boldin, and Steve Smith Sr. to fill the void. But the former Maryland standout struggled to get into a rhythm in 2014, and despite scoring 11 touchdowns, he posted a career low in yardage (767) and tied a career low with 49 receptions.
Torrey Smith reportedly turned down a five-year, $35MM extension before the 2014 season, which appears to have been a misstep at this point. But even if he cannot match or better that deal, it is unclear whether the Ravens can afford to retain him. Trestman is particularly fond of utilizing the short and intermediate portions of the route tree, and in addition to Smith Sr., Baltimore has a number of younger players who have at least displayed the ability to thrive in those routes. Torrey Smith, meanwhile, has not grown into the complete receiver the Ravens had hoped for, as he is still seen primarily as a deep threat who struggles in other facets of the game. It is also worth noting that Brandon Marshall and Vincent Jackson have both been linked to Baltimore in recent weeks, and if one of them becomes available, either via release or trade, the Ravens could pounce. If they do, Torrey Smith's days in purple and black would likely be numbered. Baltimore could then look to the draft to find some home run speed on the outside.
Tight end could pose even more of a problem for the Ravens. Owen Daniels filled in nicely for Pitta after Pitta's season-ending hip injury, but Daniels is on the downside of his career and has struggled with injuries of his own in the past. Plus, many believe that Daniels will follow Kubiak, the only head coach he has ever played for, to Denver (particularly if the Broncos are unable to retain Julius Thomas). With Pitta's playing career in doubt, Baltimore could look to the free agent market, where Jermaine Gresham could be an interesting fit, and release candidate Vernon Davis might become an option. Beyond that, the Ravens will pray that Pitta can make a healthy return, and they may expend an early draft pick on a player like Maxx Williams, who has drawn favorable comparisons to former Raven Todd Heap.
Although we have heard ad nauseam that running backs are becoming more and more devalued as the NFL continues to evolve into a pass-first league, the Ravens will need to replace Justin Forsett's production if he leaves in free agency. Forsett was a revelation in 2014, amassing 1,266 yards and eight touchdowns while sustaining a terrific 5.2 YPC average. But the former seventh-round pick might have priced himself out of Baltimore, as the Ravens cannot afford to pay a premium for a running back. If Forsett leaves, Bernard Pierce would be the logical internal option, but Pierce has dealt with injuries throughout the course of his brief career, and he was outclassed by Forsett when he did see the field in 2014. Last year's fourth-round pick, Lorenzo Taliaferro, showed some upside as a bruiser in his rookie campaign, but the jury is still out on whether he could capably handle a full workload. Chris Johnson, who was recently released by the Jets, has been linked to Baltimore, but that seems like an unlikely marriage at this point. If the Ravens look to free agency to find a running back, a younger, high-upside player like Roy Helu would appear to be a better fit.
The Ravens boast a fairly strong defense overall, but the secondary was the team's undoing in 2014. The unit was ravaged by injury and poor play, and its shortcomings played a major role in the Ravens' inability to finish a near upset of New England in the playoffs. The secondary will greatly benefit just by getting healthy, as the returns of Asa Jackson and standout corner Jimmy Smith, along with the continued good health of Lardarius Webb–who struggled for much of 2014 but showed flashes of his old self down the stretch–will be instrumental in the team's success going forward. However, the Ravens learned the hard way that you can never have enough depth in the secondary, so it would not be a surprise to see them sign at least one defensive back in free agency and draft at least one. Free agent safety Antrel Rolle and University of Washington corner Marcus Peters would be logical choices.
It would be out of character, not to mention out of the team's price range, to pursue a high-priced free agent to fill its needs in the secondary. As such, players like Byron Maxwell and Darrelle Revis are almost certainly out of the question, but less expensive options like Rolle, Brandon Flowers, and Javier Arenas might be in play. Baltimore will also hope for growth from last year's third-round pick Terrence Brooks and for any sign of life out of former first-rounder Matt Elam, who has done nothing to justify his lofty draft status in his two years in the league.
Key Free Agents
We've touched on most of the Ravens' key free agents already. Torrey Smith, Forsett, and, to a lesser extent, Daniels, will be the primary focus of the team's decision-makers when it comes to retaining their own players, but Baltimore does have one defensive player who will be included in that group: McPhee.
McPhee is the sort of under-the-radar, mid-round gem that GM Ozzie Newsome has been so adept at mining. The former fifth-rounder from Mississippi State is listed as an outside linebacker, but he has also demonstrated the ability to line up anywhere along the defensive line, and he is particularly skilled at getting to the quarterback from the interior of the line. He proved to be a significant part of the Ravens' pass rush in 2014, and his departure would certainly leave a void. However, as our Zach Links wrote earlier this month, the Ravens may view McPhee as more of a complementary piece than a core player, and given his likely price tag—it would not be surprising to see him net a five-year deal worth upwards of $30MM—it seems unlikely he will be back in Baltimore. Instead, the Ravens will rely on internal options like Kapron Lewis-Moore and Brent Urban, both of whom have high upside but have yet to play a snap in their professional careers due to injury.
Will Hill and Tucker are the biggest names on the team's restricted free agent list. Given the semblance of stability Hill brought to the Ravens' secondary in the second half of the season, and given that Tucker has proven himself as both a highly-accurate and clutch kicker during his three years in the league, both players will doubtlessly remain in Baltimore.
Extension Candidates/Contract Issues
Torrey Smith and McPhee would be the most likely candidates to get the franchise tag this year, but it would be surprising for the Ravens to put the tag on either player. Smith's regression in 2014 and McPhee's role as a part-time player—he played only 540 defensive snaps last year—suggest that Baltimore will not absorb the cap hit that the tag for a wide receiver or outside linebacker carries.
Nonetheless, the Ravens will have a few contract issues to resolve. For instance, the team simply cannot afford the $16MM that star defensive lineman Haloti Ngata would count against the cap in 2015, and if he is not willing to restructure his contract, the Ravens would create $8.5MM of cap room by releasing him.
Although the 31-year-old Ngata is on the downside of his career, he proved in 2014 that he is still a premier defensive player, especially when part of a deep rotation of young, talented linemen. He may prefer to stay in Baltimore with the only organization he has ever known, especially since his value on the open market is likely to take a hit thanks to his age and his four-game suspension for Adderall in 2014. Furthermore, many of the teams with the most cap space, who would presumably be able to make the best offer for Ngata's services, either project to be non-contenders or weaker contenders than Baltimore in 2015. Therefore, it would not be a surprise for him to rework his deal just as Suggs did last season, thereby allowing him to finish his career where it started and providing the Ravens with a little bit of financial breathing room.
It would also behoove the Ravens to extend blue-chip right guard Marshal Yanda, as our Luke Adams wrote last week. Yanda carries an $8.45MM cap number for 2015, so an extension would allow the Ravens to lessen that hit while securing Yanda's top-flight services for perhaps the rest of his career.
Webb, meanwhile, presents an interesting case. The 29-year-old corner has battled injuries throughout his career, including two torn ACLs and back problems that plagued him throughout much of 2014. But as indicated above, Webb played much better as 2014 went along, and although the Ravens cannot afford his $12MM cap number, they also cannot afford to let a quality defensive back leave. Releasing Webb would create just $2MM of cap space and $10MM of dead money, and Webb does not appear to be the type of player to play "hardball" with his team, so it seems as though the two sides are headed for their second restructure in as many seasons.
The Ravens may also look to extend Jimmy Smith, whose value as a shutdown corner was underscored by his absence after he suffered a season-ending sprained foot in Baltimore's Week 8 matchup against Cincinnati. Smith is entering the final year of his rookie contract.
As far as releases are concerned, Chris Canty is probably on his way out, and even longtime punter Koch, who carries a $3MM+ cap number, has been discussed as a potential cap casualty. Jacoby Jones, who continued to perform well as a kick returner, saw his stock as a receiver take a serious hit in 2014 as his struggles catching the football resurfaced in a big way. His 2015 cap number of $3.38MM therefore may be too much for the Ravens, who could create $2.5MM of savings if they make Jones a post-June 1 release. If they let Jones go, Asa Jackson or Michael Campanaro would likely get the first crack at return duties. However, Jones, like Koch, has good odds of being back next season, as the cap space created by releasing them may not outweigh the benefits of keeping them on the roster.
Overall Outlook
Even after the expected restructures and releases, the Ravens are not likely to have a ton of cap space to be big spenders in the free agent market. But then again, they never are. Newsome prefers to avoid the first wave of free agency, instead waiting for release candidates from other clubs to become available while collecting a bevy of compensatory picks when his own free agents cash in elsewhere. That approach allows him to continue developing talent through the draft, where he has, with a few exceptions, generally excelled.
Every prediction comes with the obvious caveat of "as long as no one gets hurt." With that in mind, the Ravens can reasonably expect to be contenders in 2015. The healthy return of a few key pieces in the secondary, along with some much-needed reinforcements in that unit, should complete an already-talented defense. McPhee's likely departure will sting, but the Ravens have always managed to find talent in the front seven, so I would not expect too much of a drop-off there in 2015, especially if the team can find a way to keep Ngata in the fold.
Offensively, as much as the Ravens like Torrey Smith, he is replaceable. If Smith is not retained, players like Brandon Marshall or Vincent Jackson would become options and would represent upgrades. At tight end, the Ravens currently have little depth behind Pitta, as Crockett Gillmore is seen as a blocking tight end who has shown good hands but who projects as more of a secondary receiving option than a primary target. Baltimore will almost be forced to address that position in free agency or with an early draft choice, and Gresham still has intriguing upside despite not living up to his potential in Cincinnati.
There is also reason to believe that the zone-blocking scheme that turned Forsett into a Pro Bowl player would do the same for any number of backs. As such, if he does not return on a fairly team-friendly deal, I would not expect much panic in Baltimore. I do expect, though, that the team will be fairly strong in 2015, with Trestman at the helm of an offense on the upswing, a strong defensive foundation in place, and an AFC North title well within reach.
Information from Over The Cap was used in the creation of this post. Photo courtesy of USA Today Sports Images.
Follow @PFRumors